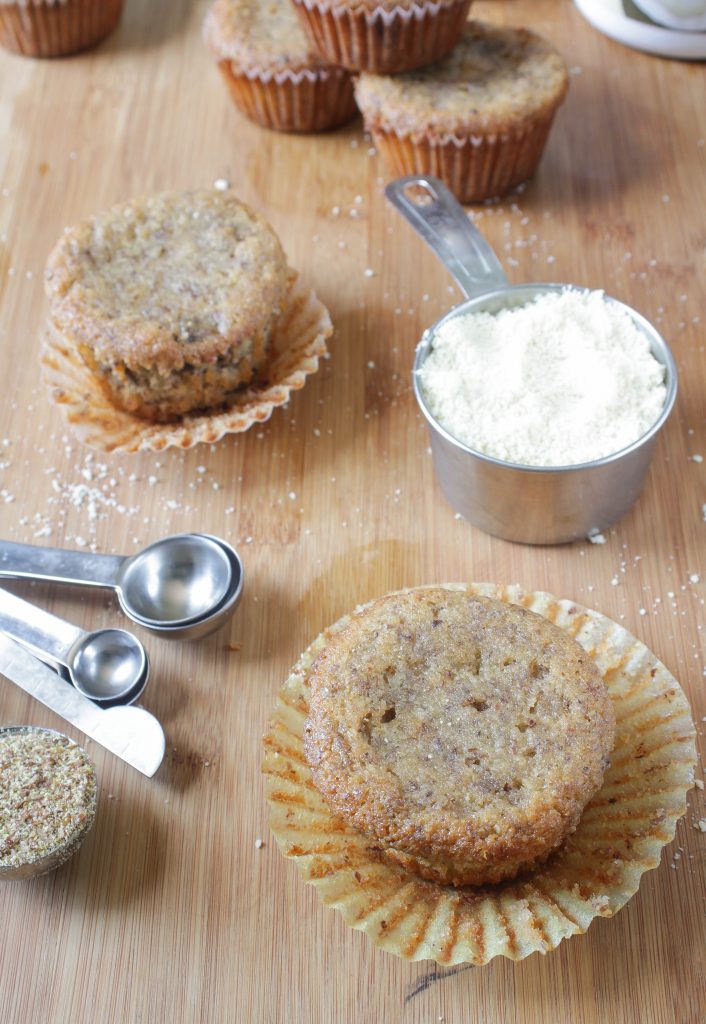 This month Stonyfield asked their Clean Plate Club to get creative with yogurt and some unconventional ingredients. We got some Barlean's items included coconut oil and ground flaxseeds. As a gluten-free baker, I like incorporating nut flour in place of regular flour when possible because it's not just adding structure, it's adding nutrients. 
I decided to make these healthy muffins as a grab-and-go breakfast for the week. They didn't rise very much while in the oven which worried me a little. Still, they had the best texture of a gluten-free muffin I've ever had–moist and dense but not too thick or chewy.
While they were undoubtedly best straight from the oven, the flax and coconut oil kept the muffins from drying out even days later. And since it's full of nuts and seeds instead of grains, it felt like a better breakfast, too. 
In order to make these muffins a little healthier, try swapping out the chocolate chips for chopped walnuts or pecans. You could switch out the french vanilla yogurt for plain yogurt to cut out some of the sugar, but be sure to add a little vanilla extract if you do. 
Hearty Grain-Free Chocolate Chip Muffins
Prep time: 15 minutes
Cook time: 30 minutes
Ingredients(Makes 12 muffins):
Method:
Preheat your oven to 350 degrees.

In a small bowl, mix the Forti-Flax and water and set aside.

In a large bowl, combine the almond flour, sugar, baking powder, and cinnamon and mix until even.

Add in the yogurt, maple syrup, eggs, and flax mixture and stir until it forms a thick batter.

Lastly, add in the culinary coconut oil and mix until it's fully emulsified in the batter.

Evenly pour out the batter between 12 lined muffin wells.

Bake for 30 minutes or until the top of the muffins are firm.