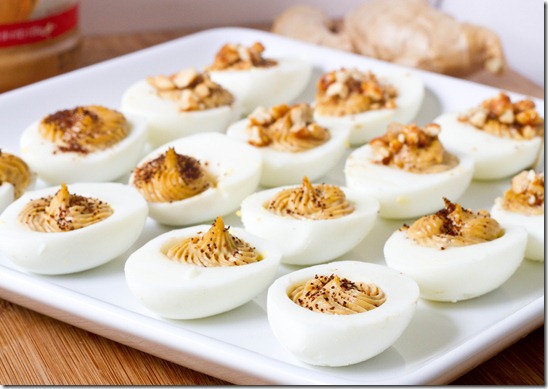 Happy Memorial Day! Hopefully you're all set to relax on the beach, but if you're in need of a quick appetizer or beach snack this might fit your bill.
I used to hate hard-boiled eggs(and by "used to" I mean about a year ago); the texture of the cooked yolks sort of freaked me out. And deviled eggs? Well, I'm a little suspicious of mayo still, so no thank you.
Thankfully at some point I saw the light(about hard boiled eggs—not mayonnaise. That's still on my gross list). Instead of mayo, this recipe mixes the egg yolks with peanut butter, spices, and coconut milk for a light yet rich mousse-like filling. The peanut butter also boosts the protein in addition to being incredibly flavorful.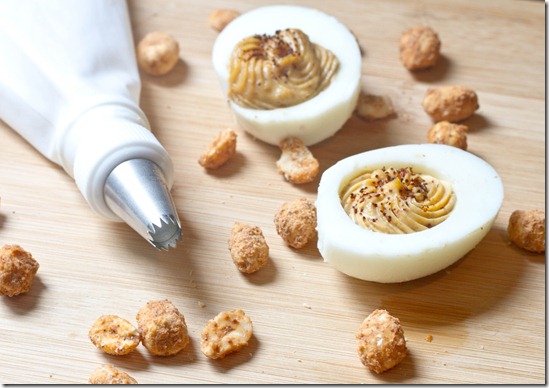 I used a frosting piper to fill the centers, but you could use a Ziploc bag with a corner cut off to get a similar effect.
Thai Deviled Eggs
Prep time: 20 minutes
Cook time: 10 minutes
Ingredients(Makes 2 dozen):
1 dozen eggs

1/4 cup peanut butter

3/4 teaspoon salt

1 Tablespoon sugar

2 teaspoons rice vinegar(or white vinegar in a pinch)

1/2 teaspoon chili powder

1/2 teaspoon cayenne pepper

1/4 teaspoon paprika

1/2 teaspoon ginger powder OR 1/4 teaspoon fresh grated ginger

3-4 Tablespoons coconut milk(any kind of milk would do)

Crushed peanuts and extra chili powder to garnish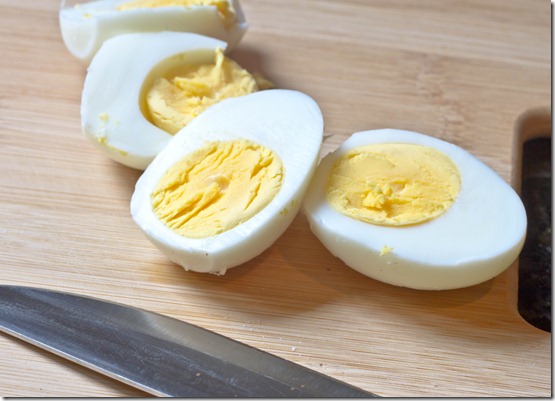 Method:
Boil the eggs in a pot full of water for 9 minutes. Drain the eggs from the water and submerge in cold water to bring them down to room temperature.
Peel the shells from all of the eggs and split them in half.
Scoop out the yolks from the egg whites.
Combine the yolks, peanut butter, salt, sugar, vinegar, and spices in a food processor and blend until smooth.
Slowly add your liquid until the filling takes on the texture of a mousse.
Either scoop the filling directly into the egg whites or use a pastry bag to squeeze them in.
Garnish with peanuts and/or chili powder. Serve at room temperature.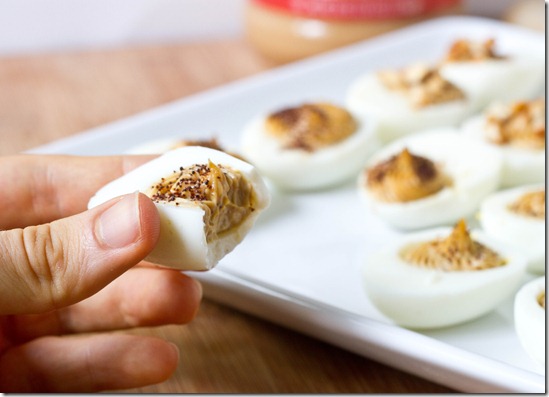 Now go out there and enjoy the weather. But pack your deviled eggs first.