Have I made it obvious that I love peanut butter and chocolate yet? I love it in cakes, I love it in cupcakes, I love it from the jar and off a spoon, and now I love it in macaroon form.
Sometimes I miss walking in to a bakery and picking out the most absurd, delicious, and oversized baked good they have. Wildflour is good for that but far away and expensive, so I try now and again to bring the bakery into my kitchen.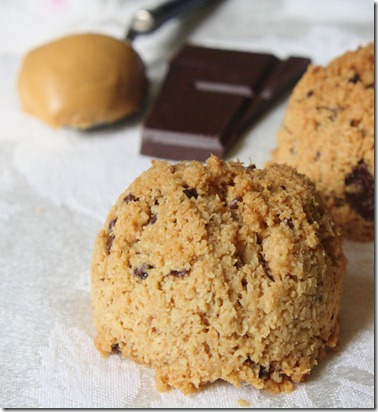 These cookies are as easy as they are impressive. There are only 5 ingredients and yet have a rich and sophisticated flavor. And who wouldn't love being handed a macaroon the size of there fists?
Peanut Butter Chocolate Chip Macaroons
Ingredients(Makes 9 large macaroons or 20 regular-sized):
3 cups shredded, unsweetened coconut
1/2 cup natural salted peanut butter
1/2 cup maple syrup
3oz bittersweet chocolate chunks OR 6 Tablespoons chocolate chips
1/4-1/3 cup water
Preheat your oven to 275 degrees.
In a large bowl, mix together the coconut, peanut butter, maple syrup, and chocolate chunks. Slowly add in water just enough so that the dough holds itself together.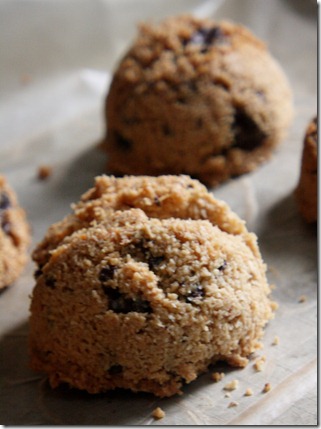 For large macaroons, press the dough into an ice cream scoop and drop it onto a baking tray lined with parchment paper. Bake for 80-90 minutes until you can lift the macaroons up without cracking or denting the surface.
For small macaroons, do the same method with a melon baller and bake for 50-60 minutes until set.
Mmm, I would suggest eating one when it comes out of the oven and the chocolate is melted and messy. Using a good brand of chocolate in these makes all the difference since the ingredients are so simple.