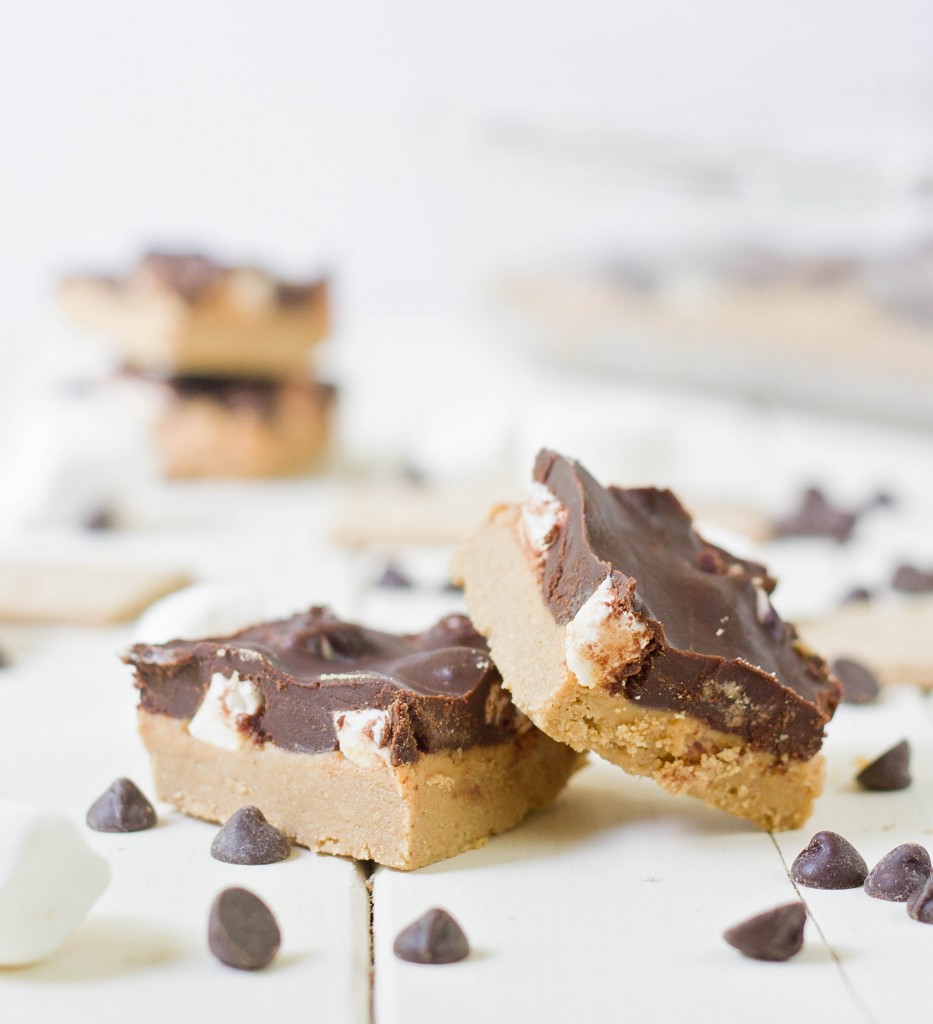 I love it when people request certain desserts for parties because it makes it so much easier to decide what to bring. This year my cousin asked for Christmas Eve that I bring the same dessert I brought last year: Peanut Butter S'mores Bars.
These are absolutely one of my favorites, too. I've also been meaning to make them all year because I wanted to take better pictures than the old ones I had for this recipe, so it was an all around win.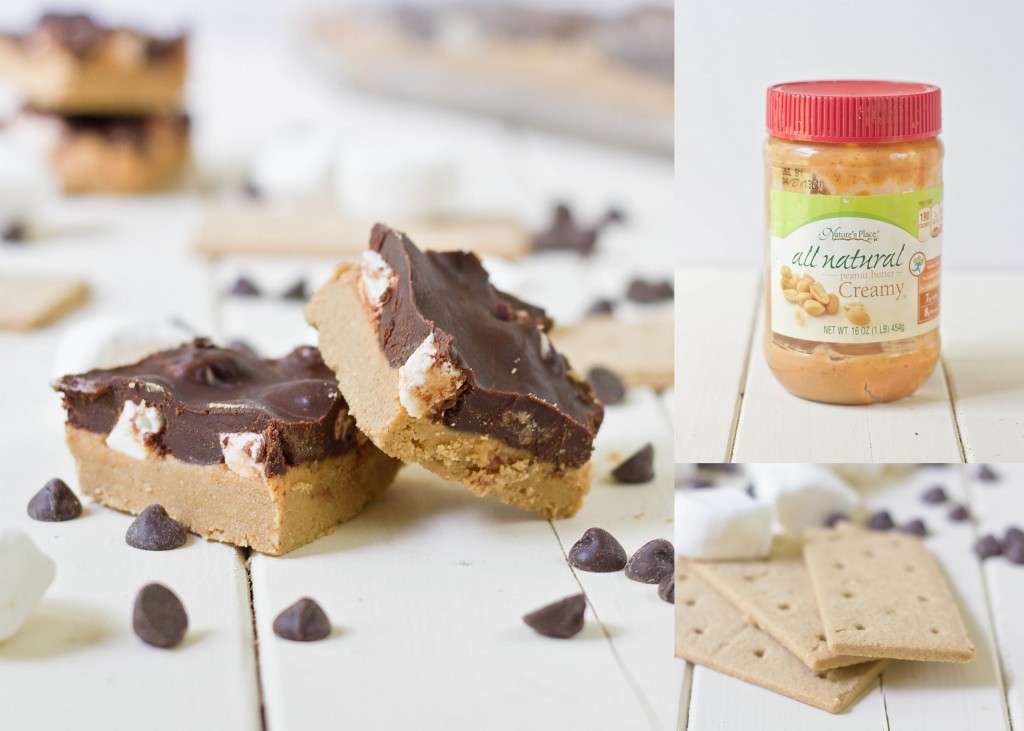 The bars are a layer of peanut butter graham cracker crust with a peanut butter and marshmallow filling topped with soft chocolate ganache. The best thing about them is that they're no-bake, so you don't have to turn on your oven to make these; just a microwave will do.
These bars can easily be adjusted for different dietary restrictions. To make them gluten-free, use gluten-free graham crackers. To make them vegan, use vegan graham crackers, vegan marshmallows, a dairy-free margarine and dairy free chocolate chips. I made all of these alterations for this batch and they came out perfectly.
No-Bake Peanut Butter S'mores Bars
Prep time: 15 minutes
Cook time: 0 minutes(allow at least 30 minutes for these to harden in the refrigerator)
Ingredients(Makes 16 bars)
For the crust:
16 individual graham crackers(not full sheets) OR 8oz graham crackers crumbs

3 tablespoons butter

6 tablespoons natural style peanut butter

1/2 cup powdered sugar
For the filling:
1/3 cup natural style peanut butter

2 tablespoons butter

2 tablespoons powdered sugar

1/2 cup mini-marshmallows, or 1 cup regular marshmallows cut into bite-sized pieces
For the top:
6oz(about 3/4 cup) chocolate chips

1 tablespoon butter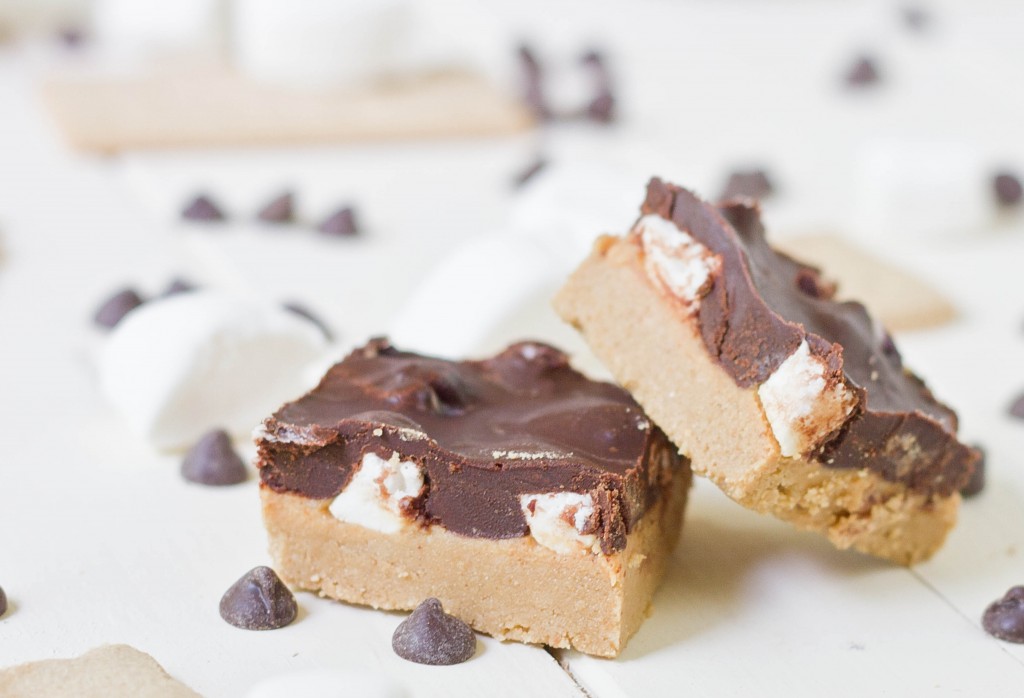 Method:
Melt together 3 Tablespoons of butter and 6 Tablespoons of peanut butter until it's thin and creamy.

Break the graham crackers into fine crumbs. Running them through a food process for 30 seconds is the best way to do this.

In a large bowl, add the peanut butter mixture to the graham cracker crumbs. Sift in 1/2 cup powdered sugar. Work the dough until the ingredients have come together and press it into an 8×8 pan in an even layer.

Make the filling by melting together 1/3 cup of peanut butter and 2 Tablespoons of butter. Sift in 2 Tablespoons of powdered sugar and beat until smooth.

Pour the mixture over the crust. Spread it out to cover all parts.

Press in the marshmallows on top of the peanut butter layer.

Melt together the chocolate chips and 1 Tablespoon of butter until it's smooth and runny.

Pour the chocolate on top of the dessert in an even layer. Carefully spread it out to make sure it covers as much of the marshmallows as possible.

Put the dessert in the refrigerator to harden. Remove 10 minutes before serving, cut into 16 pieces and serve.
I have a feeling I know what I'll be making next Christmas Eve.