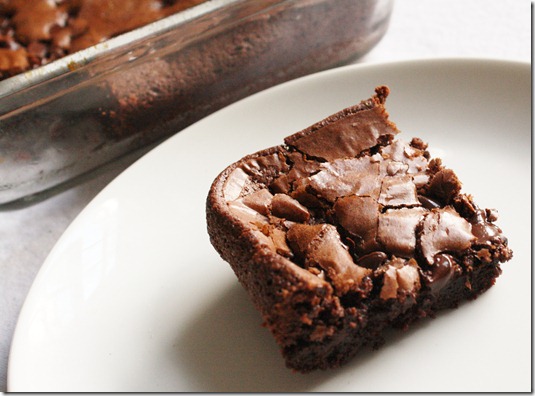 I've gotten a name for posting brownie recipes. I don't think I post them that often, but there are plenty of worse things to be called than "Brownie blogger" so I'll take it. I do love brownies(I don't know who wouldn't). And I've made them often enough to know a good brownie recipe from a bad one when I see it.
But first I should probably clarify what I mean by "good", because with something like brownies that can be very subjective. A good brownie to me is dense and fudgy with a dark and complex flavor—not too sweet—, and not at all cakey. If I wanted something cakey I'd bake a cake. A good recipe could set even a novice baker up to making the best brownies of their life.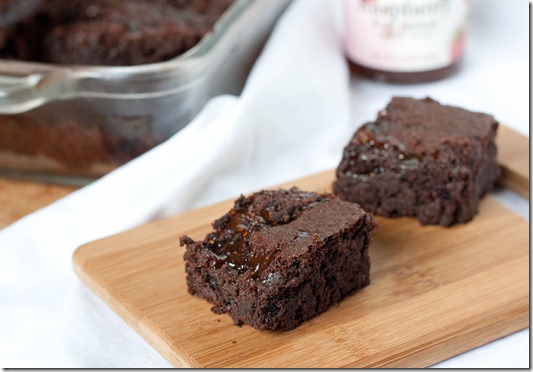 A good brownie recipe should have melted chocolate in the batter. If a recipe only has cocoa powder but no melted chocolate, just keep looking. It's not going to be as fudgy or dark a flavor without the cocoa butter.
A good brownie recipe should have butter. Real butter. Now, no offense to vegans because I love vegan baking, too. But butter really makes all the difference in the flavor of brownies. I'd stay clear of a recipe that uses all oil, margarine, or even applesauce or yogurt. It's dessert; it's not meant to be healthy.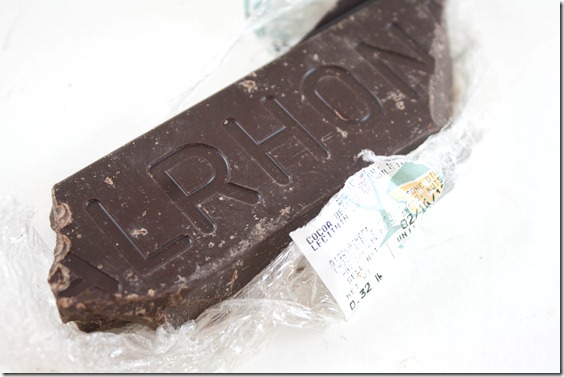 The quality of your chocolate/butter matter. One of the simplest things you can do to elevate any brownie recipe is use really good chocolate. Chocolate chips may work in cookies, but they aren't really right for melting into brownie batter. A high quality baking chocolate is going to have a much better texture and flavor. I would recommend using whatever you would eat on its own(I say that as someone who regularly eats chocolate chips from the bag but let's pretend I don't). Some good brands I'd recommend that would make really impressive brownies are Scharffen Berger, Callebaut, and Valrhona. There are plenty others, too.
The butter also matters and is something often overlooked. A European butter or butter made from grass-fed cows has a much stronger flavor than something like Land O Lakes that comes through in the finished recipe. I suggest Kerrygold or Smor.
The flour matters. Brownies made with whole wheat flour are going to be tougher and cakier than ones made with cake flour, which is more refined. If you insist on a whole grain flour, look for pastry flour for something a little lighter. Better yet, skip the gluten altogether and bake gluten-free with almond flour, which doesn't act as a binder and so won't make your brownies tough. Avoid starchy gluten-free flours like coconut flour or garbanzo bean flour that will also make the brownies tough.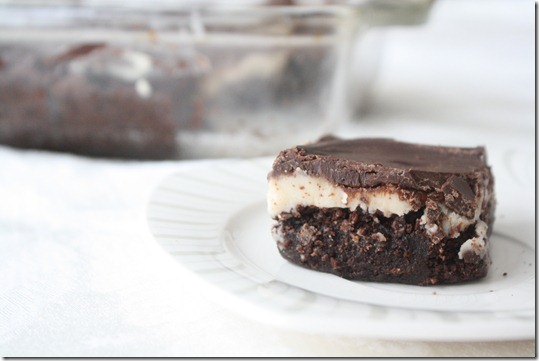 The little touches matter. Most brownie recipes will be improved with a little vanilla extract, some instant coffee granules, and a pinch of salt. Even if the recipe doesn't call for any of those, don't be shy to add them in and boost the flavor; you should always keep these on hand when baking with chocolate. And just because they're brownies doesn't mean they couldn't use a frosting or ganache.
Did I forget anything? What makes your favorite brownie recipe the best brownie recipe?
On a completely separate note, this is the last weekend to vote in the Nutty About Yogurt contest hosted by Stonyfield Farm and Peanut Butter & Co. If you haven't voted yet, I would really appreciate your vote for my muffin recipe. And you'll be entered to win a Stonyfield and Peanut Butter & Co. prize pack, too.