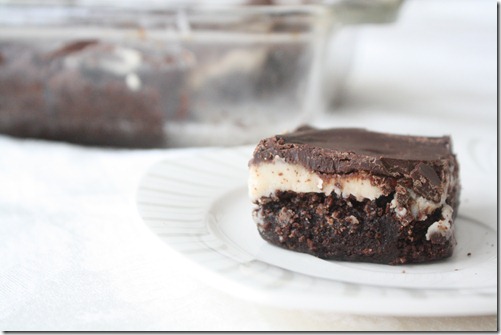 These are my new favorite brownies. They're also probably the most fattening/sugary brownies I've ever made. Coincidence? I think not.
I've been wanting to make grasshopper brownies for the past few months. If you don't know what those are, they're a layer of brownies topped with a peppermint filling and a chocolate top. Delicious, no? These are so sweet and rich and they absolutely melt in your mouth. I couldn't praise these enough. It's like a peppermint patty in brownie form. Just don't think about how many calories in them and enjoy.
Grasshopper Brownies
Ingredients(Makes 16 servings):
1 1/4 cup flour(I used gluten-free all-purpose flour)

1/3 cup cocoa powder

3/4 cup sugar

1/2 teaspoon baking powder

1/4 teaspoon baking soda

1/4 teaspoon salt

4oz(1/2 cup) chocolate chips

1/4 cup cooking oil

1/4 cup water

1 egg
2 cups powdered sugar

1 teaspoon peppermint extract
Preheat an oven to 350 degrees. Start by sifting together the first 6 ingredients. Melt down the 4 ounces of chocolate and mix this with the cooking oil. Add that to the flour mixture along with the water and egg and mix to form the batter. Grease an 8×8 cooking pan and spread the batter in. Bake for 25 minutes and let this cool completely.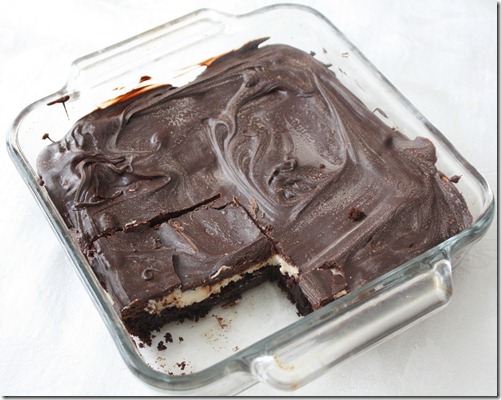 To make the filling, melt a stick of butter, pour in the peppermint extract and sift in the powdered sugar. This will form a loose filling. Spread it over the cooled brownies in as even a layer as you can.
Tip: If you're having trouble with the peppermint mixture sticking when spreading, put a piece of saran wrap between your hands and the filling and use that to press the filling down.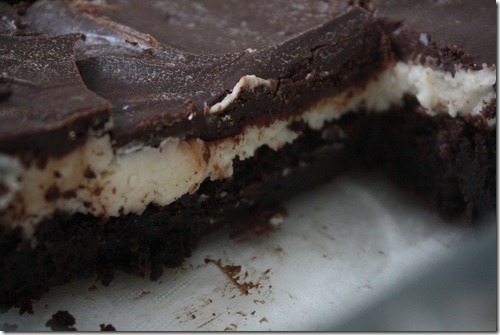 Lastly, melt 8 ounces of chocolate with a tablespoon of butter and spread this out evenly on top of the peppermint layer. Take care to move quickly and gently so that the peppermint layer and the chocolate don't get mixed together. Let the top harden completely before cutting into these with a sharp knife.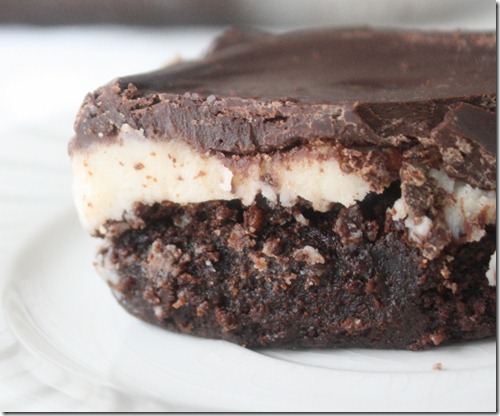 You can really use any brownie recipe for the bottom; I just included that one for convenience sake(it also makes incredibly moist brownies which is never a bad thing). I wasn't crazy about the filling as I was making it, but combined with the chocolate and brownies it's just rich enough not to get lost in the experience. Yes, experience, because these brownies are better than any trip to Disney World.