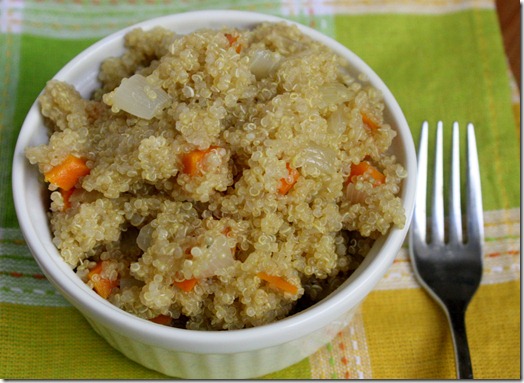 Last year around this time I bought a rice cooker. Since then I've made rice approximately 2 times, both being for other people. I just don't care for rice. Why'd I buy it then? To cook other things like quinoa.
Quinoa is traditionally made in a pot on the stove. That method works well if you have a full kitchen, but there are definitely benefits to using a rice cooker, too.
You don't have to watch a rice cooker as much as a burner.
Rice cookers with "keep warm" settings make it easy to serve warm food even during a busy party.
You can use a rice cooker almost anywhere there's an electrical outlet—even in a dorm room.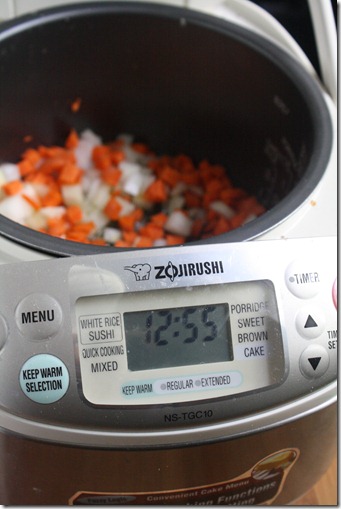 I use a Zojirushi rice cooker. They're one of the more expensive brands but totally worth the extra cost. This will last for years and years, is easy to clean, and has plenty of cooking features. I've made a number of different things in it, from quinoa to date paste. It's worth the investment if you're in the market for a rice cooker.
How To Cook Quinoa In A Rice Cooker
Prep time: 5 minutes
Cook time: 30 minutes
Ingredients(Makes 4 servings):
1/2 an onion, small diced
1 large carrot, small diced
2 Tablespoons olive oil
1 cup quinoa, rinsed and drained
2 1/2 cups water or stock
3/4 teaspoon salt(omit if using salt)
Method:
"Sauté" the carrots and onion in the bottom of the rice cooker by cooking them in the oil on a high-heat setting until the onions are translucent.
Add in the quinoa, liquid, and seasoning if using. Close the lid on the rice cooker and cook on high for 15-20 minutes until the liquid has boiled off. The quinoa will be ready when it has doubled in volume and a "tail" sprouts from the end.
Fluff the quinoa with a serving spoon and serve hot or let cool and store in a sealed container in the refrigerator for 2-3 days.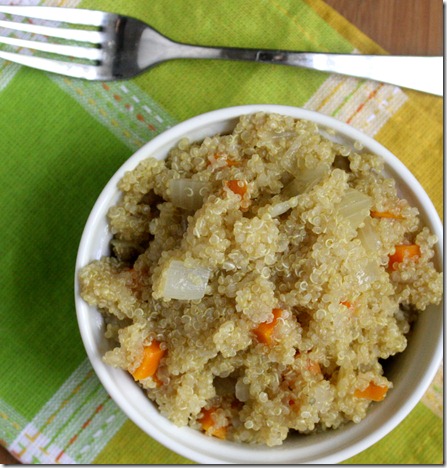 Once you get comfortable preparing basic quinoa, you can make more complex recipes, all while still using your rice cooker. Here are a few of my favorites that I have picked to make for Fall: