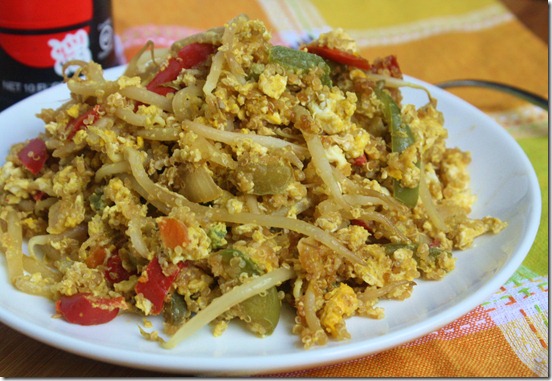 The downside(or benefit depending on how you look at it) of making things like quinoa in big batches is that you have the same old food meal after meal. Luckily, quinoa is one grain that's easy to dress up. You can eat it in the morning in place of oatmeal, or later on in place of rice. Here I used it to make a tasty, higher protein version of fried rice.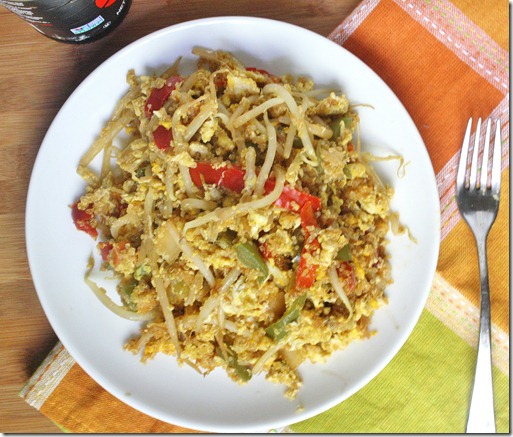 I've never really found rice interesting, even as fried rice from a halfway decent Chinese takeout restaurant. This, however, I could eat meal after meal. The vegetables and egg add a play of textures and the quinoa has a nice nutty flavor to it to compliment the sesame oil. Add some stir-fried tofu or chicken and you're good to go.
Of course, if you have leftover rice you could make the same recipe subbing in rice for quinoa and have a more traditional dish.
Fried Quinoa
Prep time: 5 minutes
Cook time: 10 minutes
Ingredients(makes 2 servings)
1 cup cooked quinoa
2 Tablespoons toasted sesame oil
3 Tablespoons soy sauce(use wheat-free tamari for a gluten-free meal)
1/2 an onion, diced
1 bell pepper, chopped into bite-sized chunks
1/2 cup bean sprouts
4 eggs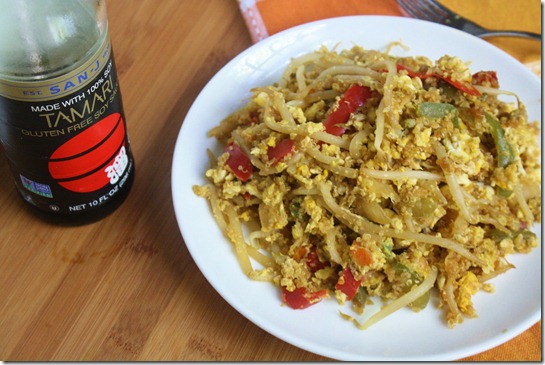 Method:
Heat the oil and soy sauce in a large frying pan over medium-high heat until the oil starts to bubble.
Add in the onion and sauté until translucent.
Add in the quinoa, pepper, and bean sprouts. Toss the pan to mix. Cook until all the liquid has been absorbed and the quinoa on the bottom of the pan begins to pop.
Crack the eggs directly into the pan. Lightly mix them in with the other ingredients. Continue mixing until the all the whites and yolks have cooked through.
Plate and serve hot. Can be kept in the refrigerator and reheated as leftovers for up to 3 days.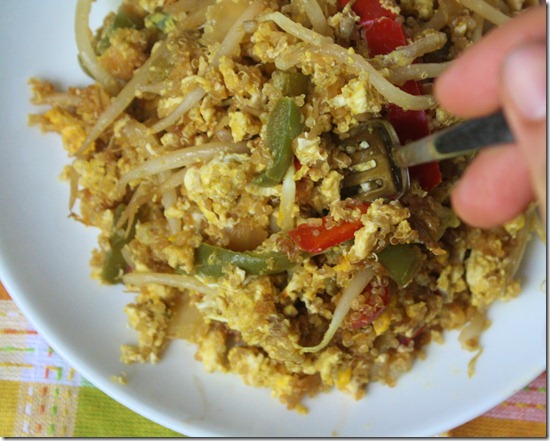 I ate this as leftovers and it was most definitely better the next day, with a strong, nutty sesame flavor and crunchy bean sprouts.