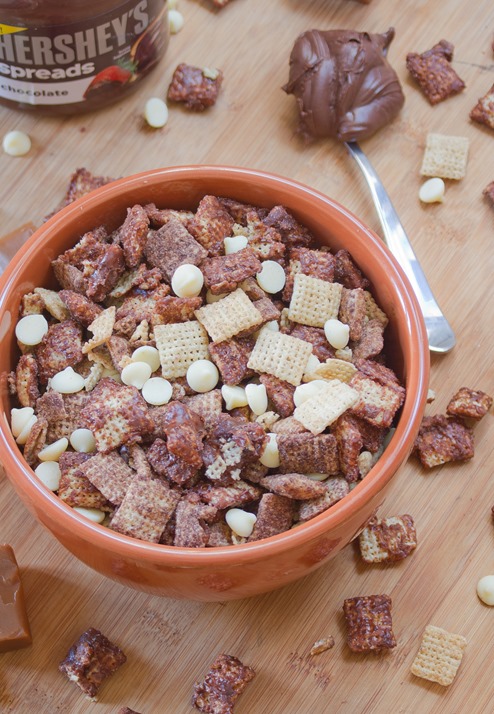 Since 2014 started, I've been to the gym 3 times, the grocery store once, and the kitchen to grab another handful of this Chex mix about 17 times.
Before the holidays General Mills had sent me a box of inspiring ingredients and blogger recipes including Julie's, Caitlin's, and my own. For a while they stumped me, but chocolate Chex and caramel candies couldn't be passed up.
This mix has rich chocolate coated Chex, sweet powdered Chex, and white chocolate chips for a delicious trio that's hard to beat. It's more of a dessert but if you want to sneak a few handfuls before dinner, I won't say a word.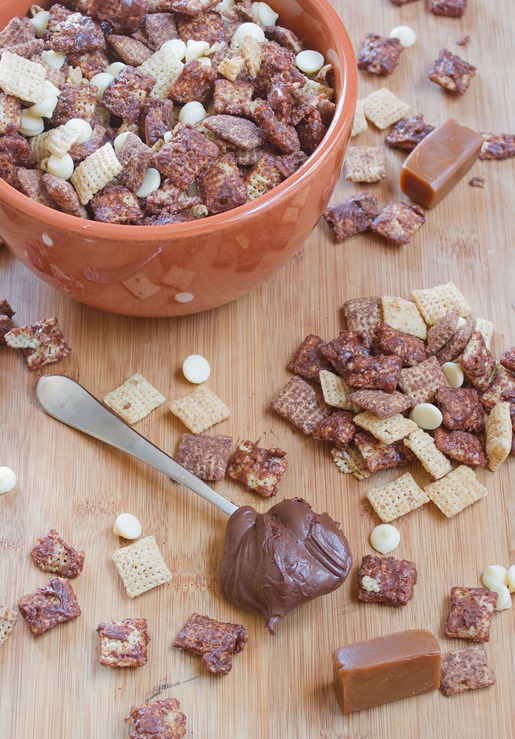 Chocolate Caramel Chex Mix
Prep time: 10 minutes
Cooking time: 5 minutes
Ingredients(Makes about 10 cups):
10 .5oz caramels(or an equal equivalent)
1/3 cup chocolate spread*
1 1/2 Tablespoons milk
4 cups Chex cereal
4 cups chocolate Chex cereal
3/4 cup white chocolate chips
*I used Hershey's chocolate spread. A spread like Nutella would work as well.
Method:
In a small sauce pan, melt the caramels and chocolate spread.
Once the ingredients are almost melted, add in the milk and stir until it makes a smooth and shiny sauce.
In a large bowl, mix together 4 cups Chex cereal and the chocolate caramel sauce until the cereal is evenly coated.
Lay the Chex out in a single layer on a non-stick surface for about 20 minutes to cool.
Once cooled, gently break apart the large chunks of cereal to smaller bite-sized pieces.
Toss the chocolate caramel Chex with the chocolate Chex cereal and white chocolate chips until evenly mixed.
Store in a sealed container at room temperature when not enjoying.

General Mills, the company that makes Chex, recently opened up the "Cinnamon Toast Crunch Swag Shop" with funny merchandise and gave me 2 coupon codes for me and a reader to get a t-shirt. If you want a free Cinnamon Toast Crunch tee for yourself or a friend, comment with your favorite cereal and I'll randomly pick a winner Friday.