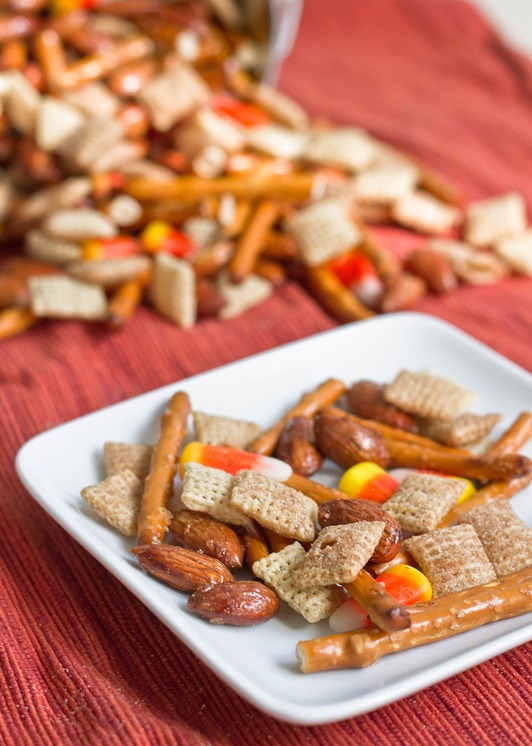 Fall is really a much better season for foodies than Winter. You have your candy corn, your pumpkin spice, fresh apples—what more can you need? Besides, can you ever remember anyone making a recipe with fruitcake or ribbon candy that you just loved? Didn't think so.
I'm not typically a big snacker but when I do feel like something to nibble on I have the hardest time deciding. Salty or sweet? Nutty or candy? Healthy or… not? There's a lot to consider.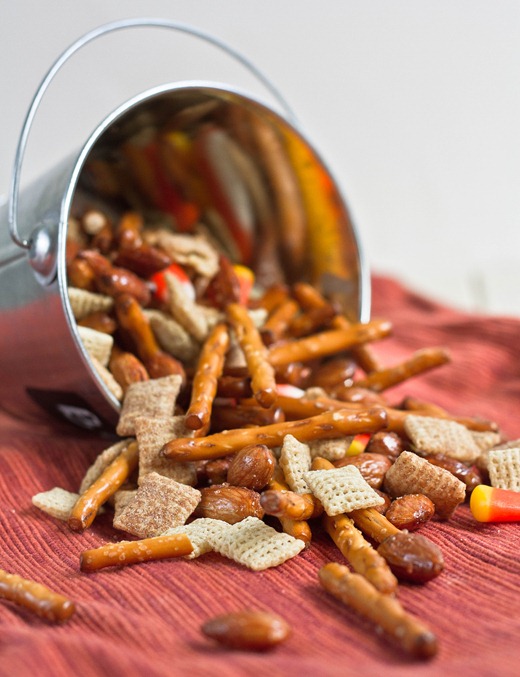 Lately I've been digging this Chex mix since it hits all the marks. It has candy corn—my all-time favorite candy—, spicy Chex cereal, salty gluten-free pretzels and sweet almonds. It's a little healthy with whole grains and nuts and a little not. It's easy enough to make for yourself but also fun enough to bring to a party.
If you don't feel like making your own almonds, you can buy honey roasted or cinnamon sugar almonds and use those instead.
Salty-Sweet Halloween Chex Mix
Prep time: 5 minutes
Cook time: 0 minutes
Ingredients(Makes about 5 cups)
2 cups cinnamon Chex cereal
1 cup salted-maple almonds(recipe below)
1 1/4 cup pretzel sticks*
3/4 cup candy corn
*I used Snyder's of Hanover gluten-free pretzel sticks
Method:
Combine all of the ingredients in a large bowl and enjoy.
Salted-Maple Almonds
Prep time: 5 minutes
Cook time: 20 minutes
Ingredients(Makes 1 cup):
1 cup almonds
2 Tablespoons maple syrup
1 teaspoon coarse salt
Method:
Preheat your oven to 375 degrees.
Mix all of the ingredients together in a small bowl.
Pour the almonds on top of a non-stick baking try in a single layer.
Roast for 20 minutes, disturbing the almonds about halfway through. Don't worry if they still look sticky after 20 minutes; as they cool down they'll become less wet.
Break the almonds apart while they're warm. Store in an airtight container for up to 2 weeks at room temperature.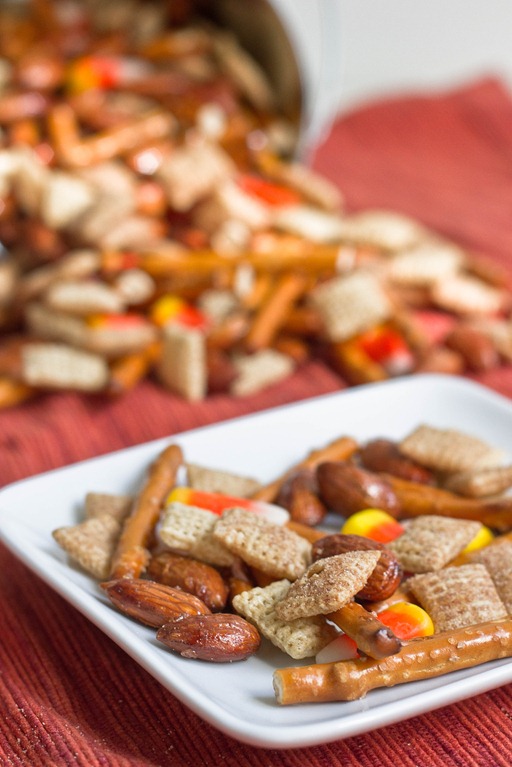 A note about candy corn: Last year I found out through error that most name brand candy corns are not vegetarian because they have gelatin in them. However, CVS store brand is vegetarian so if that's a concern you can still go ahead and enjoy this.