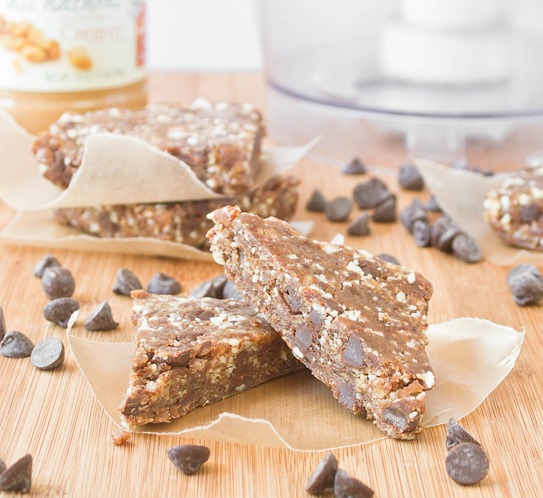 When you're a food blogger, you end up having some pretty weird "snacks". Leftover cheesecake in the afternoon? Sure. Chocolate granola for lunch and dinner some times. Anything goes.
That's all great and delicious but there are times when I wish I ate a little bit healthier. Of course, the answer's simple; if you want to eat healthy you need to buy and make healthy meals and snacks. So to start I made one of my favorites: peanut butter chocolate chip larabars.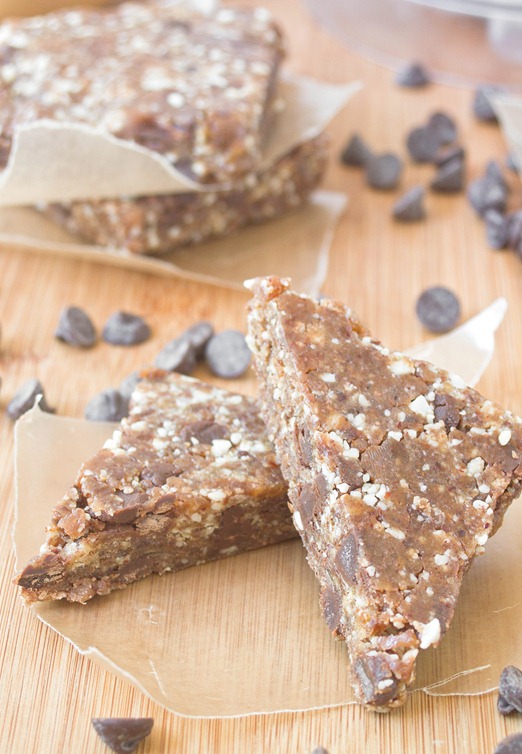 Most pre-portioned snacks at the grocery store are overpriced; they're even pricier if you get them from kiosks or snack stands. By making your own, you control the costs and quality of the ingredients. Larabars have pretty clean and simple ingredients as is, but by buying dates and using other ingredients I already had I was able to bring the cost down.
You could make your own and use almonds instead of peanuts to adapt these for someone with a peanut allergy.
Copycat Peanut Butter Chocolate Chip Larabars
Prep time: 10 minutes
Cook time: 0 minutes
Ingredients(Makes about 6 bars):
8oz pitted dates
1/2 cup peanuts
2 Tablespoons peanut butter
1/4 teaspoon salt
1/3 cup chocolate chips
Method:
Combine the dates and peanuts in a food processor and blend on high until the ingredients start to form a paste.
Add in the peanut butter and salt and continue blending until a dough begins to form.
Lastly, add in the chocolate chips and pulse a few times.
Line a loaf or baking pan with plastic wrap.
Drop the dough on top of the plastic wrap and press the dough into a square or rectangle about 3/4-inch thick.
Cut into bars or squares. Wrap individually and refrigerate until ready to eat.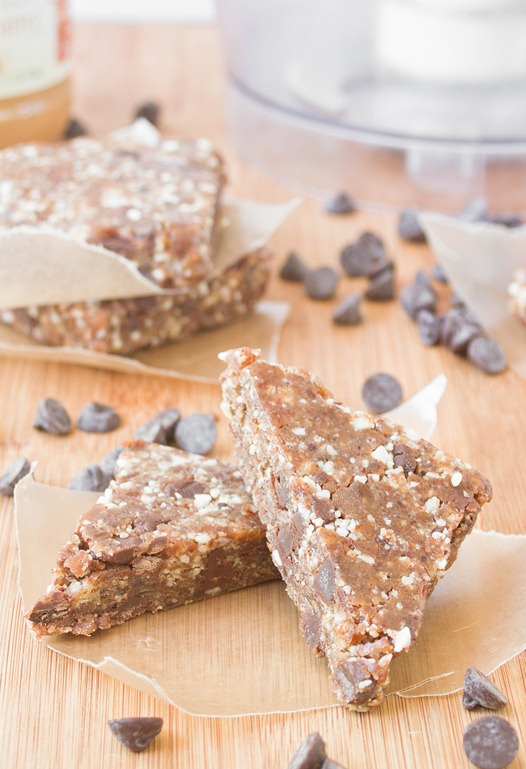 I left mine in squares. You could make bars or balls or really any shape you could think of with these.