Cheesecake is kind of a magical food. It's hard to not love a good cheesecake. It's sweet and tangy and rich and creamy all at the same time; it's pretty much the perfect dessert.
I don't think I've ever had Chubby Hubby ice cream(Phish Food is by far my favorite Ben & Jerry's flavor), but anything with peanut butter, pretzels, and chocolate has to be good. And that's exactly what this cheesecake is: A slightly salty pretzel crust with a rich peanut butter cheesecake filling and a sweet chocolate ganache. Ben and Jerry would definitely be proud.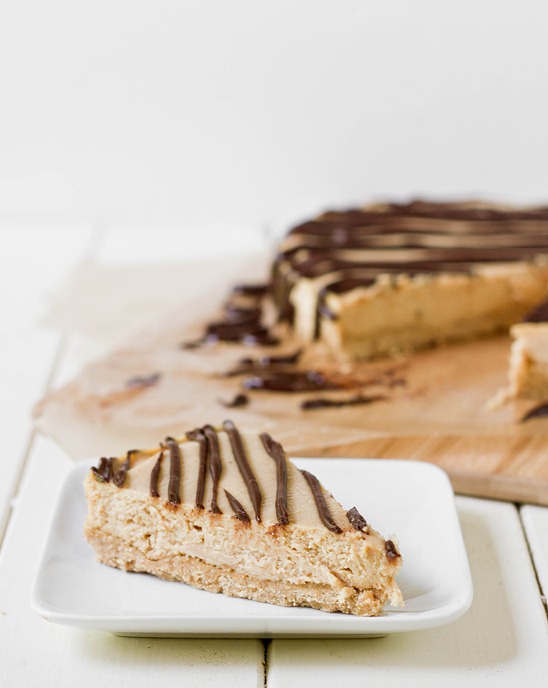 The best thing about this recipe is that it's no-bake(because, really, who wants to bake at all mid-Summer?). Because of that, the filling isn't as light and airy as a cheesecake with eggs would be. You could use full-fat cream cheese in this recipe but it gets more than enough richness from the peanut butter.
Chubby Hubby Cheesecake
Prep time: 20 minutes
Cook time: 0 minutes
Ingredients
For the crust:
6oz pretzels(about 2 cups)*
1 stick butter, melted
6 Tablespoons powdered sugar
1/4 cup liquid sweetener(agave, maple syrup, or corn syrup)
1-3 Tablespoons water
For the filling:
2 8oz blocks Neufchatel or low-fat cream cheese, room temperature
1 cup no-stir peanut butter
1 cup powdered sugar
1 teaspoon vanilla extract
For the ganache:
1/2 cup chocolate chips
2 Tablespoons cream or milk
1 Tablespoon liquid sweetener(agave, maple syrup, or corn syrup)
*To make this cheesecake gluten-free, use gluten-free pretzels. I like Snyder's of Hanover's pretzel sticks.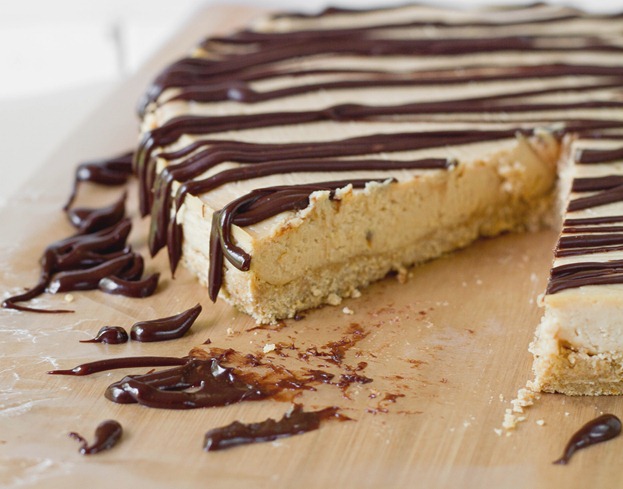 Method:
Pulse the pretzels in a food processor until the crumbs form a coarse flour.
Add in the melted butter, powdered sugar, and sweetener and mix.
Slowly add in water until the dough starts to stick to itself. You may not need any water or you may need up to a few tablespoons.
Press the pretzel dough into the bottom of a cake pan firmly and work it into an even layer.
In a separate bowl, mix together all of the filling ingredients on high until the filling is uniform in color and texture.
Pour the filling on top of the pretzel crust and spread it out in an even layer. Put the cheesecake in the refrigerator until the center sets.
While the cheesecake is chilling, melt the chocolate for the ganache in a microwave or over a double boiler.
Whisk in the cream and sweetener.
Let the ganache cool slightly until it's about the same consistency as a buttercream frosting. Scoop the chocolate into a frosting bag or Ziploc bag with a corner cut out and drizzle it on top of the chilled cheesecake.
Store in a refrigerator. Let the cheesecake sit at room temperature for about 30 minutes before serving.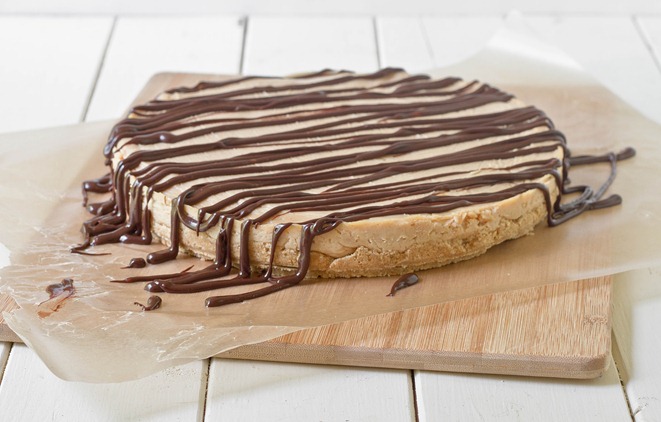 Next time I make this I might double the filling so that it'd be about as thick as the Cheesecake Factory cheesecakes that have about enough calories to feed a small family for a week. Gluten-free or not, everyone deserves that in their life from time to time.