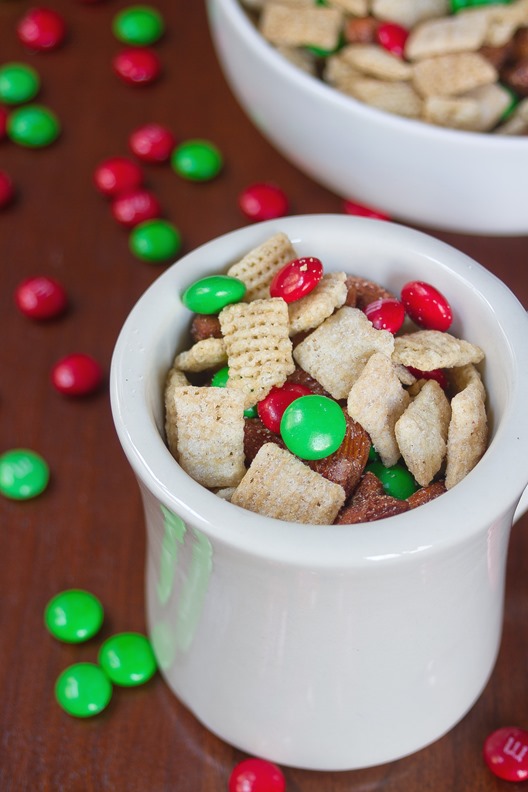 I don't know about you but I usually don't expect to like any cereal without "Chocolate" or "Reese's" in its name—Those are just my personal preferences. But shockingly I've found a new favorite that doesn't fit into either of those categories.
I got a box of Vanilla Chex back in September when they invited me to the Wine & Food festival. Skeptical, it took me a month or so to open it, but after I did I just kept eating it by the handful. The vanilla-coated Chex are surprisingly sweet and delicious. It's impossible to stop after just one.
After I ate half the box, I felt like I should do something with the rest that'd be more exciting than handfuls of cereal. Since it's (already) the holiday season, what better way to use it than make holiday Chex mix? The vanilla, cinnamon, almond, and chocolate flavors blend perfectly for an addictive and delicious party snack.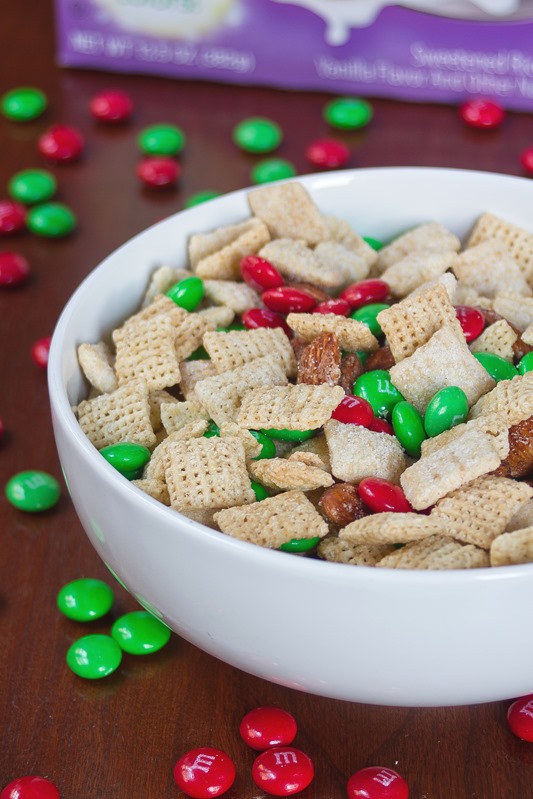 This recipe has you make your own cinnamon sugar almonds but you can cut out the cooking completely by buying flavored almonds at your specialty grocery store.
Holiday Vanilla Chex Mix
Prep time: 5 minutes
Cook time: 10 minutes
Ingredients:
4 cups Vanilla Chex cereal
1 1/2 cups whole almonds
1/2 teaspoon cinnamon
1 Tablespoon oil
1 Tablespoon water
3 Tablespoons sugar
1 cup M&Ms
Method:
Preheat your oven to 300 degrees.
In a bowl, mix together the almonds, cinnamon, oil, sugar, and water until the almonds are covered and there's no liquid on the bottom.
Pour the almonds in a single layer onto a non-stick baking tray and roast for 10 minutes or until the cinnamon sugar begins to clump on the almonds.
Remove the almonds from the oven and let them cool briefly.
In a clean bowl, combine the almonds, Chex cereal, and M&Ms and toss well before serving.
Keep in a sealed bag at room temperature when not enjoying.