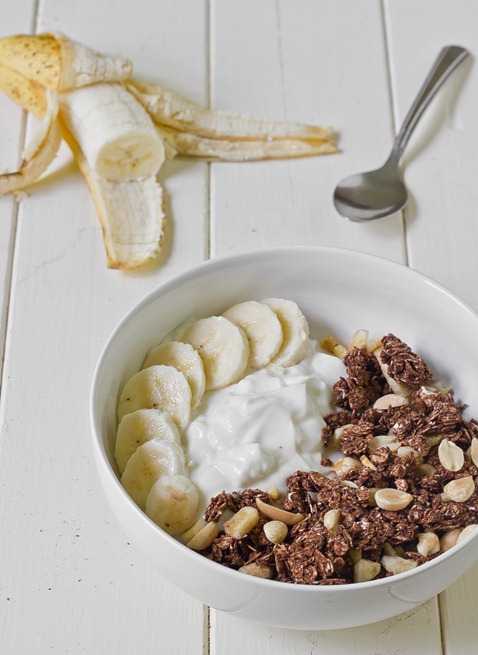 First granola bars, now granola; I'm on an oaty roll.
I've never been particularly fond of granola until I had Love Grown Foods' cocoa granola last Summer. I didn't realize something could be so chocolaty and also healthy. Every time I've made granola myself in the past it never clumped; this recipe clumps. The banana chips and peanut butter naturally pair with the chocolate. It's really a winner.
Want to make it a little more delicious? Add in 1/3 cup of chocolate chips after the granola has cooled. This recipe is also vegan as is but I didn't want to call it that because I ate mine with a big bowl of cow's milk yogurt.
Elvis Granola
Prep time: 5 minutes
Cook time: 25 minutes
Ingredients(Makes about 3 1/2 cups):
2 1/2 cups quick-cooking oats*
1/3 cup maple syrup
2 Tablespoons oil
1/4 cup cocoa powder
2 teaspoons vanilla extract
1/4 teaspoon salt
1/2 cup roasted peanuts
1/2 cup banana chips, crushed
*To make this gluten-free make sure to use gluten-free oats.
Method:
Preheat your oven to 350 degrees
In a bowl, mix together the oats, maple syrup, oil, cocoa powder, vanilla extract, and salt thoroughly.
Lay the oats out on baking tray and press down until the oats are about 1/2 an inch thick.
Bake for 25 minutes, gently shaking the tray every 5 minutes or so.
Remove from the oven and let the granola cool.
Once cool, break the granola up and mix with the peanuts and banana chips. Store in a sealed container for up to a week.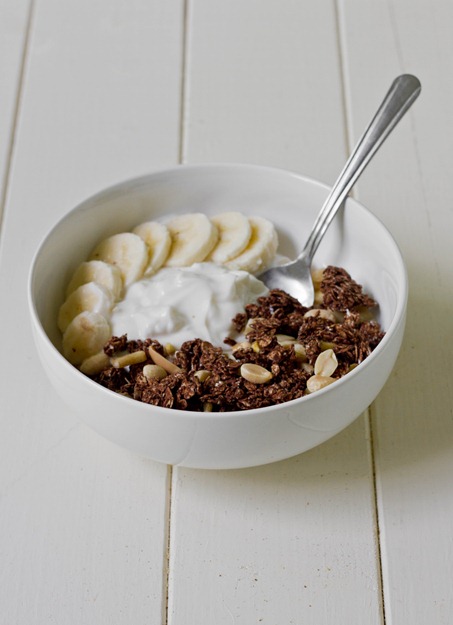 I can't understand people who eat granola with milk. Yogurt is granola's best friend; you can't break them up.