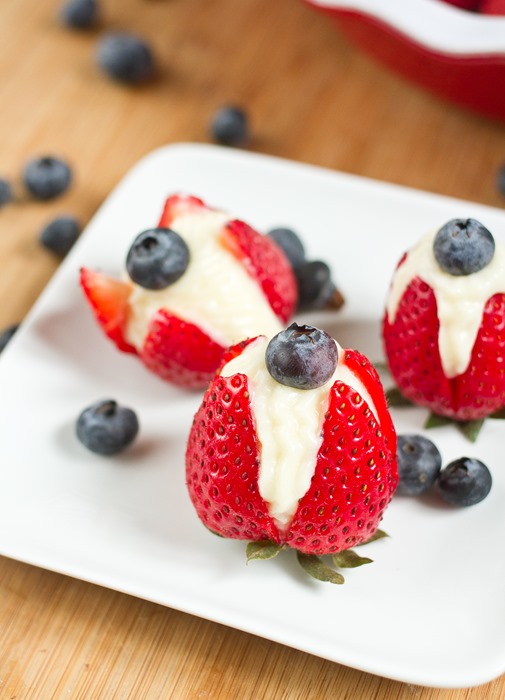 When you're a food blogger, you constantly have to choose between making and blogging a holiday recipe a week in advanced and looking crazy celebrating all by yourself or making a recipe for the actual holiday and posting it a few days later late to the game. Usually I choose the latter but this time I happen to be early to the party; here's a red, white, and blue recipe a month and a half before July 4th for you.
The Nutella cheesecake strawberries I made last month were a huge hit with my friends. I got asked to make them again but I always like trying something new. Instead of Nutella, these strawberries are filled with white chocolate cream cheese. At times I think I like white chocolate more than dark, and this is one of those times. It goes perfectly with the sweet berries.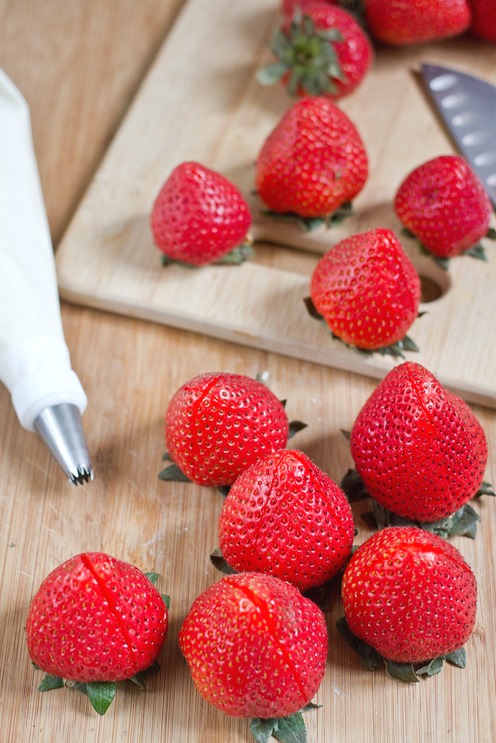 Every time I make these stuffed strawberries, the first half come out looking sloppy and the second half look fine. You just have to get into a rhythm and figure out how to do it best. Getting the filling to the right consistency will also make it easier.
Red, White and Blue Stuffed Strawberries
Prep time: 20 minutes
Cook time: 0 minutes
Ingredients:
1lb fresh strawberries
3/4 cup(6oz) white chocolate chips
5 Tablespoons cream cheese, room temperature
2 Tablespoons milk, room temperature
3/4 cup powdered sugar
1/4 cup blueberries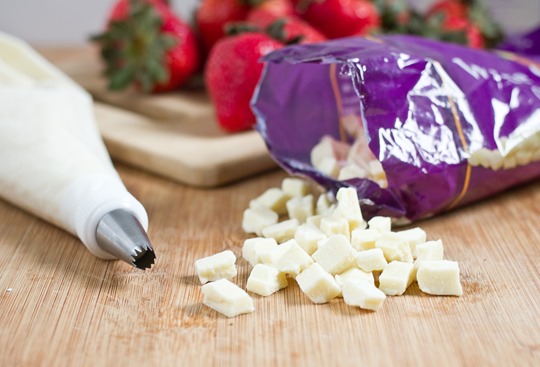 Method:
In a microwave-safe bowl, melt the white chocolate.
Beat together the melted white chocolate, milk, and cream cheese until smooth.
Beat in the powdered sugar until it's fully incorporated.
Move the cream cheese mixture into a pastry bag or Ziploc bag with a corner cut off. If the mixture is still runny, put it in the refrigerator for 5-10 minutes to thicken.
Cut the strawberries twice perpendicularly almost all the way through.
Squeeze the filling into the strawberries starting from the bottom and moving the tip up.
Garnish with a blueberry on top.
Keep refrigerated until ready to serve. These won't last long even in a refrigerator so eat relatively quickly.