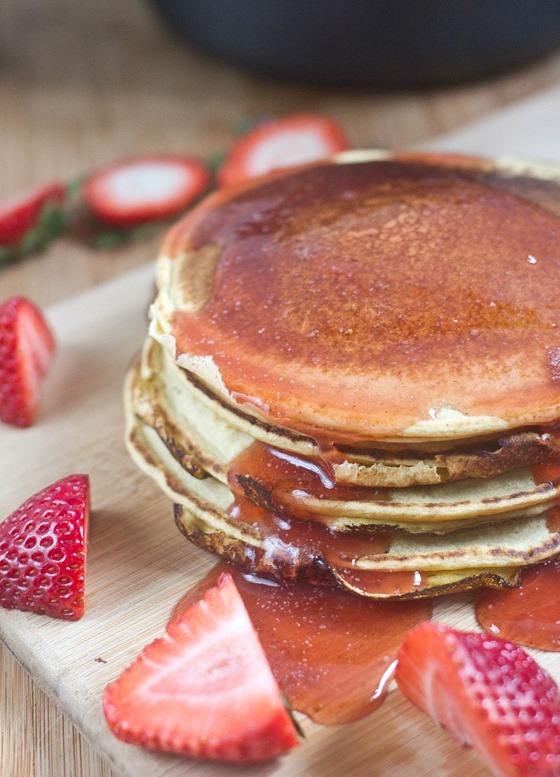 The best part about making anything at home is the flavors. Artificial dyes and ingredients just never taste as good as the real deal. You can buy strawberry flavored maple syrup that vaguely tastes like skittles with absolutely no maple syrup in it, but why do that when you can make something with actual strawberries?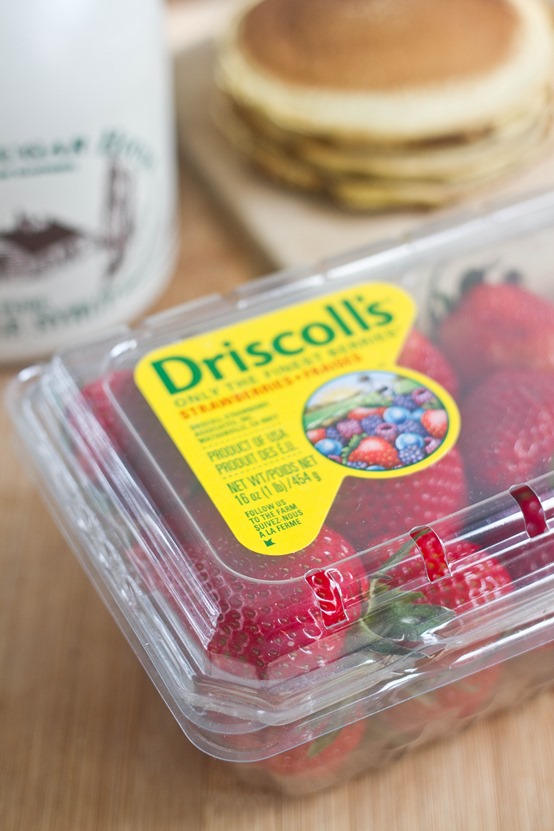 Since Spring is here, Driscolls offered to send me some coupons to use their fresh berries as a recipe ingredient. I was shocked how many recipes they already have on their website including a large section of gluten-free recipes; 106 and they're still adding more—that's no joke.
I was inspired to make this syrup because I hadn't made chickpea flour pancakes in a long time. At first I was just going to cook the berries into the pancakes but that didn't seem quite as exciting as making a strawberry maple syrup. All you need is the whipped cream and it's a decadent breakfast.
I originally planned to use this for pancakes and waffles, but after tasting it it's hard to think of a food this wouldn't be delicious on. I'm already planning to pick up a pint of vanilla ice cream from the store to drizzle this on. You can also use it in any recipe in place of maple syrup.
Homemade Strawberry Syrup
Prep time: 5 minutes
Cook time: 15 minutes
Ingredients(Makes about 1 1/2 cups):
1 cup sugar

1 cup water

2/3 cup hulled strawberries

1/3 cup maple syrup

1/2 teaspoon vanilla extract

1/2 teaspoon cinnamon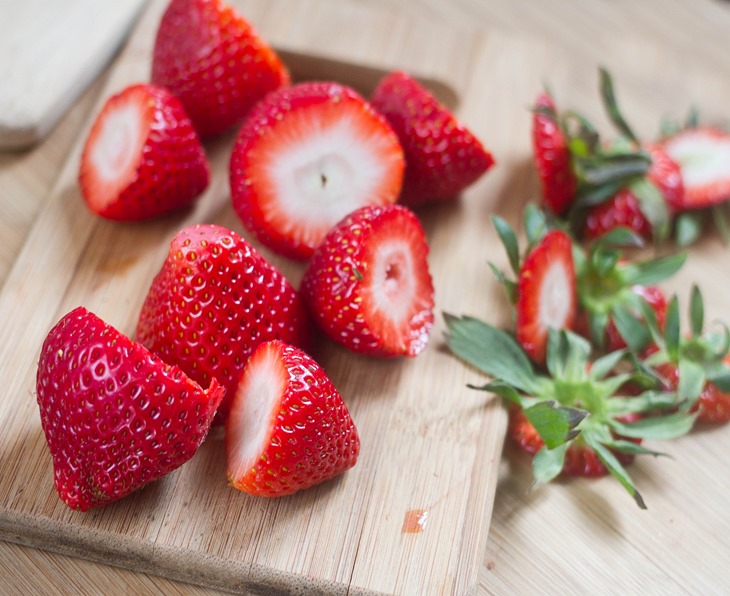 Method:
In a small pot over a burner, combine the sugar and water and heat until the sugar has dissolved.

Boil the water until the simple syrup reduces to about half of its original volume.

While the water is boiling, puree the strawberries and maple syrup in a blender or food processor until they make a smooth sauce.

Off of the heat, combine the strawberry puree and simple syrup and whisk together. Whisk in the vanilla and cinnamon as well.

Put the pot back onto the stove and continue boiling until the syrup reduces to about half of its volume again. Don't over-reduce the syrup to be quite as thick as maple syrup because once it cools off of the heat it will thicken.

Store any extra sauce in a sealed container in the refrigerator when not enjoying.
This is also a really delicious topping on plain oatmeal and oatbran for those days you don't quite feel like making pancakes.