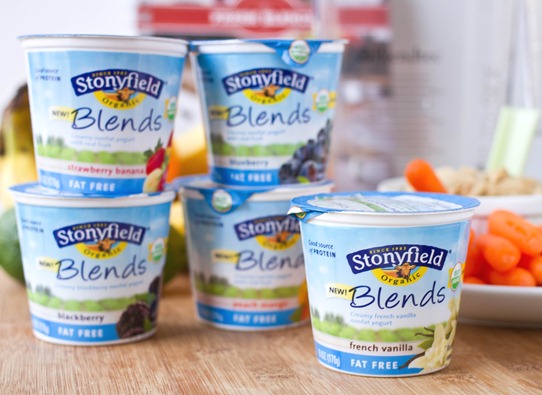 This is by far my favorite opportunity of 2013 so far.
As a recipe developer for the Clean Plate Club, I had the opportunity to try Stonyfield's newest yogurt Blends as well as a Blendtec to play around in the kitchen with. Since I've got it I've been bookmarking smoothie, juices, and soup recipes left and right. The best part is that I have an identical pack to giveaway to a reader–more on that at the end of the post!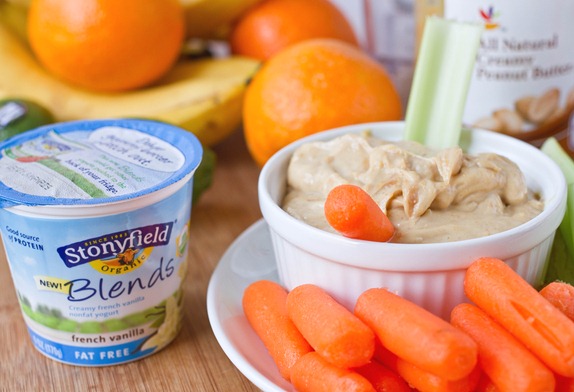 The first thing I blended up was fruity peanut butter yogurt dip made with french vanilla Stonyfield Blends. After almost 2 years that recipe needed a facelift. With the vanilla yogurt, it tasted more like a peanut butter frosting than a dip and was deliciously smooth.
I've found I like the Blends better than the regular variety of Stonyfield yogurt. The texture seems a little creamier even though the flavors I received were non-fat, and I've never been a fan of having the fruit on the bottom of the yogurt anyway. And because it's Stonyfield they're all entirely organic. I would say the Blends are a win-win.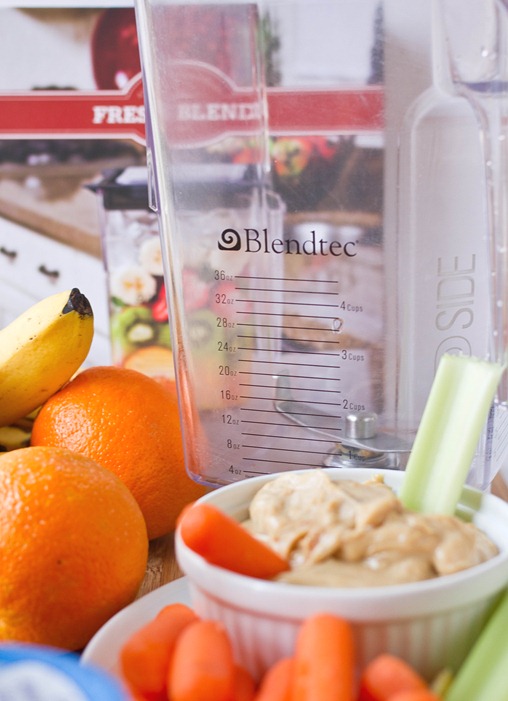 My favorite thing about the Blendtec so far has been how easy it is to use. I've been working with a Black & Decker food processor for years now and the Blendtec is lighter, sturdier, has less pieces to it, can handle heavier loads, and is much easier to clean. It's blown my old processor away in just about every aspect. It can be hard to clean under the blade after processing something sticky like peanut butter; that's been my only trouble so far.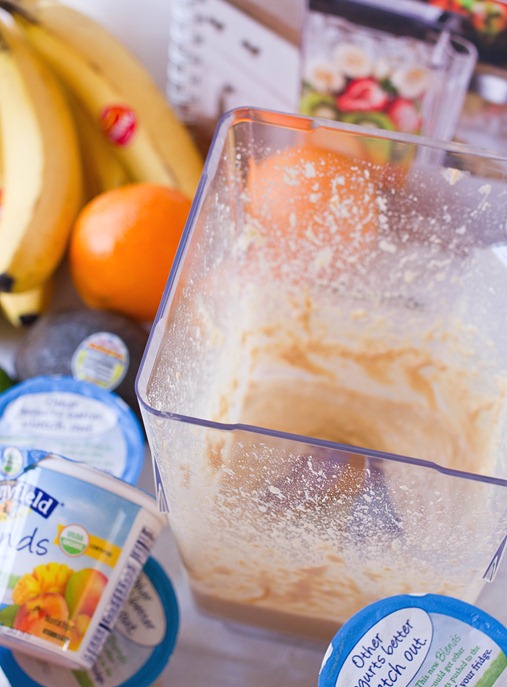 Giveaway
Here's my favorite part: I get to giveaway an identical prize pack to one of you, which includes a Blendtec and package of the new Stonyfield Blends. There are 7 ways to win!
Mandatory entry: What would your favorite flavor of blended yogurt be? It can be one of the new ones or one you just made up!
Other entries:
I'll leave this contest going for 2 weeks, ending on February 1st. Good luck!
Edit: This giveaway has closed and the winner has been contacted.