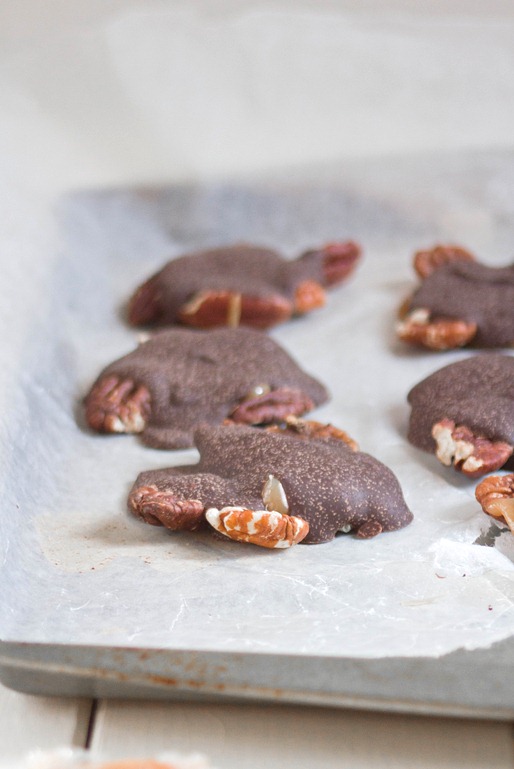 Before Thanksgiving I was thinking of different recipes I could use the American Heritage Chocolate I received on. It's hard to find old-fashioned recipes that are also gluten-free since I don't think that was much of a concern in the 18th century. I remembered how much I like old fashioned candy shops and seeing the homemade candies behind a glass case and wanted to try making a favorite: turtles.
I can't say I went all-out old-fashioned with this recipe because I cheated a little bit and bought wrapped caramels. Learning how to use a candy thermometer well is something I want to do; this didn't seem like a good time to start practicing, though. Store-bought or not, the end result was delicious and that's what really matters, right?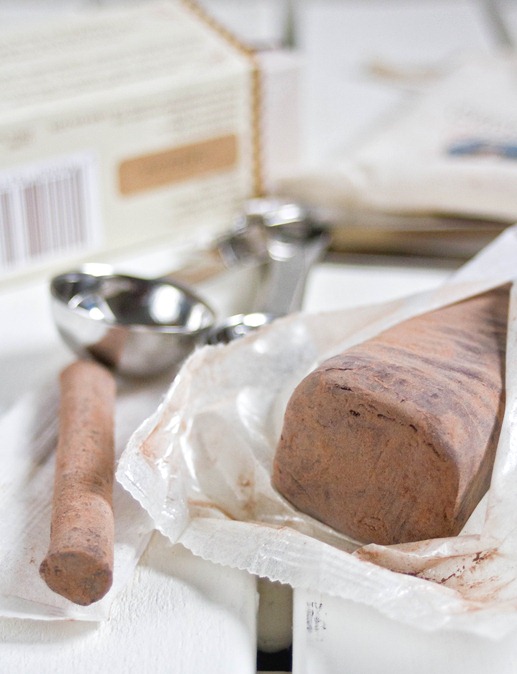 Whenever you're working with high-quality baking chocolate I would suggest melting it over the stove using the double boiler method. Boil water in a small pot and place a fitted bowl on top with the chocolate inside of it, moving the chocolate around to melt it evenly. Chop the chocolate into smaller portions to make it melt faster.
Homemade Chocolate Turtles
Prep time: 15 minutes
Cook time: 0 minutes
Ingredients(Makes 10 turtles)
*I used Trader Joe's salted old fashioned caramels. Feel free to make your own from scratch if you're experienced with a candy thermometer.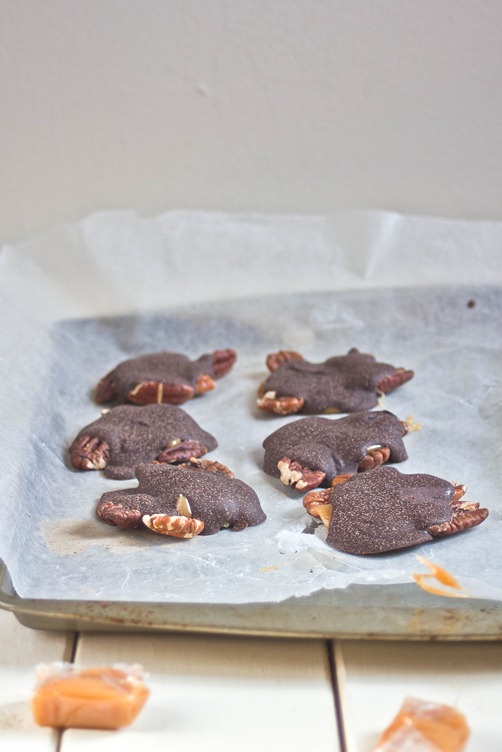 Method:
Lay the pecans out in clusters on a non-stick, greased surface.
Spoon about a Tablespoon of the melted caramel on top of each pecan cluster.
Over a double boiler, melt the chocolate until it is smooth and shiny.
Spoon just enough chocolate on top of the the clusters to cover most of the caramel and pecans.
Move the turtles into the refrigerator or freezer for 20 minutes to set the chocolate.
Serve and store at room temperature.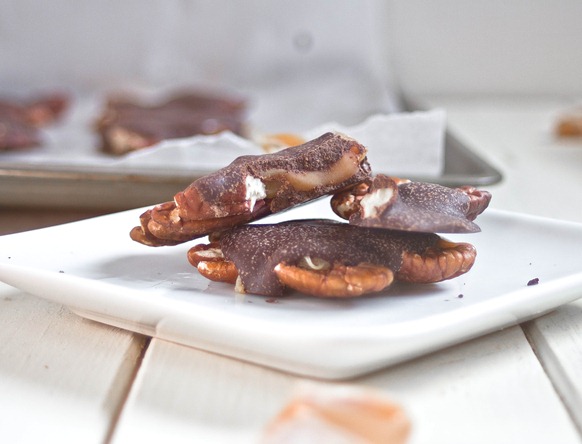 Now for the fun part. American Heritage Chocolate wants to give away some of their finely ground chocolate drink and chocolate sticks to 2 US readers. All you have to do is leave a comment for each entry below and I'll pick the winners Tuesday, December 4th, at midnight.
Good luck!