Glad to know I'm not the only one who thinks peanut butter and baked beans are a delicious combination. But I forgot to mention the best part! If you leave a comment on the recipe page on Peanut Butter & Co.'s All Star Recipe Blog you'll be entered to win a jar of their deliciously sweet Smooth Operator peanut butter.
And speaking of peanut butter…
As soon as I made chocolate almond granola bars I knew I wanted to make a version using peanut butter. What goes better together than peanut butter and chocolate? But when I finally got around to making it, I thought of improvising and using white chocolate; if anything beats peanut butter and chocolate, it's peanut butter and white chocolate.
White chocolate's one of those things I don't like so much on its own but goes great with just about anything. It adds a rich, buttery flavor to these granola bars that make them taste like they're so homemade you grew the oats yourself.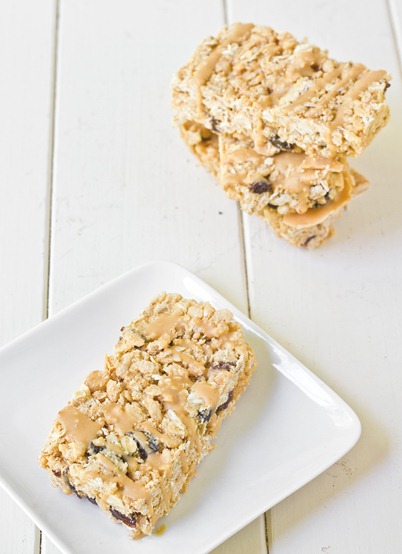 Want to take these to the next level? Try using PB&Co.'s white chocolate peanut butter.
White Chocolate Peanut Butter Granola Bars
Prep time: 10 minutes
Cook time: 0 minutes
Ingredients(Makes 8 bars):
1/2 cup white chocolate chips
1/2 cup no-stir peanut butter
3 Tablespoons honey
1 cup oats*
1 1/2 cups rice crisps cereal*
1/2 cup roasted peanuts
1/2 cup raisins
1/4 teaspoon salt
*To make these granola bars gluten-free, make sure these two ingredients are certified gluten-free.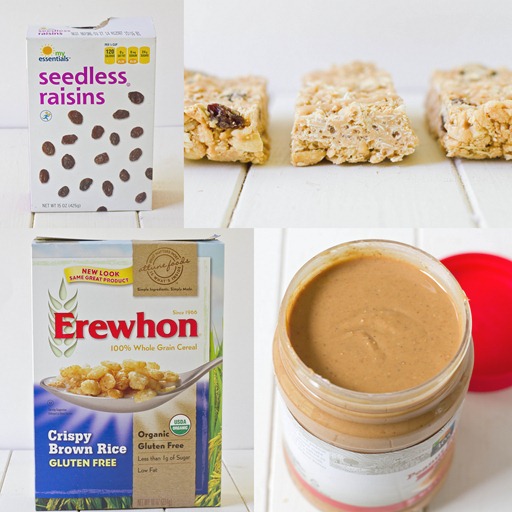 Method:
In a microwave or over a double boiler, melt the white chocolate.
Stir in the peanut butter and honey until smooth.
Add in the oats, cereal, peanuts, raisins, and salt and mix until everything is completely covered.
Line an 8 x 8 baking tray with wax paper. Dump the batter into the pan and press down into an even layer.
Refrigerate the bars until they've hardened—about 20-30 minutes.
With a sharp knife, cut the bars in half horizontally and into quarters vertically into 8 2 x 4 bars.
Store in the refrigerator for up to 2 weeks.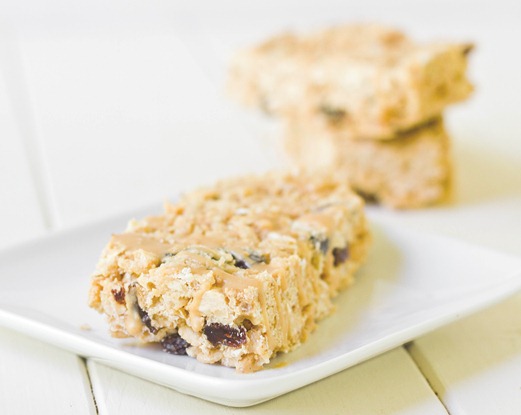 These were a little more crumbly than the other granola bars I made for whatever reason. Make sure when you cut into them they're extra cold and you use a sharp knife.