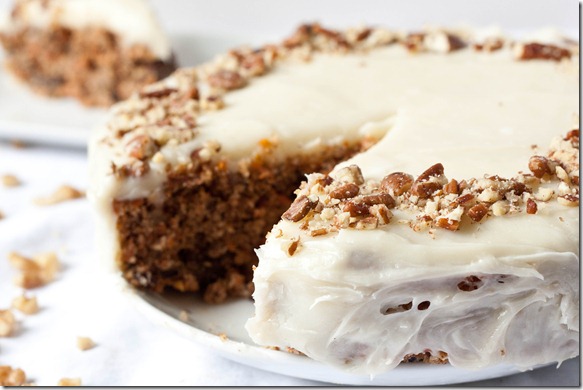 I saw a lot of carrot cake recipes last week leading up to Easter while I was planning to make one for yesterday, too. I'd forgotten it's sort of an Eastery dessert. Easter is also the time I celebrate my birthday with my extended family and carrot cake has always been one of my favorite cakes. It's kind of an odd choice(or so I'm told), but I love it. I even asked to have it as my graduation cake after 6th grade when everyone else was choosing chocolate and chocolate fudge; it's their loss.
I haven't had carrot cake since eating gluten-free a few years ago and have been meaning to make this for months. Of course, when I did decide to make it things started going wrong. I realized Friday night I only had one cake pan, so a layer cake was out. I also didn't have a grater so I had to peel and chop the carrots. I completely forgot to add the pineapple I bought just for this, and as I went to add in the walnuts I remembered my aunt's allergic to walnuts, so I swapped in some pecans at the last minute. Still, this was one of the best carrot cakes I've ever had.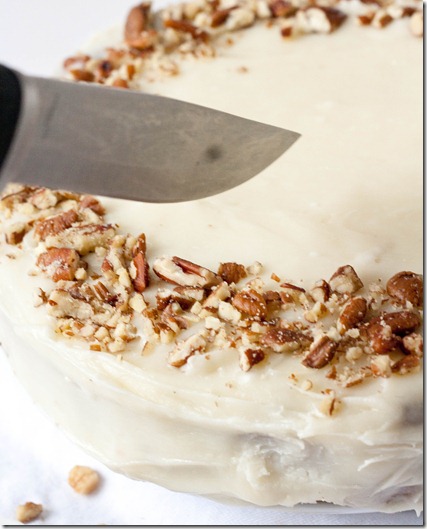 This recipe makes one cake layer. You can double it to make more for a layered cake. To make the cake dairy-free, use a vegan cream cheese substitute. I'd recommend something organic since vegan cream cheeses tend to have odd ingredients.
Gluten-Free Carrot Cake with Cream Cheese Frosting
Prep time: 15 minutes
Cook time: 40 minutes
Ingredients:
1 cup shredded carrots
1/2 cup raisins
1/2 cup chopped walnuts(or any other nut)
1/2 cup shredded coconut
1 1/2 cups almond flour
1/2 cup sugar
1/2 teaspoon baking powder
1/2 teaspoon salt
1 teaspoon cinnamon
1/2 cup maple syrup
4 eggs
6 Tablespoons coconut oil, melted
8oz cream cheese, room temperature
2 cups powdered sugar
1 teaspoon vanilla extract
1-2 Tablespoons milk or cream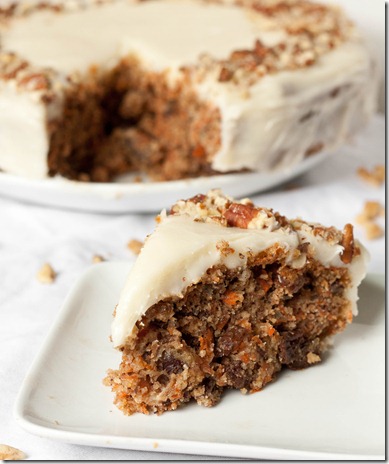 Method:
Preheat your oven to 375 degrees.
Mix together the carrots, raisins, walnuts, coconut, almond flour, sugar, baking powder, salt and cinnamon.
Mix in the maple syrup, eggs, and coconut oil until the batter is even.
Pour the batter into a 12-inch cake pan and spread out evenly.
Bake for 40 minutes until the cake rises and the center has cooked through.
Remove from the oven and let cool completely before frosting.
To make the frosting, sift the powdered sugar into a bowl with the cream cheese.
Add in the extract and milk and beat until completely mixed.
Spread on top and around the sides of the cake.
Garnish with extra nuts if desired.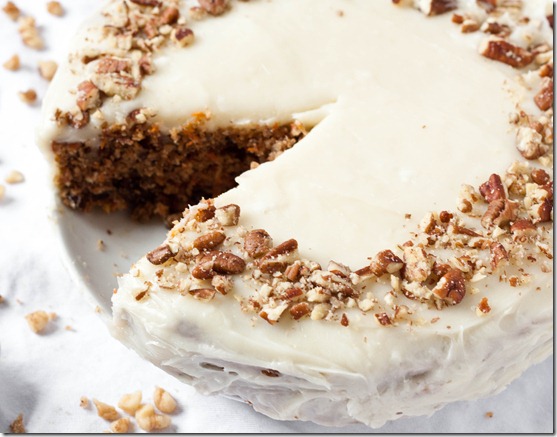 I'll always have a soft spot(and empty stomach) for carrot cake. Since there are vegetables and fruit in this I'm going to go ahead and say it's fine to eat the leftovers for breakfast, too.