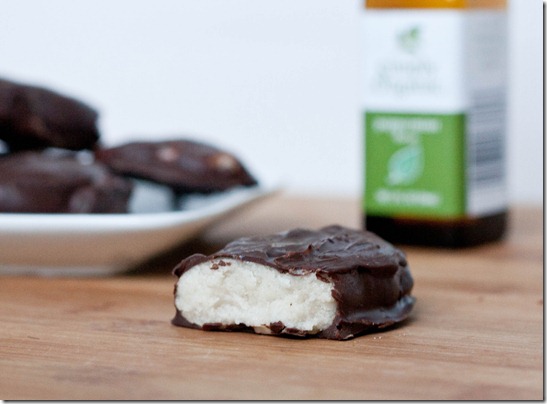 If there's one candy that can rival my love of chocolate and peanut butter, it's peppermint patties. As soon as I made my egg-shaped Reese's cups, I wondered why no one ever does the same with peppermint patties?
The ratio of filling to chocolate coating is a little ridiculous here; if you're not a fan of super sweet desserts, this probably isn't for you. I am, however, so I thought these were great. The chocolate coating certainly could have been prettier but it's mostly my fault for hastening the process; this works best if you let the patties freeze well before being coated.
Easter Egg Peppermint Patties
Prep time: 30 minutes
Cook time: 0 minutes
Ingredients(Makes a dozen):
2 1/4 cup powdered sugar, sifted
1 1/2 Tablespoons agave nectar(or any liquid sweetener)
1 1/2 Tablespoons water
1 Tablespoon coconut oil, softened or melted
1 teaspoon peppermint extract
8oz bittersweet or semisweet chocolate chips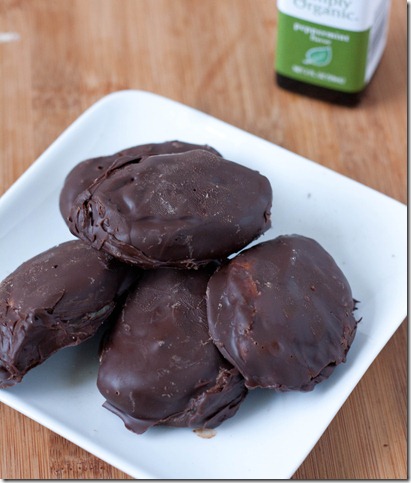 Method:
In a large bowl, mix together the powdered sugar, sweetener, water, coconut oil and extract completely until it forms a dough-like consistency.
Break off pieces of the filling and roll it into a log in your hands. Gently press down until the shape resembles an egg. Lay this on a non-stick surface and repeat with the rest of the filling.
Refrigerate the filling until it's cold and hard—about 30 minutes.
Meanwhile, melt the chocolate in a microwave or over a double-boiler.
Cover the filling eggs on both sides and all around in the chocolate. Try to work quickly since the filling will soften the longer it's out and near the chocolate. Lay the eggs on a non-stick surface one by one.
Once you've used all the chocolate and filling, refrigerate the eggs until the coating hardens. These will last up to 2 weeks in the refrigerator.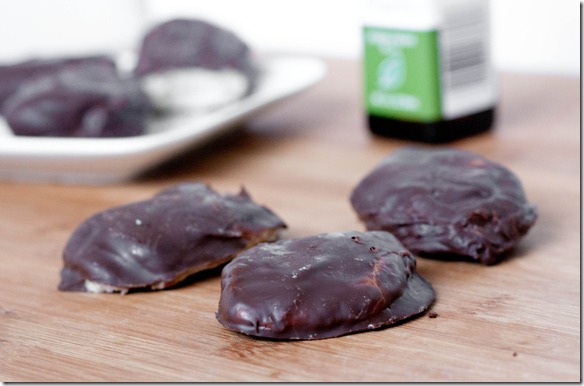 These are like after dinner mints on steroids. I could never choose between these and Reese's cups. Thankfully, we live in a world where no one ever has to.