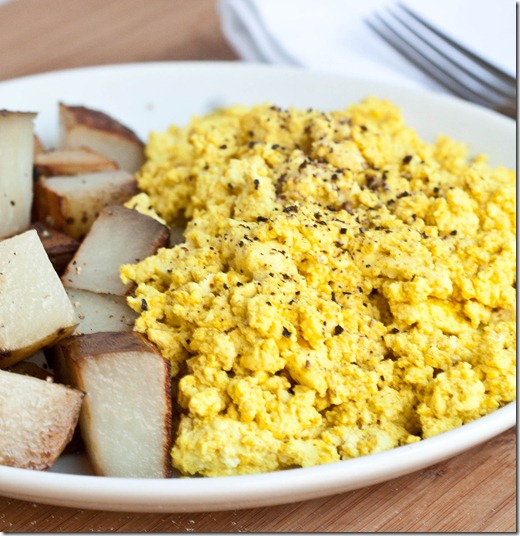 I love eggs. I really do. I have no problem with eating them for every meal. And some days I do. But I also love this vegan version of scrambled eggs, which is just as easy if not easier to make and packs a punch of flavor.
"How do you get tofu to look so much like eggs?" you might think. Tofu is so versatile to begin with; you can get it to be almost any texture and appearance with a little effort. The trick to getting a yellow color is turmeric, which adds very little flavor but a nice eggy look.
Now, this doesn't taste terribly much like scrambled eggs. In fact, it would be pretty bland if it weren't for the garlic, onion, and salt. In addition to those, you could add any herbs or other seasonings you might like to enjoy scrambled eggs with; for instance, add some cayenne pepper for a bit of a kick.
Scrambled Tofu
Prep time: 5 minutes
Cook time: 10 minutes
Ingredients(for 2 servings):
1 block firm or extra firm tofu
1/2 Tablespoon olive oil
3/4 teaspoon turmeric
1/2 teaspoon onion powder
1/2 teaspoon salt
1/4 teaspoon garlic powder
1/4 teaspoon black pepper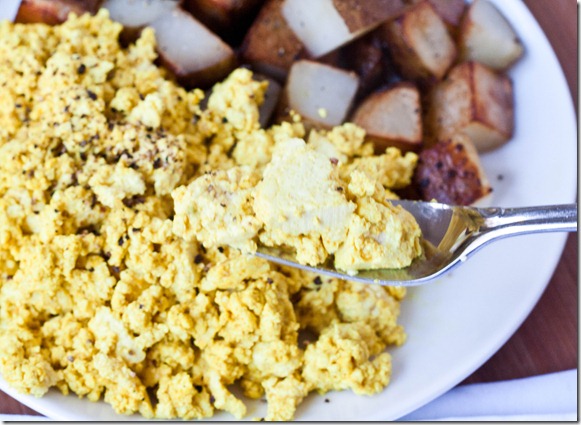 Method:
Heat a pan over a burner set to medium.
Mash the tofu with a fork to get it to a scrambled egg texture.
Pour the tofu and all of the rest of the ingredients into the hot pan. Mix together to distribute the seasoning.
Cook for 5-10 minutes until the tofu starts to brown and firm up.
Serve hot with home fries or toast.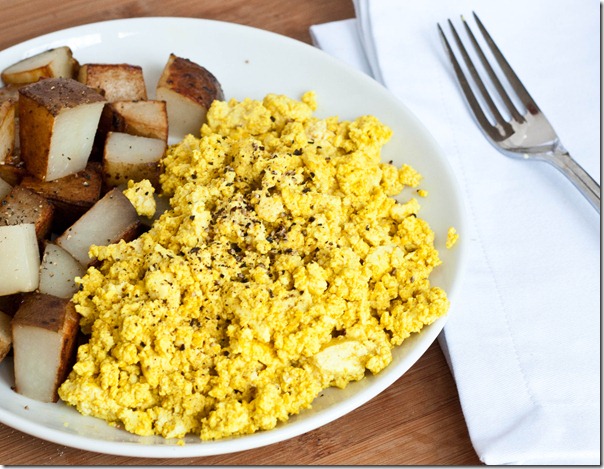 I actually like this more than eggs because it's usually easier to clean the pan afterwards; if that isn't a good enough reason to make it, I don't know what is.