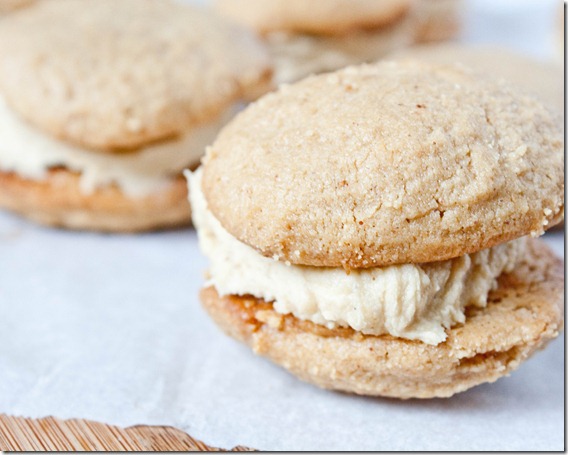 Like I've said before, I'm not a big cookie fan. I'm a frosting person. I was the kid who would break apart an Oreo or maple leaf cookie, lick out the inside, and put the cookie halves back in the box. You can't imagine how much that thrilled my parents.
I was going to fill these with a soft chocolate ganache, but since the cookies are rather unsweet on their own I thought a sweeter filling would contrast nicely and let all the flavors show. Because of that I went with my favorite kind of frosting: Buttercream. The filling is rich, sweet, and creamy adding a whole new level to the cookies.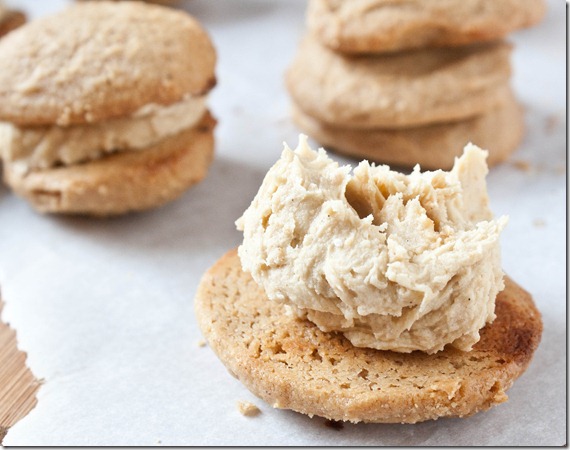 I give a suggested recipe for the cookies to use but you can really do this with any cookie recipe. Again, this is really easy to make vegan by simply substituting a dairy-free margarine for the butter.
Peanut Butter Buttercream Sandwich Cookies
Prep time: 5 minutes
Cook time: 0 minutes
Ingredients(Makes 9 sandwich cookies):
1 batch peanut butter cookies
3 Tablespoons no-oil added peanut butter
3 Tablespoons butter, room temperature
3/4 cup powdered sugar
1 1/2 teaspoons vanilla extract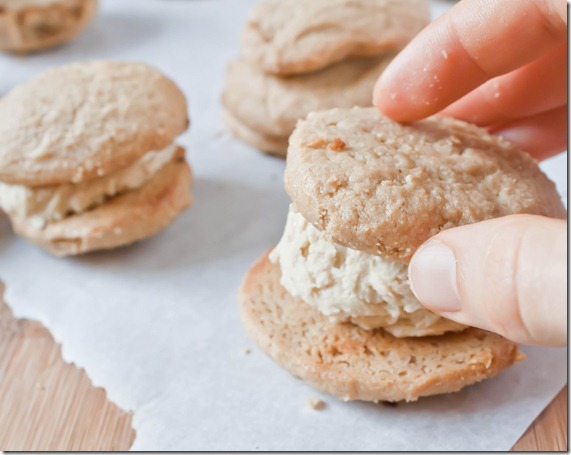 Method:
Cream together the peanut butter, butter, powdered sugar and vanilla extract until it makes a smooth and thick buttercream.
Scoop 1 tablespoon of buttercream onto the flat side of a cookie and sandwich together with an equally sized cookie. Repeat until all of the cookies and frosting are gone.