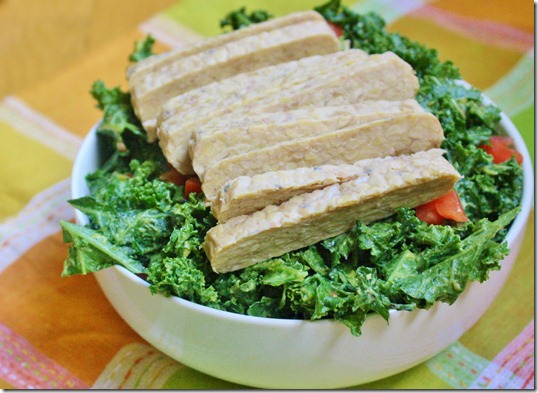 I know this is the second kale post in 3 days, but bear with me; it's that good.
The first time I had massaged kale was at Whole Foods from the salad bar. It was so good I ended up getting it every time I went in. But after a while of paying $7.99 per pound for it I figured it had to be cheaper to make at home.
Massaging your own kale takes just a few ingredients and 5 minutes. It breaks down the kale without heating it so the nutrients all remain but the taste is less bitter and bite less sharp. It's a great nutritious side dish or base for a salad.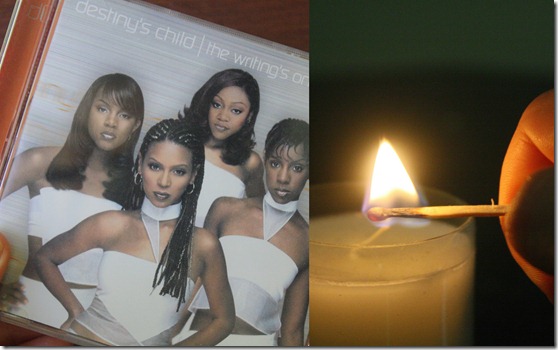 It's totally optional but dimming the lights, lighting a candle, and putting on a slow song really sets the mood. This is a massage after all.
How To Massage Kale
Prep time: 5 minutes
Cook time: 0 minutes
You'll need(for 2 side servings)…
2 cups roughly chopped kale
1/2 a large avocado
Juice of 1/2 lemon(or lime), about 1 Tablespoon
1 medium tomato, diced
1/4 teaspoon sea salt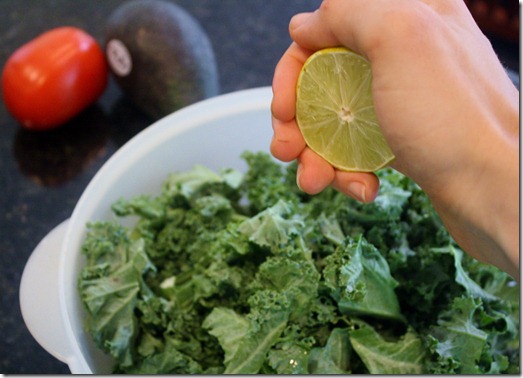 In a large bowl, mix the greens with the citrus juice.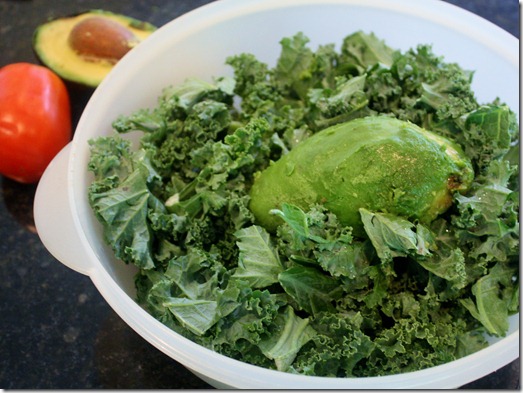 Add in your avocado. Then it's time to gently massage the avocado into the kale…
Or, if you're like me, it's going to look a lot more like clumsy groping than an actual massage. I guess the two are close enough; one usually leads to the other, right? Anyway, massage the kale by working it with you're hands, incorporating the avocado and lemon juice. You'll hear a lot of crunching noise. After about 5 minutes you'll notice the kale turns from a muted color to a more lively green. That's when it's ready.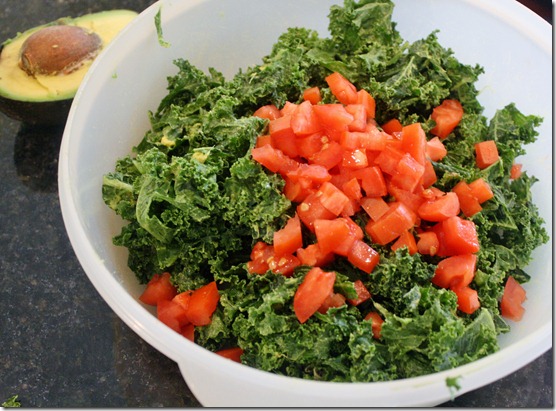 Add in the diced tomato and sea salt and gently fold all of the ingredients together. Serve at room temperature.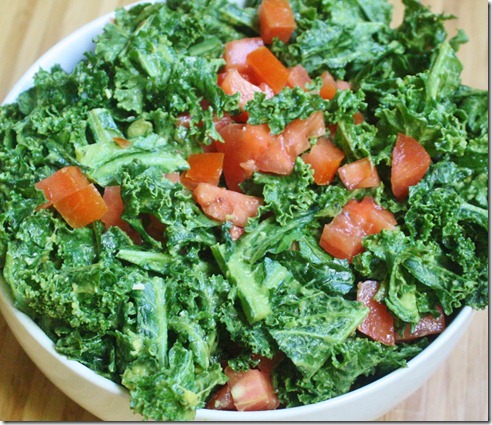 This method is so much cheaper than buying it from the salad bar, and much quicker than I expected, too! Whole Foods uses about twice as much avocado for this much kale. That's probably why it tastes so much better there.