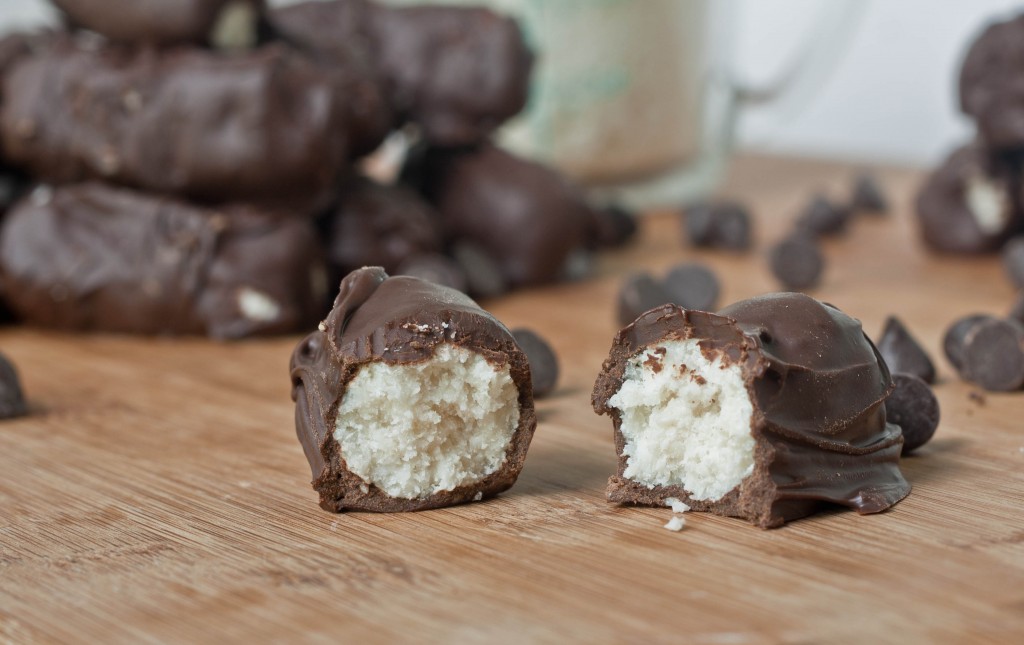 I love candy. A lot. So when I spotted a recipe for chocolate-covered coconut bars(AKA Mounds Bars) in the last Rachael Ray magazine, it was only a matter of time before they'd end up on my counter.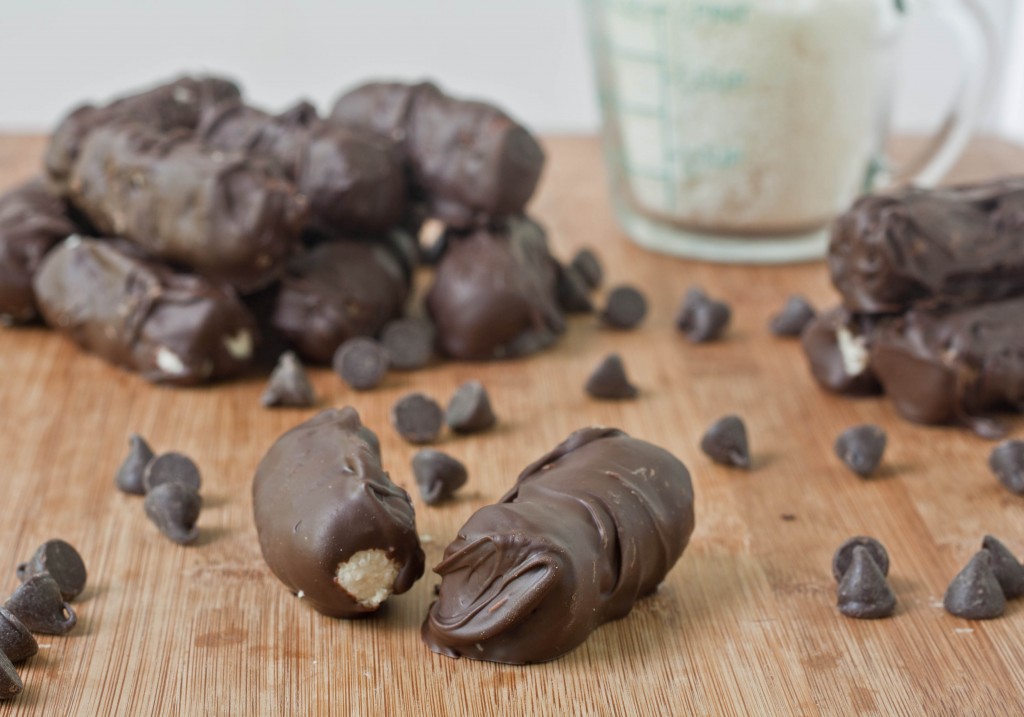 I made these the day before Halloween, which made them perfect for gobbling up the next day. Honestly, these aren't too sweet, which is exactly what I like about them. I don't love a candy that's pure sugar because it's so unsatisfying and I'm bouncing up a wall for the next hour; instead, these get their flavor from rich dark chocolate and nutty coconut.
Homemade Mounds Bars
Prep time: 20 minutes
Cook time: 0 minutes
Ingredients(makes about 16 bars):
2 cups(160g) unsweetened coconut flakes
1/3 cup liquid sweetener(agave, maple syrup, corn syrup, etc.)
1/4 cup powdered sugar
2 tablespoons coconut oil(could substitute butter, shortening, or coconut butter)
1/4 teaspoon salt
7.5oz bittersweet chocolate, melted(a little under 1 cup if using baking chips)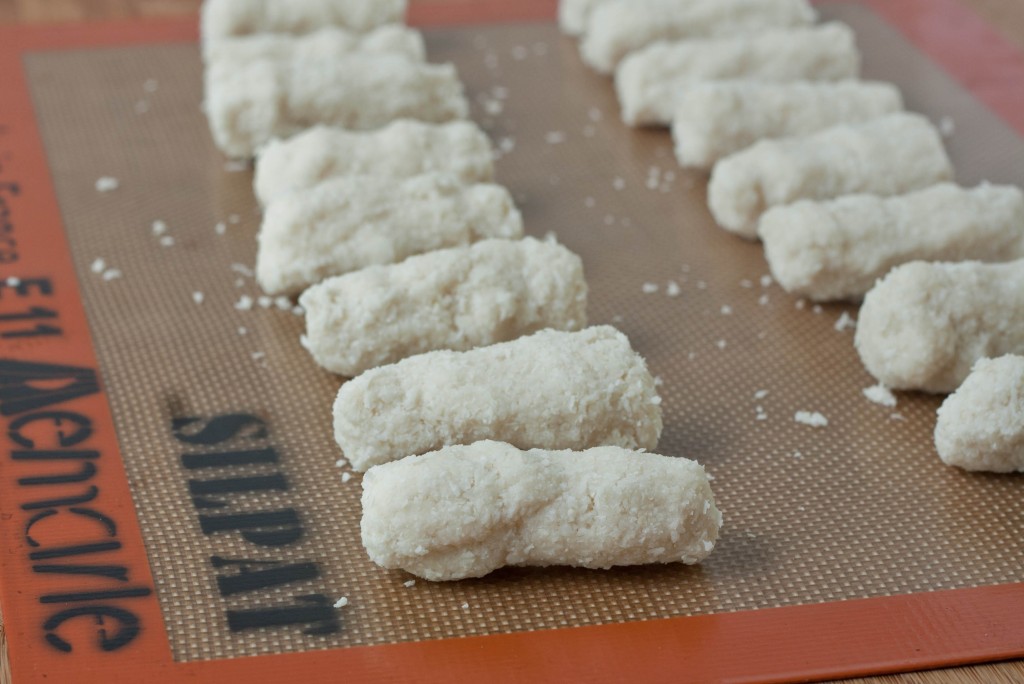 Method:
Mix together the unsweetened coconut, liquid sweetener, and salt. Toss until it's entirely and evenly coated.
Add in the powdered sugar and mix again.
Melt the coconut oil or butter if it's not already in a soft state and add that in and mix.
Using the area between your 4 fingers and palm, mold the coconut mixture into a cylinder about 2 inches long and 1 inch thick.
Put these onto a lined baking tray and freeze for 10 minutes or so until they harden.
While the middles are freezing, melt the chocolate over a double boiler or in the microwave to a soft and smooth consistency.
One at a time, roll the coconut fillings in the chocolate until they're completely covered and put them on a wire rack to dry. Repeat for all of the coconut centers.
Store in a container in the refrigerator for up to 2 weeks.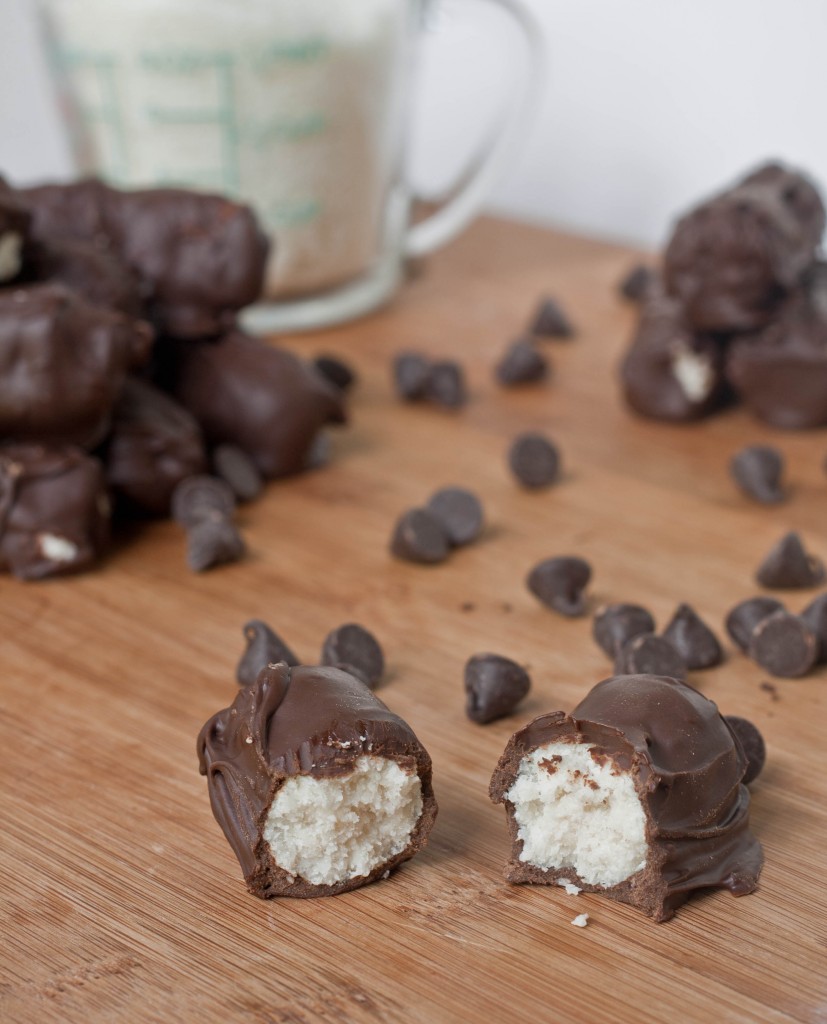 These really were just like the real thing once they've dried, only better; they tasted freshly made and not at all stale. The real question is whether anything wouldn't taste good covered in chocolate…