Before I get into how to blanch an almond, I'll tell you why you would want to, and the answer involves a challenge.
Heather, Julie and I have decided to challenge ourselves to learn something new that's always intrigued us: making French macarons. We're extending the challenge to anyone who wants to participate, too. If you have a blog and want to teach yourself how to make macarons, or any other technique that might have intimidated you in the past, tackle it, write a post on it, and send it to Heather by 10pm on Macaron Monday(Nov. 8th) to show off your newly learned skill. Even if you don't have a blog, consider this an opportunity to challenge yourself; it's always great to learn something new!
If you so choose to make French macarons, chances are you're going to need to blanch almonds or buy blanched almonds. I purposely bought raw almonds to challenge myself to learn how to do this(and because they were cheaper). Blanched almonds are not only great for making macarons but can be useful for other recipes like almond butter, almond flour, or marzipan.
How To Blanch Almonds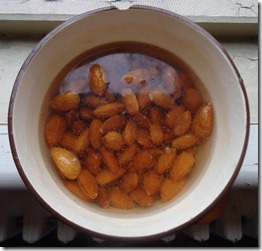 To begin, start with raw almonds. Note that most almonds sold in stores marketed as "raw" have already undergone a pasteurization process. That's OK; just avoid any almonds that have been roasted, especially with added oil and salt.
In a bowl, pour boiling water over the almonds and let them sit for one minute(I used scalding hot tap water and that worked, too). Next, drain the water and run the almonds under cold water to cool. Drain and dry them on a flat surface.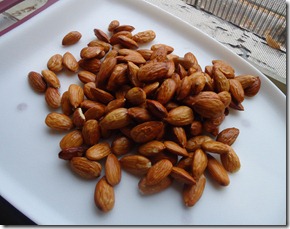 Once the almonds have been drained and rinsed, you should notice the skins beginning to shrivel. To peel an almond, simply hold it between your thumb and index finger…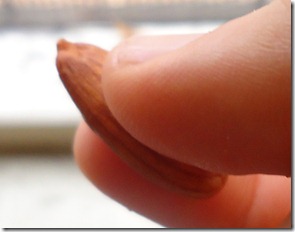 And gently apply pressure between the two until the skin begins to peel away.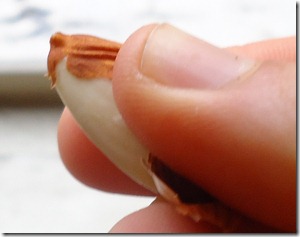 Pick away and discard any excess skin. Some almonds might be more resistant than others, but in general it's really that simple.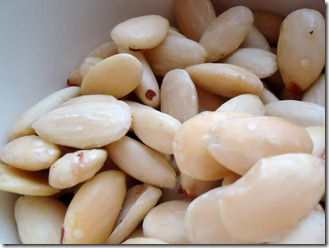 You'll notice a dark patch of skin on the ends of each almond where the skin is much more strongly attached. You can either pick these off separately or ignore them as they shouldn't affect whatever recipe you're making.
Use the blanched almonds immediately or store them in a ziploc bag in the refrigerator until you're ready(but don't wait longer than 2 weeks).
And don't forget, if you care to participate in Macaron Monday, to send your post to Heather by 10pm, November 8th. And HAPPY HALLOWEEN.