If you haven't already entered the giveaway going on now, there are only 2 days left!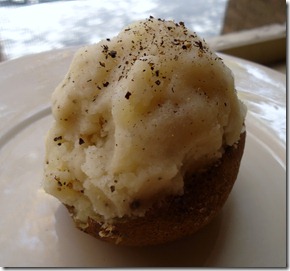 The only memory I've ever had of mashed potatoes are from holidays where the potatoes thinned out to a pudding sat in a pool of butter. Needless to say, I didn't have a problem passing on the mashed potatoes for most of my childhood. But I've been enjoying them a lot recently; in turns out if you skip the butter and use a moderate amount of milk with the right seasonings, they taste like, well, a potato! And I can never pass on that.
Dairy-Free Mashed Potatoes
Ingredients(Makes 4 servings):
4 starchy baking potatoes(I like Russet)
1/2 cup coconut milk(or non-dairy creamer)
1 teaspoon onion powder
3/4 teaspoon sea salt
1/2 teaspoon black pepper
Bake the potatoes for 60 minutes at a high temperature(alternatively, you could just microwave them). Remove the skins and mash in a bowl. Pour in the milk and seasonings and continue to blend until the liquid has been absorbed. Serve hot.
The great thing about coconut milk in this recipe is that these don't really taste "coconut-y"; there's enough pepper and onion to make them interesting and flavorful while still keeping a smooth, rich consistency. These give mashed potatoes a much better name in my mind, and scream "comfort food".
Side note: Did you know professional food photographers will use mashed potatoes to look like ice cream? That's no fun.