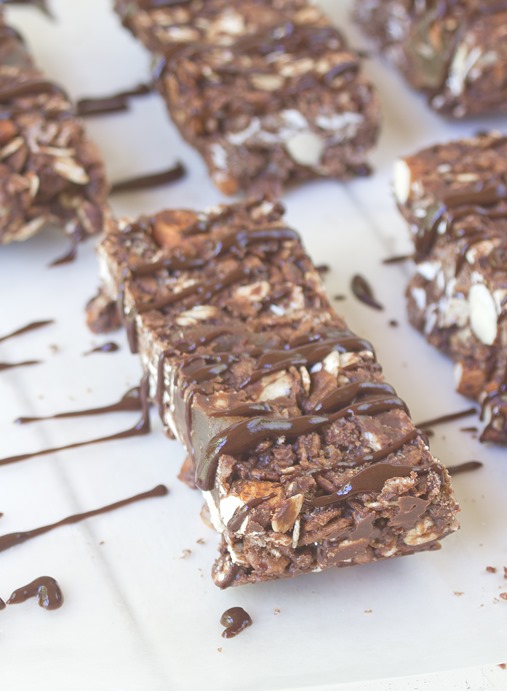 I'm a snacker. I can't imagine how somebody could go from lunch all the way to dinner time without snacking on something. Seriously, how do they do it? I'm usually reaching for a candy bar or bag of popcorn at 3pm and more often than not know I should be eating something healthier.
I first made these bars last Summer and they disappeared as quickly as they set. They're unbelievably delicious for something that takes 10 minutes to make with simple ingredients. This time around I used homemade chocolate cashew butter in place of the almond butter because it's what I had on-hand and they tasted just as good if not better.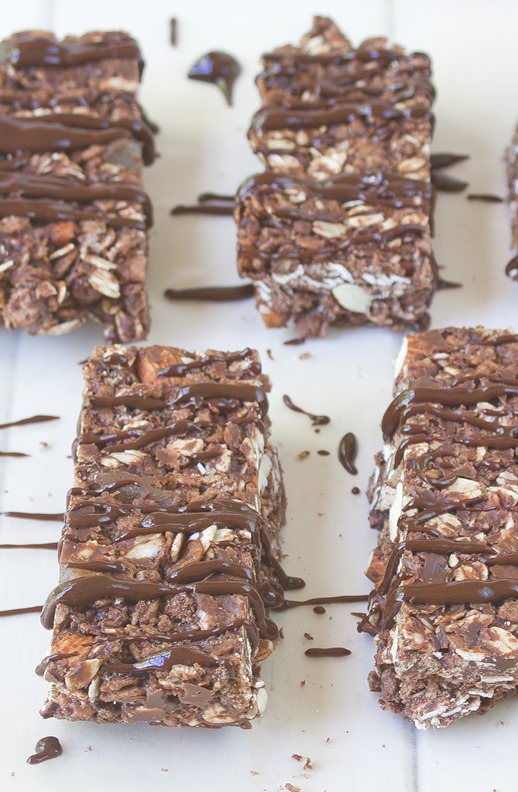 Just like the first time I made these, I used candied ginger instead of dried fruit. I love a little bit of spice with my chocolate. I'd highly recommend chopping your almonds and fruit before adding them to the batter because the larger portions will make your granola bars harder to cut in the final step.
Chocolate Almond Granola Bars
Prep time: 10 minutes
Cook time: 0 minutes
Ingredients(Makes 8 to 10 bars):
1/2 cup semi-sweet chocolate chips
1/2 cup almond butter
1/4 cup honey**
1 cup oats*
1 1/2 cups chocolate rice crisps cereal*
1/2 cup almonds, crushed or sliced
1/2 cup dried fruit
1/4 teaspoon salt
*To make these granola bars gluten-free, make sure these two ingredients are certified gluten-free.
**Use 3 Tablespoons of agave to make these vegan.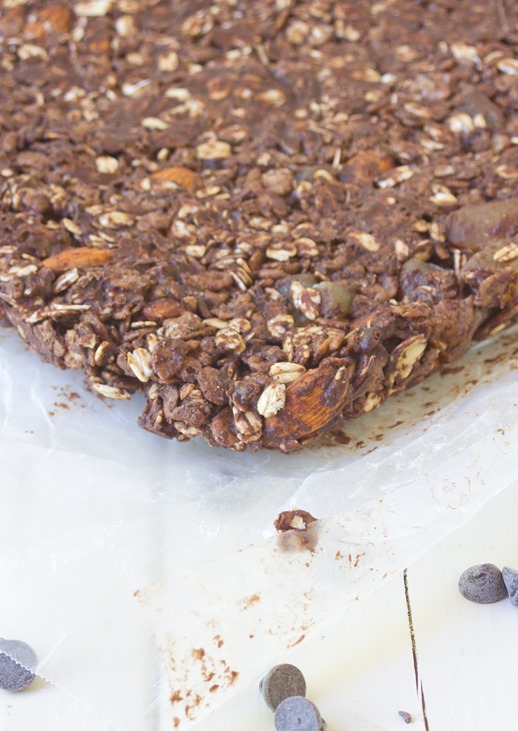 Method:
In a microwave or over a double boiler, melt the chocolate chips.
Stir in the almond butter and honey until smooth.
Add in the oats, cereal, almonds, dried fruit, and salt and mix until everything is completely covered.
Line an 8 x 8 baking tray with wax paper. Dump the batter into the pan and press down into an even layer.
Refrigerate the bars until they've hardened—about 20-30 minutes.
With a sharp knife, cut the bars in half horizontally and into quarters vertically into 8 2 x 4 bars.
Store in the refrigerator for up to 2 weeks.