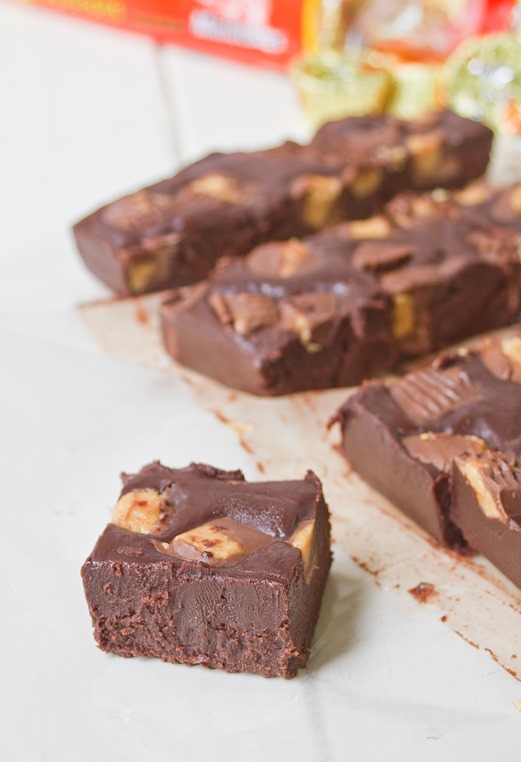 On a trip to New York a couple weeks ago, I had an hour to kill in Times Square. It's probably no surprise I made a beeline for the M&M store and then quickly followed over to the Hershey's store. Anywhere that sells that much chocolate should be a tourist destination in itself.
I still had chocolate on the brain after getting home from that trip and had to make this fudge. Surprisingly I hadn't made microwave fudge in about a year so this was long overdue. Adding a little bit of Reese's peanut butter cups was the perfect touch to these; if anything deserves a pairing with chocolate it's peanut butter.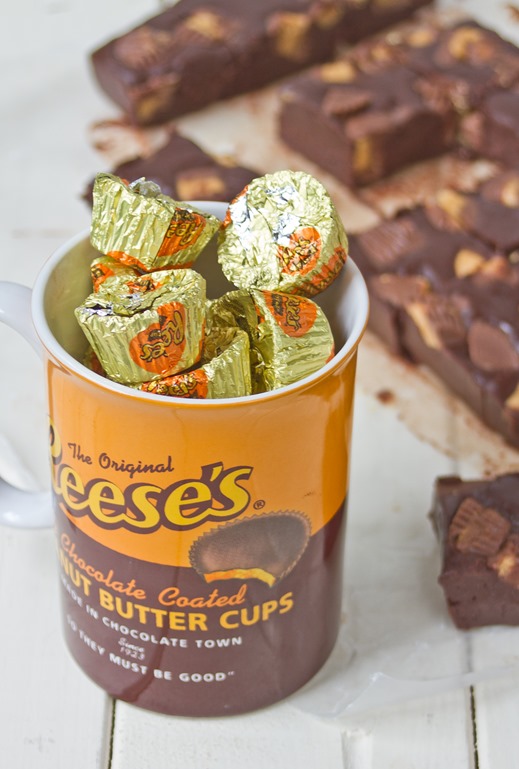 I used dark chocolate chips which made the fudge a little less sweet but gave a good contrast to the peanut butter cups. Instead of the fun-sized Reese's cups you could use full-sized ones cut into more pieces or the new unwrapped miniatures.
Easy Reese's Fudge
Prep time: 15 minutes
Cook time: 0 minutes
Ingredients(Makes about 20 servings):
1 10oz bag chocolate chips

1 4oz stick unsalted butter

1/2 cup powdered sugar

1/4 cup milk

10 fun-sized Reese's, chopped into fourths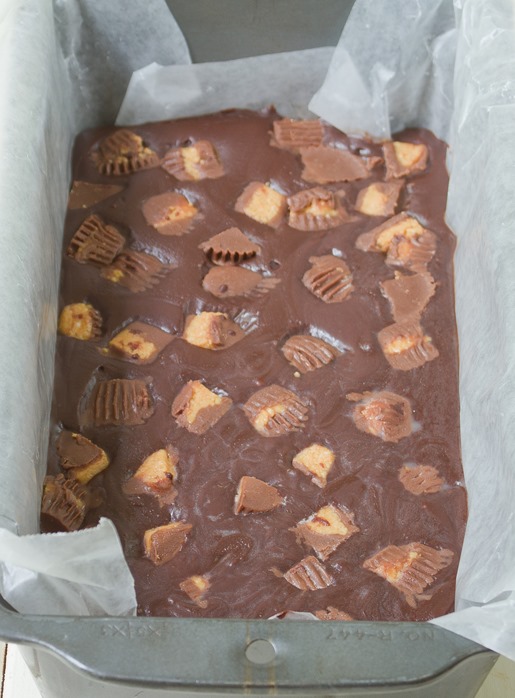 Method:
Melt together the chocolate chips and butter in a bowl.

In a separate bowl, mix together the milk and powdered sugar until the sugar dissolves.

Mix the milk in with the melted chocolate and butter and beat until smooth.

Pour the hot fudge into a greased 8-inch loaf pan. You can add wax paper as a liner to make the removal and clean up easier.

Sprinkle the chopped up Reese's on top of the fudge and press it in gently with your hand.

Refrigerate the fudge until it hardens, about 2 hours.

With a sharp knife, slice the fudge into 1-inch squares. Keep it in the refrigerator when not enjoying.