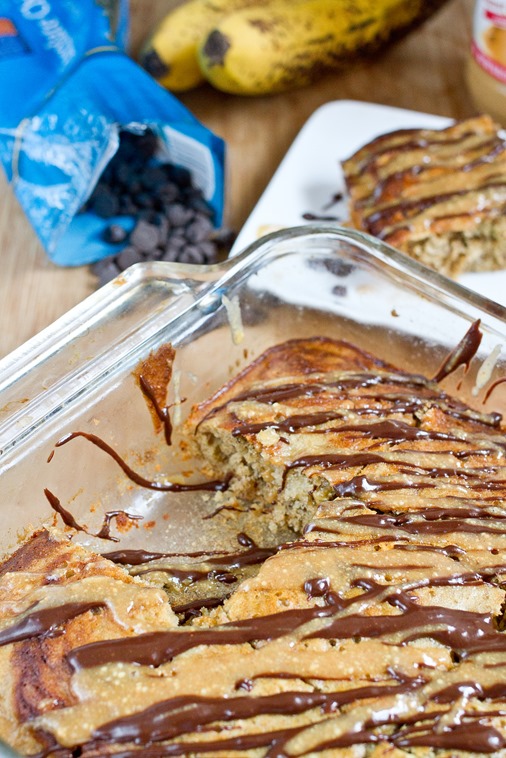 I always grab bananas at the store to throw in smoothies or have for breakfast. This week I guess I forgot to eat them because they were brown and mushy before I knew it. I'd much rather life hand me brown bananas than lemons because bananas are a lot more fun to bake with. I couldn't decide on making banana blondies or banana bread and ended up settling for something in between.
I intended these to be a healthy afternoon snack, but then covering them in chocolate and peanut butter seemed a lot more fun. They actually aren't bad for you with their whole grains, fiber, natural sugars and a little bit of healthy fats. The squares are definitely sweet enough on their own—adding a drizzle on top just makes them that much better.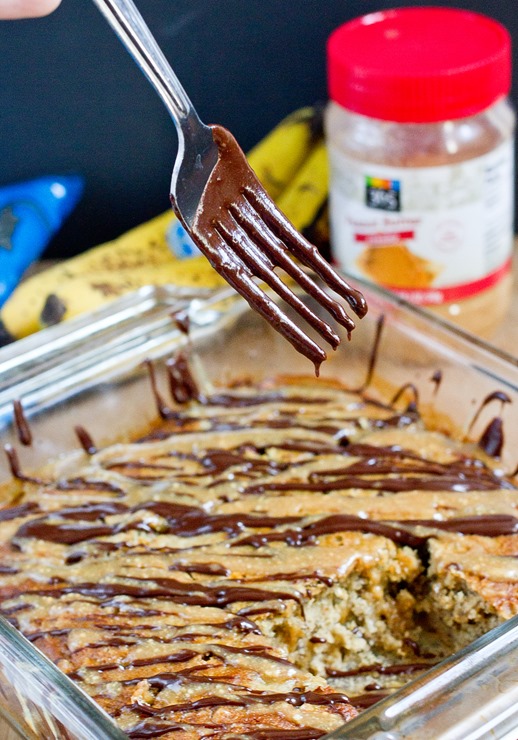 The topping I used was just a chocolate ganache made with 1/4 cup chocolate chips, 2 Tablespoons of maple syrup, and a Tablespoon of water and a peanut butter sauce made with 2 Tablespoons peanut butter, 2 Tablespoons of maple syrup, and a Tablespoon of water all mixed and drizzled on top. This would also be really delicious with a vanilla or peanut butter buttercream.
Whole Grain Banana Cake Squares
Prep time: 10 minutes
Cook time: 30 minutes
Ingredients(Makes one 8 x 8 pan):
1 cup(2 large) mashed bananas
1/2 cup sugar
1/4 cup peanut butter
1/4 cup vegetable oil
2 eggs
1 teaspoon vanilla extract
1/2 cup(80g) brown rice flour
1/2 cup rolled oats
1/2 teaspoon baking soda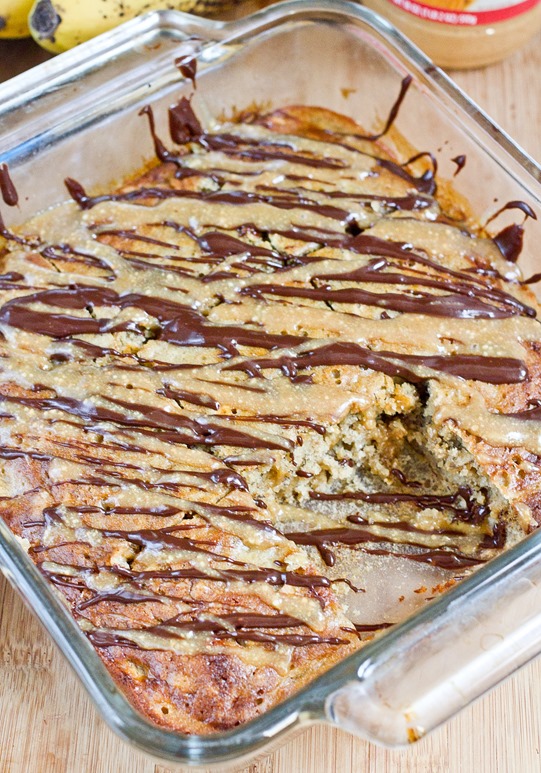 Method:
Preheat your oven to 350 degrees and grease an 8 x 8 baking pan.
In a large bowl, beat together the mashed banana, sugar, peanut butter, oil, eggs, and vanilla.
Add in the brown rice flour, oats, and baking soda and mix well.
Pour the batter into the pan.
Bake for 25-30 minutes until the center has set.
Remove and let cool. Cover with frosting, ganache, or leave plan to serve.