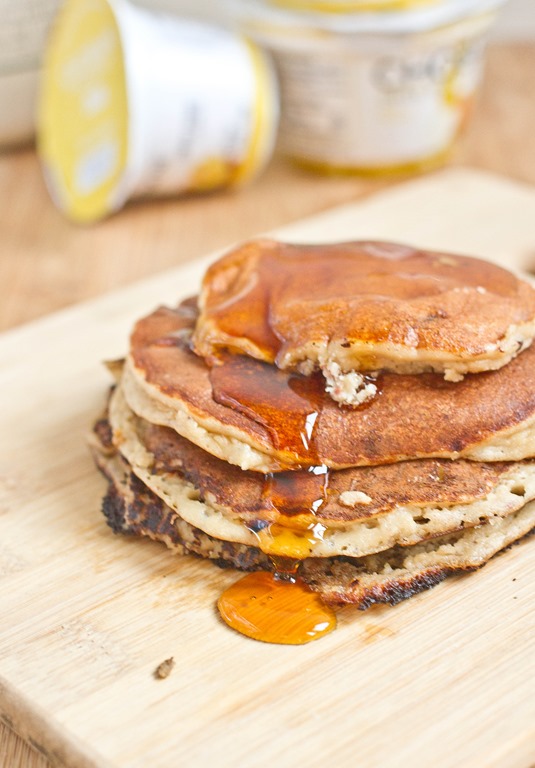 Pancakes are always a good breakfast choice. I've never found a recipe though where the first one or two comes out as good as the last; mine are always misshapen and burnt. But by the 3rd pancake the pan is seasoned and magic starts happening and they come out the perfect color and texture every time. Maybe that's just a feature of pancake recipes in general.
This recipe uses almond flour, which gives it a slightly nutty flavor. I prefer using almond flour here to most other gluten-free flours because it doesn't have a strange flavor when you taste the raw batter(and somehow that always ends up happening). Besides that there's just Greek yogurt and eggs; it couldn't be much simpler.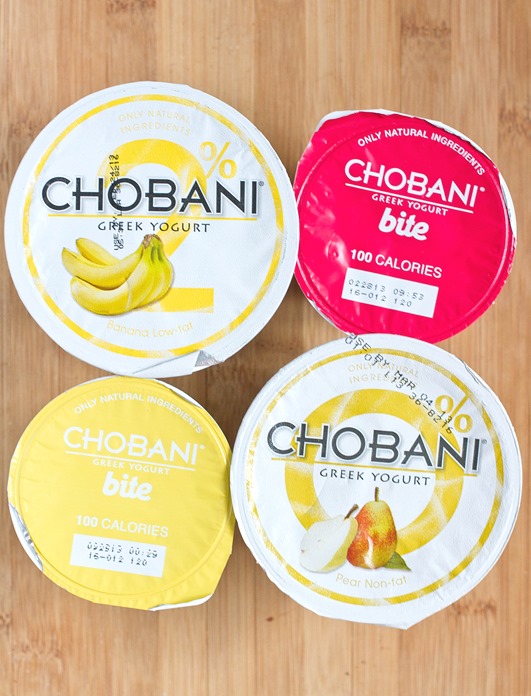 Chobani sent me their newest flavors to taste and play around with in the kitchen: banana, pear, raspberry chocolate chunk and pineapple with caramel bits. I really couldn't pick one that I preferred over the others; they were all amazing. I made this recipe with the raspberry chocolate chunk and it had a hint of those flavors. I could imagine that any of these would be good in the pancakes. It all depends what you're in the mood for!
Gluten-Free Chobani Pancakes
Prep time: 5 minutes
Cook time: 5 minutes
Ingredients(Makes 1 serving):
1/2 cup almond flour
4oz flavored Chobani greek style yogurt
1 egg
1/4 teaspoon baking soda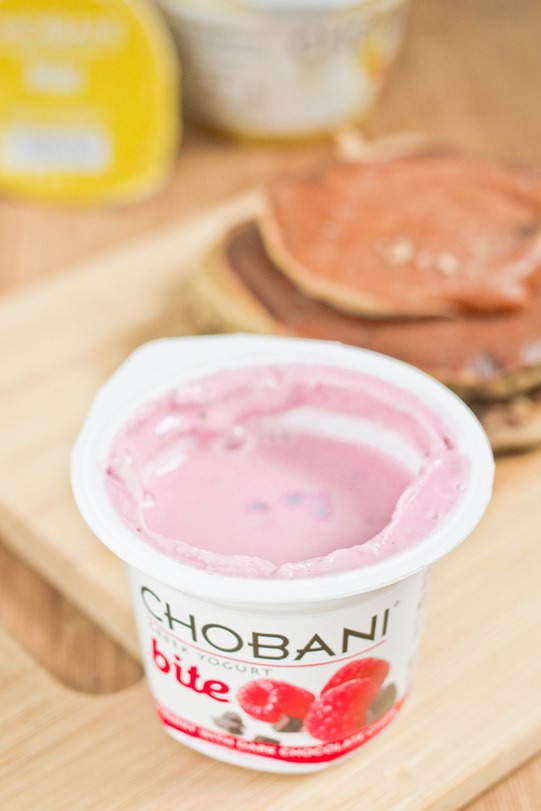 Method:
Heat a frying pan over low-medium heat with a little oil or non-stick cooking spray.
In a medium-sized bowl, beat together all of the ingredients until mixed.
Pour 1/4 cup of batter into the center of the pan. Cook for about 30 seconds until the bottom is set and bubbles come through the center.
Flip the pancake and cook the other side until it's cooked through. Remove from the pan.
Continue cooking until all of the batter is used up.
Serve hot with butter and maple syrup.
I would definitely recommend doubling or tripling the recipe for a crowd. You can substitute any nut flour for almond flour in a pinch but not coconut flour since that's something different entirely.