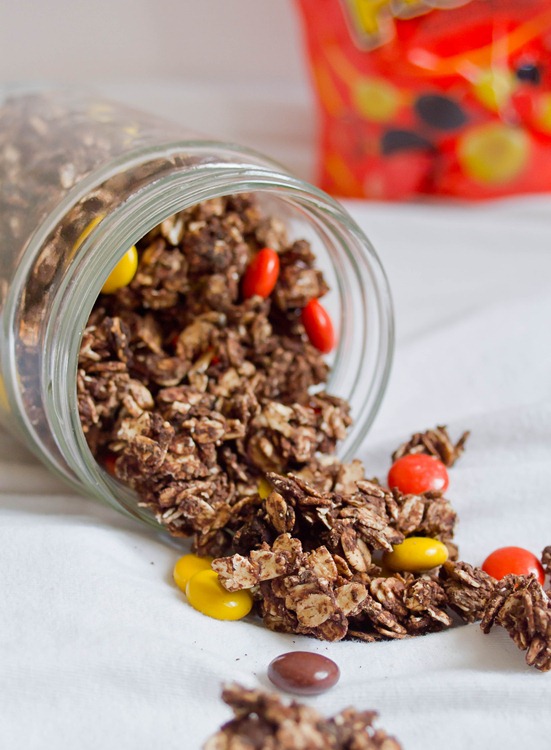 My favorite thing about this time of year is going present shopping for friends and family but boy does it eat up a day. After going to several stores and eventually CVS for wrapping paper and tape, I couldn't help but do some grocery shopping and pick up the bag of Reese's Pieces that was conveniently on sale.
I've made peanut butter granola before and chocolate granola but never chocolate granola with peanut butter. That was an oversight seeing how peanut butter and chocolate has to be the best combination known to man. Just think of Reese's cups and Fastbreak bars and—of course—Reese's Pieces. I'm not quite sure if adding candy to granola still makes it breakfast food but it has peanut butter so it must be healthy.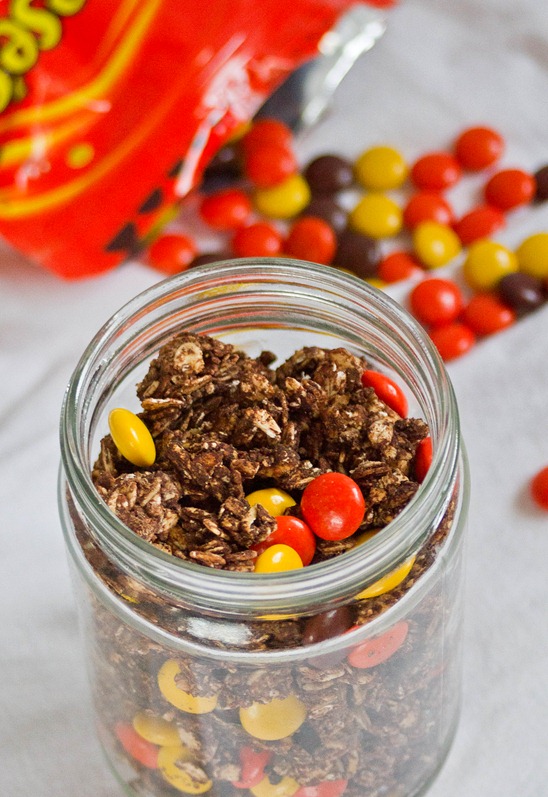 This is a great granola to make if you like granola with clusters since the peanut butter holds the oats together. Just be sure not to break it up too much after it's done cooking to keep most of the clusters.
Reese's Pieces Granola
Prep time: 10 minutes
Cook time: 20-25 minutes
Ingredients(Makes about 3 cups):
2 cup rolled oats
6 Tablespoons peanut butter
1/4 cup cocoa powder
6 Tablespoons to 1/2 cup maple syrup(or any liquid sweetener)
1/2 cup Reese's Pieces
1/2 cup peanuts(optional)
Method:
Preheat your oven to 350 degrees.
In a large bowl mix together the oats, peanut butter, cocoa powder and maple syrup. If the peanut butter you're using is the no-stir kind, melt it in the microwave briefly before mixing it in.
Spread the oats out onto a non-stick baking tray. Bake for 20-25 minutes until the granola cooks together.
Remove from the oven and break the granola into clusters using a utensil.
Let the granola cool completely before adding in the Reese's Pieces.
Store in an air-tight container at room temperature.