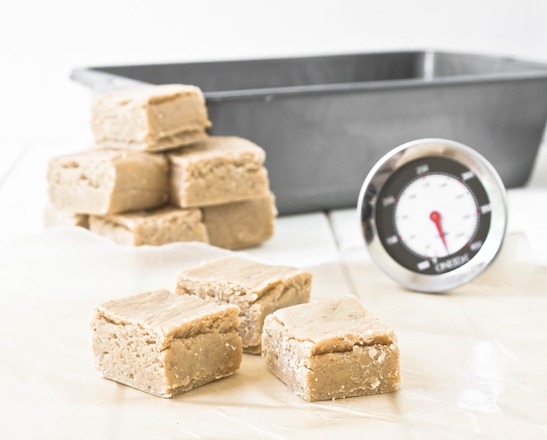 Fudge is one of my favorite desserts. I've made chocolate fudge plenty of times and even a few batches of peanut butter; I try to convince myself that the easy, no-fuss microwave method of making it is just as good as any other.
That's just not true.
Occasionally I go to a small beach town in Maine and the coast is lined with candy shops. Beyond the salt water taffy and chocolate covered gummy bears, they no doubt have homemade fudge there. And you can bet it's not the kind that's made in the microwave. My favorite to get is the penuche because the flavor is so pure and simple and yet complex in its own right.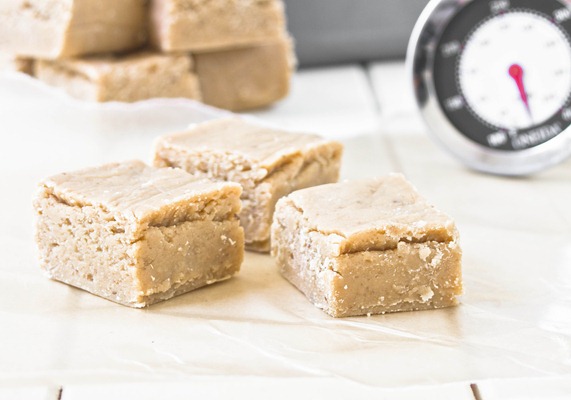 I got a candy thermometer for Christmas last year thinking that would get me to try all the recipes I've bookmarked but never had the chance to make. Well, it took me a good 7 months to finally use it; better late than never I guess.
I searched and searched for a promising penuche fudge recipe and landed on Martha Stewart's. It got off to a bad start when I realized it called for a 5oz can of evaporated milk and not the 14oz can of sweetened condensed milk I had. Oops. To compensate I made a last minute switch and used the condensed milk with 1/2 cup of dark brown sugar and 4oz of butter.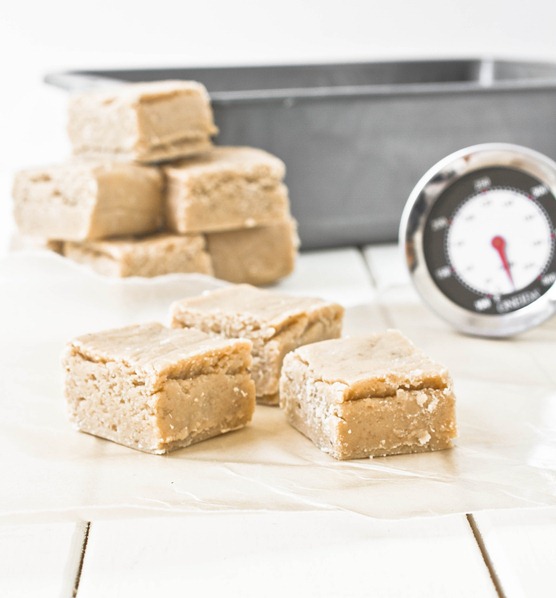 I'm pretty sure my stove runs hot because as soon as I put it on it started boiling and the temperature went up and up and up. I took the pan off the heat and kept stirring and tried to get it to heat up slowly, but by then it looked like it had burned a little.
I stirred for about 10-15 minutes and then combined it with the powdered sugar and vanilla. I was more than anxious to see if it would be too hard or too soft or too oily or too dry. I held my breath and put the loaf pan in my refrigerator to cool.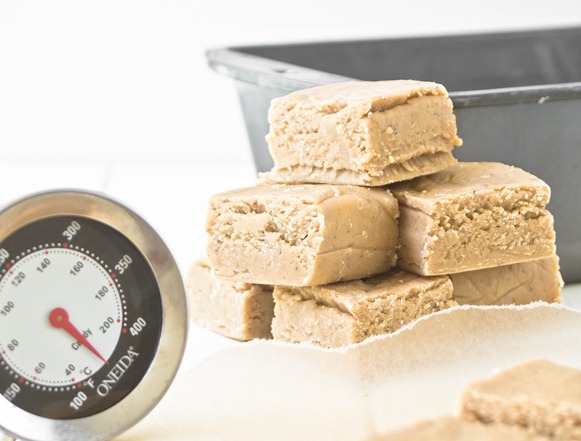 Impatiently, I took the pan out before it'd cooled all the way. Instead of a brick of taffy, I was surprised to find fudge, real fudge. The kind with layers and crackling sugar and a sweet smell to it.
I bit in. The flavor wasn't quite penuche; it's a little more complicated and something I can't put my finger on. Brown butter fudge? Salted caramel fudge? I don't know. It's good, though. And with a little time and a lot of practice I'd make it again.
Here's a link to the recipe again. If you're daring(or just good with candy thermometers), I'd recommend giving it a go. And if you're intimidated by any other cooking technique, I'd recommend giving it a go, too. What's the worst that could happen?…
Just keep a fire extinguisher nearby.