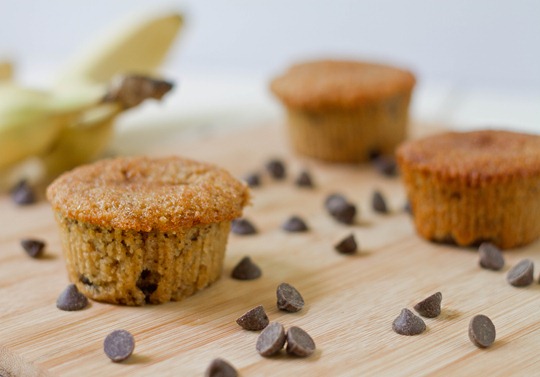 One of the funniest misconceptions of a gluten-free diet is that it's a low carb diet.
Hardly.
Yes, eliminating gluten from your diets limits the number of carbs you can eat. And when you're eating on-the-go you're limited to options like salads and nuts that are low carb. But at heart most gluten-free eaters are still carb lovers like everyone else, and when given the chance we'll gladly make a meal out of gluten-free muffins, pancakes, and waffles. And don't forget the syrup.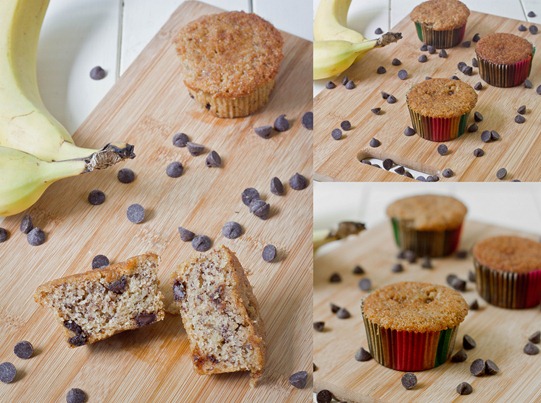 Thinking back, I can't really remember the last time I ate a muffin(because why bake muffins when you can make cupcakes). Banana nut would probably be my favorite, but since we were out of nuts when I made this chocolate chip would have to do. Who could say no to banana chocolate chip anyway?
Don't have brown rice flour? You can substitute oat flour instead. If you don't have that you can always make your own by grinding 2 cups of gluten-free rolled oats in a food processor.
Gluten-Free Banana Chocolate Chip Muffins
Prep time: 15 minutes
Cook time: 30 minutes
Ingredients(Makes a dozen muffins):
1 1/4 cup brown rice flour

1/4 cup corn starch

3/4 cup sugar

2 ripe bananas, mashed

6 Tablespoons vegetable oil

1/2 cup water

2 eggs

1/2 teaspoon cinnamon

1/4 teaspoon salt

1/4 teaspoon baking soda

1/2 cup chocolate chips
Method:
Preheat your oven to 350 degrees.

In a large bowl, sift together the brown rice flour, corn starch, and sugar.

Add in the mashed bananas, oil, water, and eggs and stir the batter together.

Add in the cinnamon, salt, and baking soda and mix completely.

Pour the batter into twelve lined muffin tins.

Drop an even amount of chocolate chips onto the top of each muffin.

Bake for about 30 minutes until the tops start to brown and the muffins are cooked in the center.

Remove from the oven and let the muffins cool slightly before touching.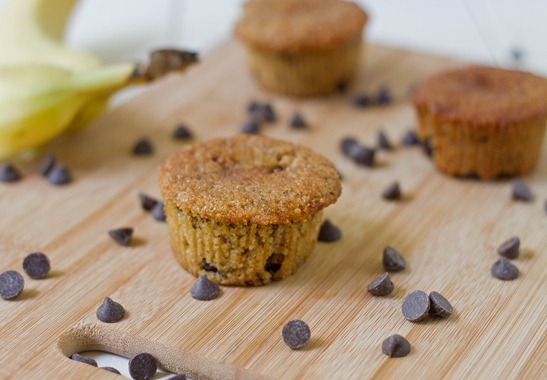 Soft, spicy and studded with chocolate chips. Tomorrow morning's going to be tasty.