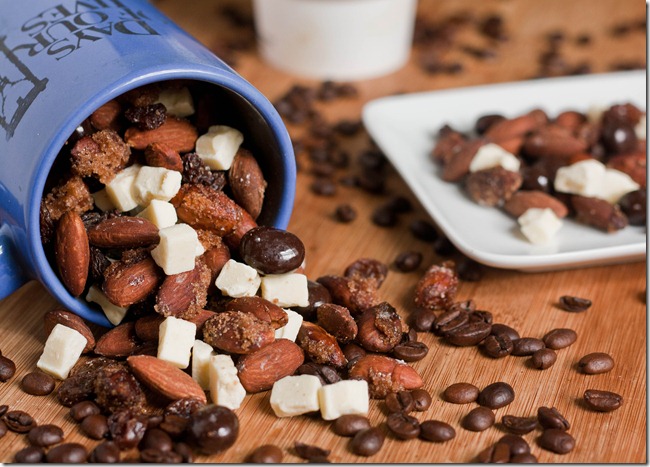 What I'm about to say may be sacrilegious so read on at your own risk.
I don't really like coffee. I used to love it but now I could count on one hand the number of times I've drank it in the past year. I'm a much bigger fan of tea now.
The one exception is chocolate covered coffee beans. I've probably spent a small fortune on those alone; I really can't get enough. I'd much rather wake up to a handful of those than a cup of coffee any day.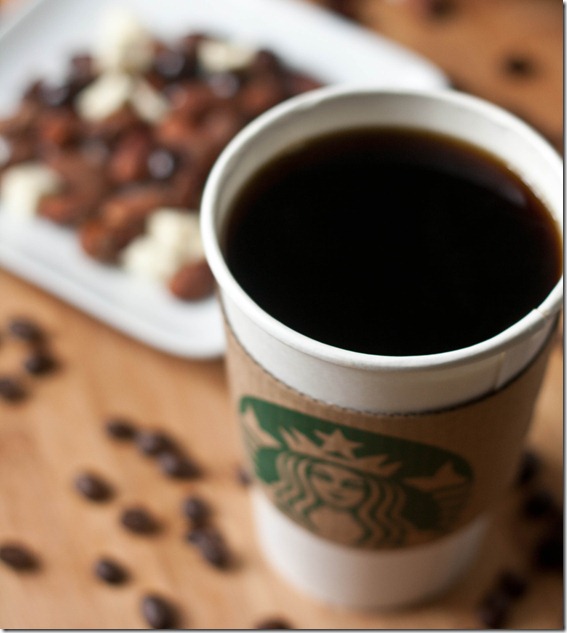 This trail mix has all the flavors you could want in a fancy Starbucks coffee drink: Vanilla, almond, chocolate, white chocolate, and coffee. When I do drink coffee, it's always black, but a trail mix with just coffee beans wouldn't be nearly as exciting. I threw in some raisins, too, because those are healthy and that makes the rest of it healthy by association, right? If you don't want to make the vanilla sugar almonds, you can always buy flavored almonds and substitute them instead or just use regular roasted almonds.
Perk Me Up Trail Mix
Prep time: 10 minutes
Cook time: 20 minutes
Ingredients:
1/2 cup chocolate covered coffee beans

3/4 cup white chocolate

1 cup seedless raisins

2 cups vanilla sugar almonds*
*Vanilla sugar almonds
2 cups almonds

2-3 heaping Tablespoons sugar

1 1/2 teaspoon vanilla extract

1 Tablespoon oil

1 Tablespoon liquid sweetener(corn syrup, agave, maple syrup, etc.)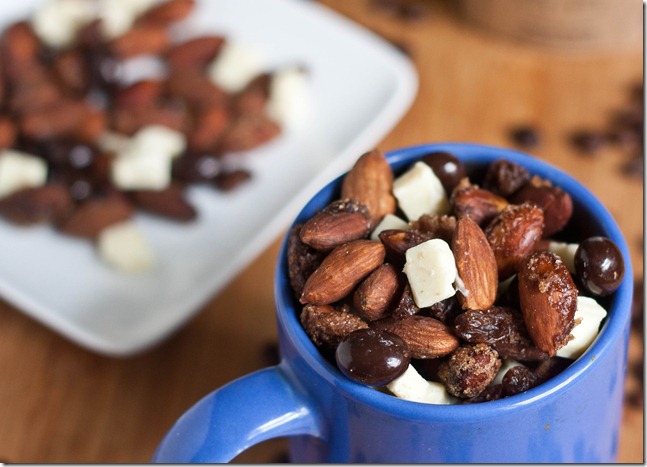 Method:
Preheat your oven to 350 degrees.
Combine all of the ingredients for the almonds in a bowl and mix together.
Lay the almonds out in a single layer on a baking tray and roast for 20-30 minutes, jostling occasionally until the liquid evaporates and the almonds turn golden. Remove and let the almonds cool completely before continuing.
Toss the almonds, white chocolate, raisins, and chocolate covered coffee beans together. Store in an air-tight container for up to a month.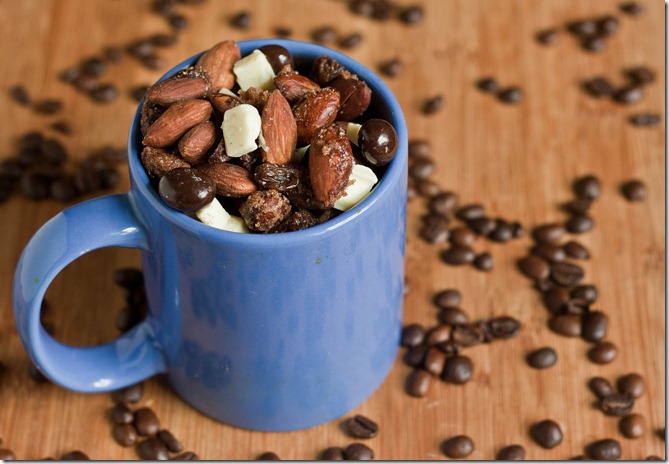 The best part of waking up is this in your cup.