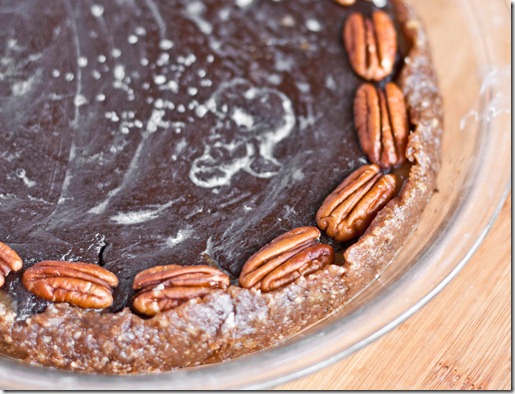 Happy New Year! I wanted to get the year off to a sweet start, so here's the dessert I made for Christmas, which just happened to turn out to be one of my favorite desserts ever.
As soon as I saw this recipe, I knew I wanted to make it. I love things that are salty and sweet and pecans are never a bad thing either; add chocolate and you have to have a winning dessert.
I actually think it's easier to make raw tortes and pies than cooked ones; you don't have to worry about cutting cold butter into the crust or cooking them in a water bath. This recipe comes together extremely quickly and is full of flavor.
I used maple syrup because I had plenty on hand. To make this fully raw, use agave nectar or raw honey.
Raw Salted Caramel Chocolate Pecan Torte
Prep time: 15 minutes
Cook time: 0 minutes
Ingredients(Makes 1 torte):
For the crust:
6oz(about 1 1/2 cups) dates
6oz(1 1/2 cups) pecans
For the caramel:
2oz dates
6 Tablespoons maple syrup or other liquid sweetener
1/2 teaspoon coarse salt
For the filling:
1/2 cup cocoa powder
1/4 cup coconut oil, melted
1/2 cup maple syrup or other liquid sweetener
Sea salt and pecans for garnish
Method:
To make the crust, pulse the dates and pecans in a food processor until it forms a dough ball. If after a while the dough hasn't come together, add water by the tablespoon slowly until it does.
Grease a 9-inch pan lightly with coconut oil. Press the dough into the pan and spread it out evenly into a pie crust shape, raising it at the side. Make sure there are no holes in the bottom.
Make the caramel by blending together the maple syrup and dates in a food processor until smooth and golden in color. Once it's blended into a sauce, add in the sea salt and mix gently.
Pour the caramel in a thin layer on top of the bottom of the crust, spreading it out evenly.
To make the filling, blend the melted coconut oil, cocoa powder, and maple syrup in a food processor until it's uniformly mixed.
Carefully cover the caramel layer with the chocolate layer. For me it was easiest to add a little bit of topping all around the pie and lightly blending the top together with a soft spatula.
Garnish the top with pecans and sea salt if desired.
Refrigerate your torte until the filling sets. Remove it from the refrigerator about 10-15 minutes before cutting and serving. Personally I liked this when it was still slightly chilled but you can also eat it at room temperature.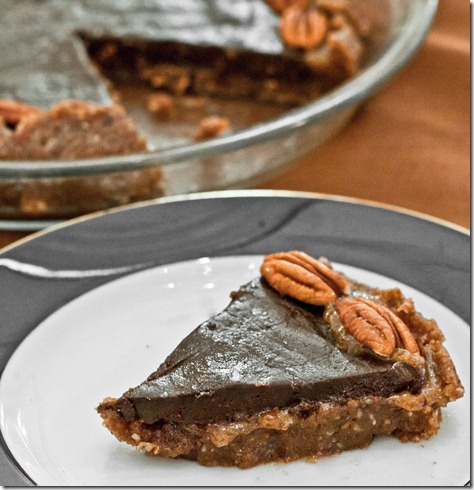 I would have liked to have gotten better pictures of this but it was too good not to just dig into. It may not be one of the prettiest desserts, but it's by far one of the tastiest I've made in a long time. I can't wait to make this again.