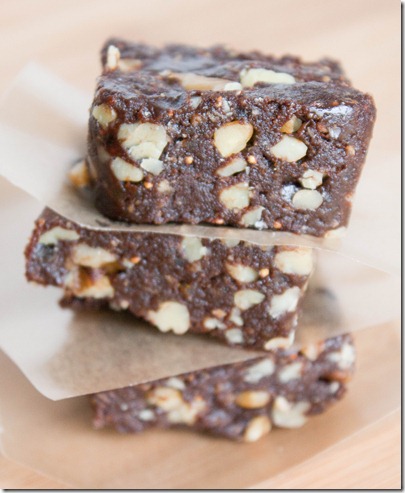 I could never give up chocolate. It's a daily thing for me. Even when I want to eat healthy, I'm always drawn back to it, and frankly I have no willpower to resist.
That's where the beauty of something like raw brownies come in. These are sweetened with dried fruit and the only fat comes from nuts, which are whole foods. It's a big improvement over refined sugar, cocoa butter and milk fat. To make these, I threw together some dates, figs, hazelnuts and walnuts in my food processor, and then folded in extra walnuts when it was done to give them an added crunch. Not only are they delicious, but they're filling, too.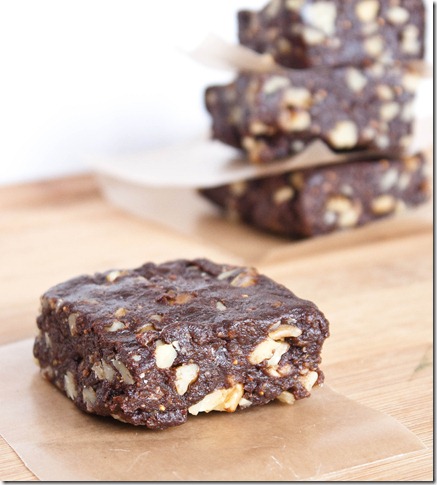 Since that's not exactly a recipe, I thought I'd share a few raw chocolate cake recipes I have made in the past that are similar and just as delicious:
Gabriel's recipe is super simple. It has added coconut oil and agave nectar which makes the brownies a little more moist and extravagant. It'd be the perfect thing to make if you want to impress someone and show off how good raw food can be.
Katie's recipe has just fruit for the sweetener and nuts for the fat like the ones I made. I like the addition of vanilla for a stronger chocolate flavor.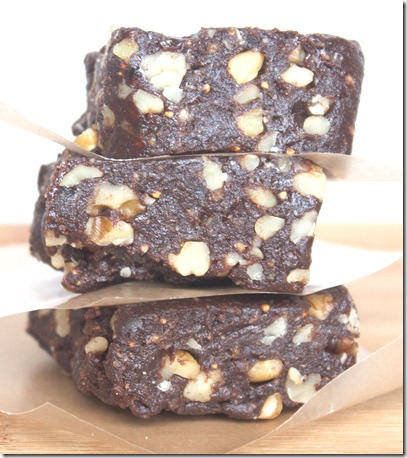 I went through the first batch of these all too quickly. You'd better double the recipes since I'm sure you'll fall in love with them, too.