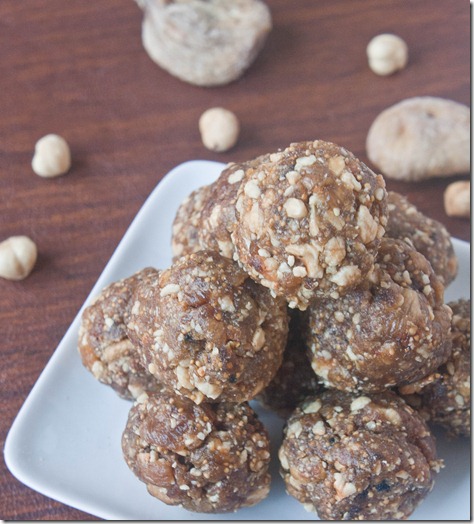 One of the things I said I was going to do now was eat better, especially when it comes to sugar. Now I'm not delusioned too think I could ever give up the sweet stuff; instead I'm just looking to eat more sweets that also have nutrition to them. And for that I look towards dried fruit.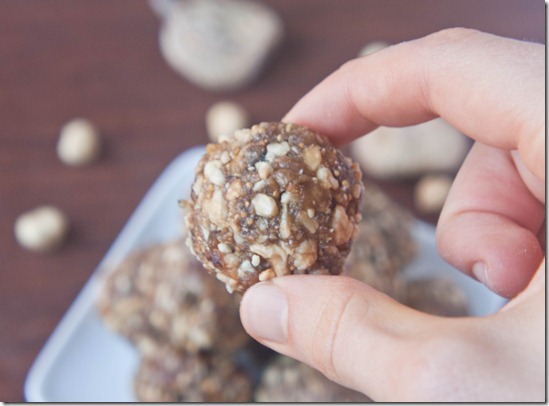 I've always loved fruit and nut snack bars like Larabars. They're one of those all-too-few things that taste good and are good for you. They're also incredibly easy to make at home, which opens up infinite flavor combinations. The combination of figs, hazelnuts, cinnamon and nutmeg taste like Winter to me.
Fig And Hazelnut Balls
Prep time: 5 minutes
Cook time: 0 minutes
Ingredients(Makes about 14):
8oz pitted dates
8 figs, chopped
3/4 cup toasted hazelnuts
1/2 teaspoon cinnamon
1/4 teaspoon nutmeg
Method:
In a food processor, blend the dates until they form a sticky dough ball. If after a few minutes your dates haven't come together, they might have been too dry to begin. Simply add a tablespoon of water and continue blending until they do come together.
Move the date dough to a separate bowl. Chop the hazelnuts and figs in the food processor until they're broken into small pieces.
Dump the fig and hazelnut bits into the bowl with the date dough, adding in the cinnamon and nutmeg. Knead the two together. Break off pieces to roll into a ball or into a bar.
Store in an air-tight container at room temperature for up to a week.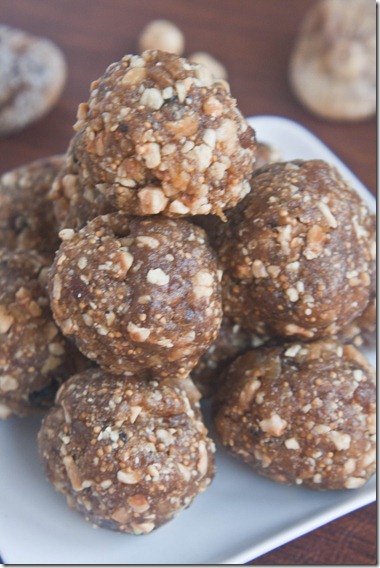 I used the roasted salted hazelnuts from Oh Nuts! and the little bit of salt really was a nice touch if you like salty-sweet snacks. It's not going to fool anyone as a dessert but it's a good snack to keep on hand to fight an afternoon sweet craving.