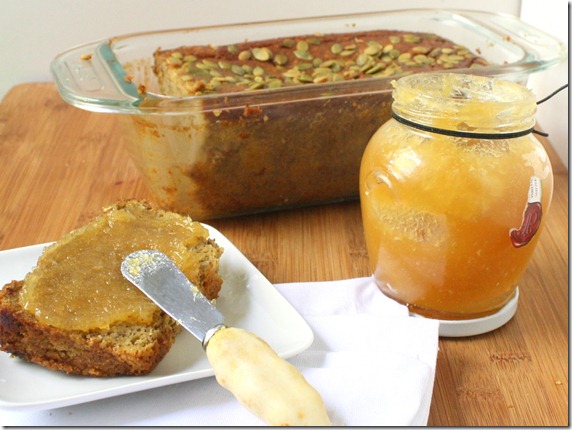 Christopher Columbus discovered America.
I discovered that you can make a moist and delicious pumpkin bread that's gluten and grain-free. Not to belittle Mr. Columbus' achievement, but I think that's pretty damn good.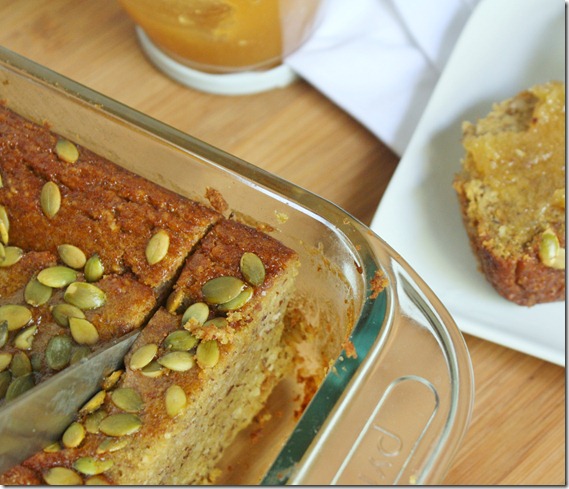 Maybe I'm just a little too excited because I wasn't sure this could be done. A few hours before I pulled this loaf out of the oven, it was literally just a bunch of almonds and a whole pumpkin. Not pumpkin puree. Not almond meal. Just the raw ingredients.
After roasting + pureeing the pumpkin and grinding the almonds, I threw these ingredients together and hoped for the best. Luckily, the best is what I got. This pumpkin bread is sweet, soft, moist(I hate that word but it really is) and spicy. It's one of the best pumpkin breads I've had ever; it just happens to be gluten-free.
Almond Flour Pumpkin Bread
Prep time: 10 minutes
Cook time: 75 minutes
Ingredients(Makes 1 loaf):
2 cups almond flour
3/4 cup brown sugar
3/4 cup pumpkin puree
4 eggs
6 Tablespoons oil
1/4 cup tapioca starch(or corn starch)
1/4 cup water
1/2 teaspoon baking powder
1/2 teaspoon cinnamon
1/4 teaspoon nutmeg
1/4 teaspoon cloves
1/4 teaspoon ginger
pepitas to garnish(optional)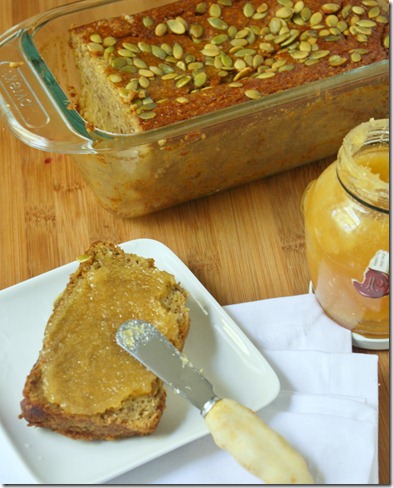 Method:
Preheat your oven to 350 degrees.
Add all of the ingredients except for the pepitas into a large bowl and mix until fully combined. Stir extra well to ensure there aren't any clumps.
Grease a medium-sized loaf pan and pour the batter in.
Bake for 75 minutes or until the center is cooked through.
Remove and let cool for an hour before removing from the pan.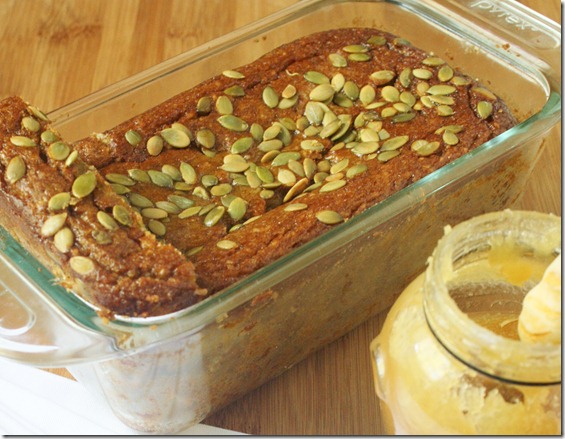 On top I spread a little(or a lottle) ginger jam. Have you seen this stuff? It's made by Ginger People; it's basically crystallized ginger made into a jam, and it's heaven. A little goes a long way, though, which is why that jar has lasted me almost 2 years. This would also be good with pumpkin butter, cream cheese, peanut butter, or plenty of other spreads.