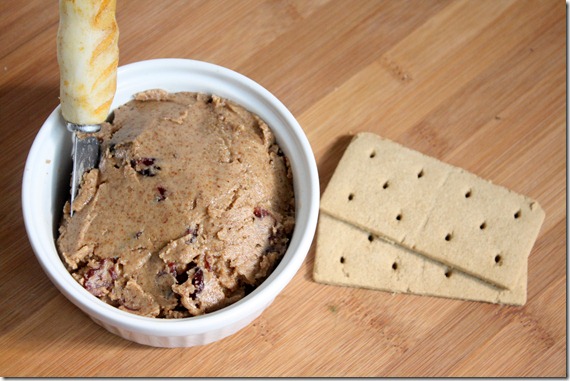 I don't care what the calendar say–Autumn definitely came early this year. The temperature is cold and the leaves are all falling; store shelves are lined with cans of pumpkin pie mix and candy corn; the farmers' market is back in swing with squashes no one has ever seen before; I'm back to hastily finishing homework and quizzes. Need I say more?
This weekend I was planning on making an almond version of Winnie's amazing looking walnut butter, but I decided to save it for another time(when I actually have all the ingredients) and went with an Autumn themed one instead. I'm glad I made that decision because the spice from cinnamon and nutmeg paired with sweet cranberries have made cool mornings a little warmer.
I like my almond and peanut butters on the thicker side, so I didn't blend this for too long. Taking Ashley's tip, I'd suggest to keep blending up to 12-15 minutes before adding in the second batch of ingredients for a drippier butter.
Autumn Almond Butter
Prep time: 15 minutes
Cook time: 0 minutes
Ingredients(makes about 20oz):
1lb almonds, raw or roasted, blanched or unblanched
1 1/2 Tablespoons neutral oil(I used coconut oil)
1/4 cup cane sugar
1 1/2 teaspoons pumpkin pie spice
1/2 teaspoon salt
1/2 teaspoon maple extract
1/4 cup dried cranberries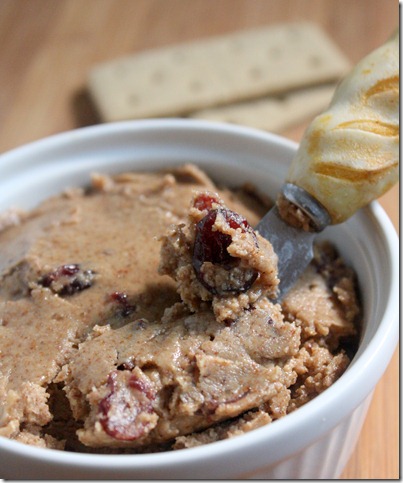 Method:
Combine the almonds and oil in a food processor and blend until the almonds form a thick paste(about 5-10 minutes). Scrape down the sides as necessary to make sure all of the almonds get processed.
Stop the processor and add the sugar, spice, salt, and extract. Continue pulsing until the ingredients have all been mixed evenly.
Turn off your food processor. Add in the cranberries and fold them in throughout the almond butter. Move to an air-tight container for storing.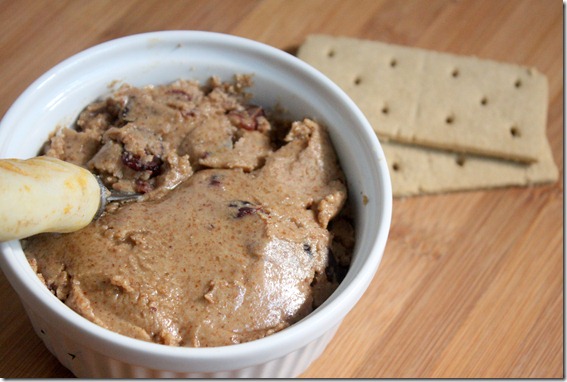 If your Autumn involves chocolate(and that's a pretty good Autumn), add 1/4 cup of white chocolate chips at the end and fold them in along with the cranberries.