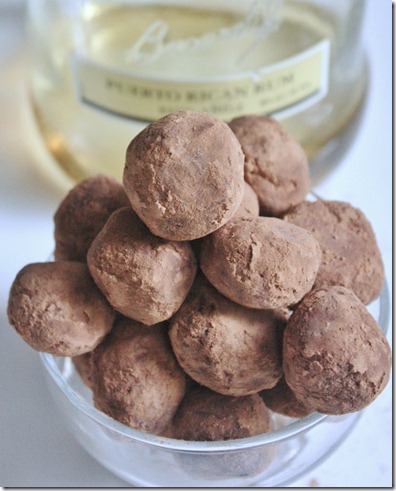 If you've been reading for a long time, you know I don't really like alcohol, unless it's in dessert and then I go crazy for it. If I wrote It's a Wonderful Life, the line would have been, "every time chocolate is mixed with liquor, an angel gets its wings." I think these are that good. The texture is soft and almost chewy, like a chocolate candy with a sweet, seductive twist.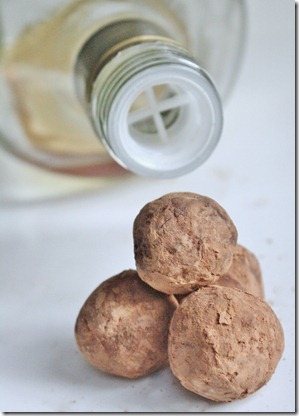 Embarrassingly enough I'm a lightweight and one of these is enough to make me feel way too good. When I was tempering and tasting the chocolate I wasn't sure there was enough rum in it, but once the truffles were cooled and I took a bite—wow! They pack a punch of flavor.
No rum? No problem. Improvise the recipe with a different liquor. I can't wait to try these with Kahlua.
Chocolate Rum Truffles
Prep Time: 30 minutes
Cook Time:
Ingredients(makes about 20 truffles):
1 cup plus 2 Tablespoons semi-sweet chocolate chips OR 9.7oz semi-sweet baking chocolate cut into chunks
2oz Bacardi rum
3 Tablespoons cocoa powder plus more for dusting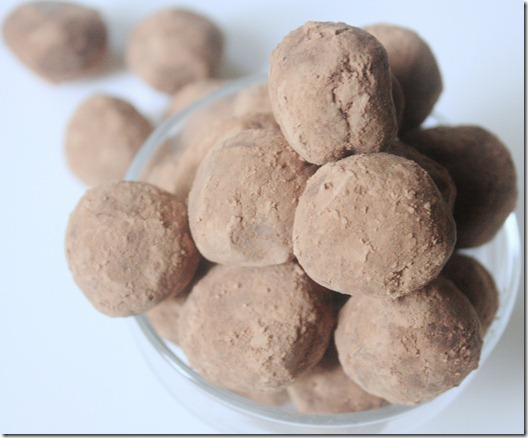 Method:
Melt the chocolate over a double boiler. Once it's in a liquid state, slowly incorporate the rum until it's all combined and evenly mixed.
Cool the chocolate and rum in a refrigerator for 10 minutes until it's hardened but still sticks to itself.
Sift in the cocoa powder while mixing the chocolate until all the cocoa powder has been used.
Tear off pieces of chocolate and roll it into 1-inch balls.
Fill a shallow bowl with cocoa powder and roll each ball in the powder until covered all around.
Store at room temperature in an air-tight container.
After making these we're almost out of rum and chocolate chips. That's what I call an emergency.