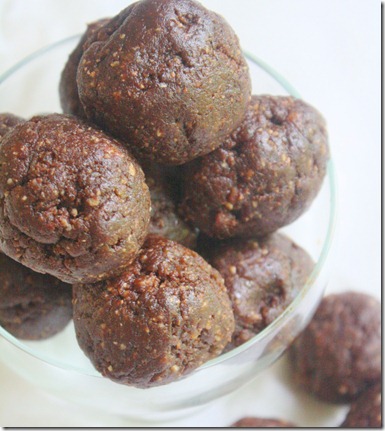 Something exciting happened last week: I went viral for the first time. No, that doesn't mean I need to be put on antibiotics. My post on Raw/Vegan Chocolate Hazelnut Cake got picked up on StumbleUpon and things got a little crazy. In 3 days it obliterated almost every page view record my tiny little site had. Last I checked it had 26,000 views; I guess people like cake? I posted How To Use StumbleUpon To Promote Blog Content last February and had a little success since then but this was ridiculous.
Because of that, I've had this cake on my mind pretty much non-stop since. Even though it's raw and vegan, cake isn't really a "health food". I wanted something like it that I could eat any time, any place. These chewy little balls are just that. They're flavorful, portable, and incredibly delicious. It's almost like having the real dessert but much more socially acceptable for a mid-afternoon snack… or at 10am when you still haven't put on clothes for the day.
Make sure when you're forming the balls that there are no date pits in the final product. Even though store-bought dates are usually pit-free, it's very likely that one or two slipped by, and those are not nice to bite in to.
Chocolate Hazelnut Balls
Prep Time: 10 minutes
Cook Time: 0 minutes
Ingredients(makes 14 balls):
1 1/4 cup hazelnuts, raw
2 cups pitted dates
3 Tablespoons cocoa powder
~2 Tablespoons water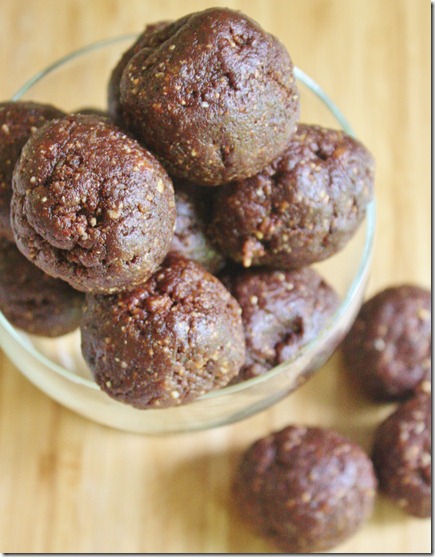 Method:
Blend the hazelnuts into a fine powder in a food processor
Add in the dates and continue blending until the dates have broken up into smaller pieces
Add the cocoa powder and continue blending
Slowly add water into the processor while blending until the flour starts sticking to itself and becoming a dough. Stop adding water and turn off the food processor as soon as the ingredients hold together and form a giant ball.
Store at room temperature in an airtight container.
These make a perfectly healthy snack…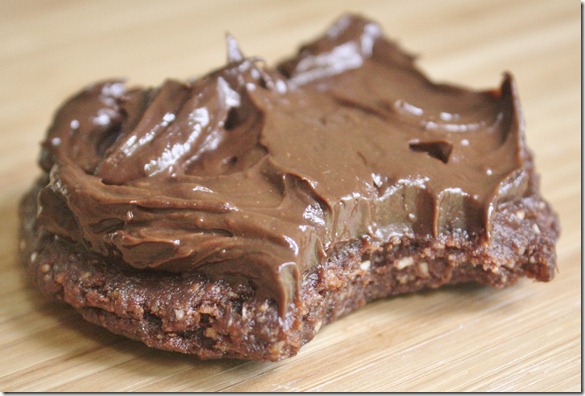 …until you remember you still have leftover frosting and decide to make 2 balls into a cake. Still pretty healthy and incredibly delicious.