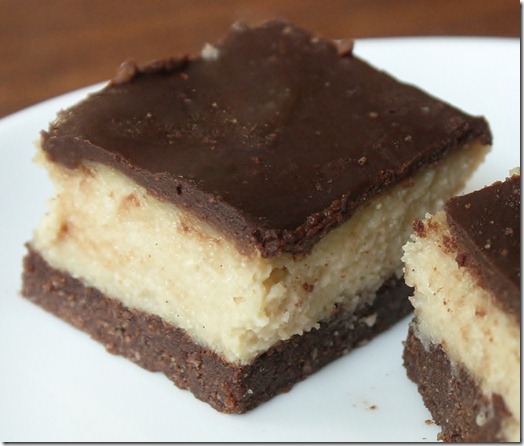 Reading food blogs constantly sets of food cravings. I could be eating a perfectly healthy lunch or breakfast when all of a sudden a giant slice of German chocolate cake pops up on the screen and I get one of those I-need-chocolate-right-this-moment feelings. They're awful. I'm sorry even to add to that.
When Caroline posted these cheesecake bars, it set off a craving just like that. Before I knew it I had already begun laying out the ingredients to make a version of them that day. These might be marginally better for you, but they're still definitely a rich treat. The crust is an almond cookie base, the filling a cashew cream "cheese", and chocolate a soft coconut oil ganache. All together it makes the perfect blend on richness and sweetness.
Chocolate Cheesecake Bars
Ingredients:
For the crust:
1 1/2 cups almonds

2 Tablespoons almond butter

1/4 cup cocoa powder

2 Tablespoons coconut oil

2 Tablespoons agave nectar
For the filling:
2 1/2 cups cashews, soaked for 3-4 hours

2 Tablespoons coconut oil

5 Tablespoons agave nectar

1 teaspoon vanilla extract or 1 vanilla bean

1 teaspoon nutritional yeast*

1 teaspoon lemon juice*
*These ingredients aren't entirely necessary but they will add a more authentic tang to the filling to simulate real cream cheese.
For the ganache:
1/4 cup cocoa powder

1/3 cup agave nectar

1/4 cup coconut oil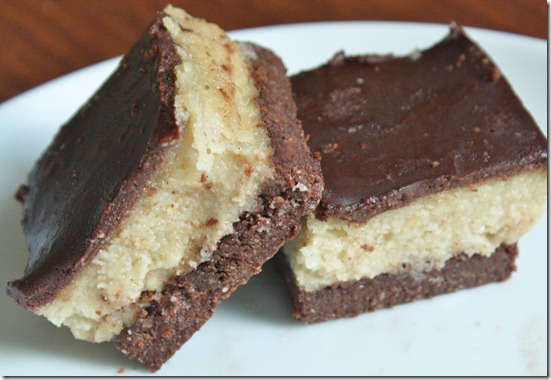 Method:
Combine all of the ingredients for the crust together in a food processor and blend until it forms a clumpy dough.

Press the dough flat into an 8×8 pan.

Make the filling by blending all of the ingredients in a food processor until smooth.

Spread the filling out across the top of the crust into an even layer.

Make the ganache by melting the coconut oil and mixing it with the cocoa powder and agave nectar.

Pour the ganache on top of the cheesecake filling and spread until smooth.

Refrigerate for 2 hours until the ganache and filling have set. Cut into 16 squares and keep refrigerated until ready to serve.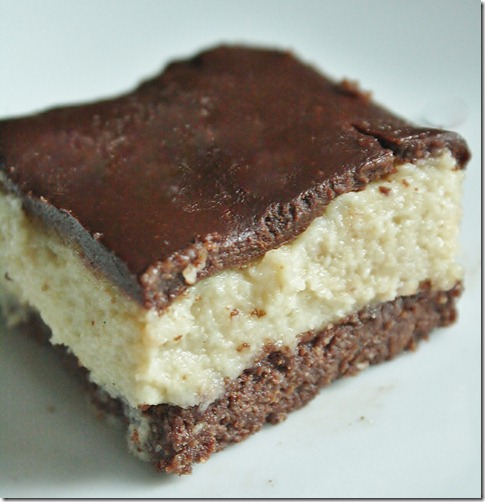 The one thing I would do differently next time is add cacao nibs or raw almonds into the filling. The ganache on top is quite soft and doesn't add the crunch factor I expected it to. Besides that, this is a knock-out dessert.