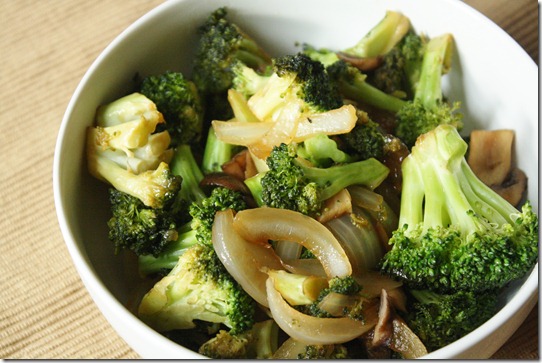 My favorite Chinese take-out to order has always been broccoli: Beef and broccoli, mushroom and broccoli, bean curd and broccoli. They just know how to do something to broccoli that makes it taste good. No doubt it's full of sodium and sugar, which is part of why I wanted to make this myself. The other reason is, well, who doesn't want to have delicious take-out food at half the cost whenever they feel like it?
Whether or not this is "healthy" you can debate. It has added sugar and a modest amount of sodium. Corn starch isn't too "clean" an ingredient either. But I think making it for yourself, using ingredients you can see and touch, and being aware of what's in your food is a pretty darn healthy way to live.
Healthy Chinese Broccoli
Ingredients(Makes 4 servings):
4 cups raw broccoli
2 Tablespoons sesame oil
4 garlic cloves, minced
1 yellow onion, julienned
3 Tablespoons sugar
2 Tablespoons rice vinegar
2 Tablespoons soy sauce
2 Tablespoon water
1 Tablespoon corn starch or tapioca starch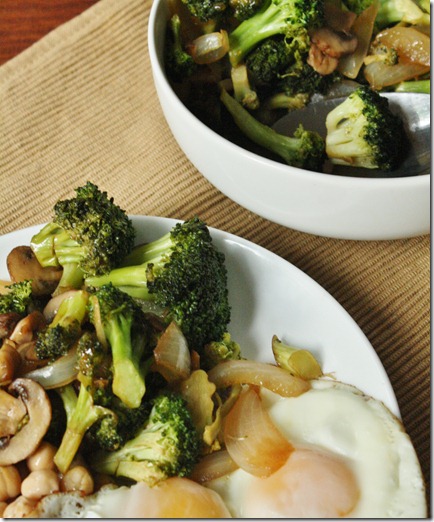 Method:
In a large pan, heat the sesame oil over a burner set to medium heat.
Sauté the garlic in the sesame oil until lightly browned.
In a small cup, mix the sugar, rice vinegar, and soy sauce until the sugar has mostly dissolved.
Add the broccoli, onion, and sugar mixture into the pan and cover with a lid until the broccoli has steam cooked and turned bright green.
While continuing to cook, remove the lid and mix together the contents of the pan until everything is covered in sauce.
Dissolve the starch into 2 tablespoons of water and pour it into the pan to mix with the sauce.
Cook until all the excess water has evaporated and the broccoli is covered in sauce. Plate and serve hot.