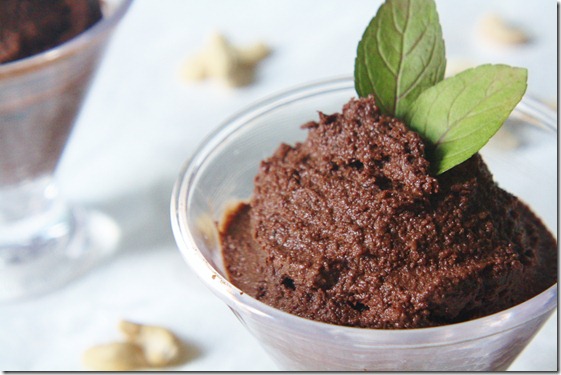 I've been holding out on you.
I'm sorry.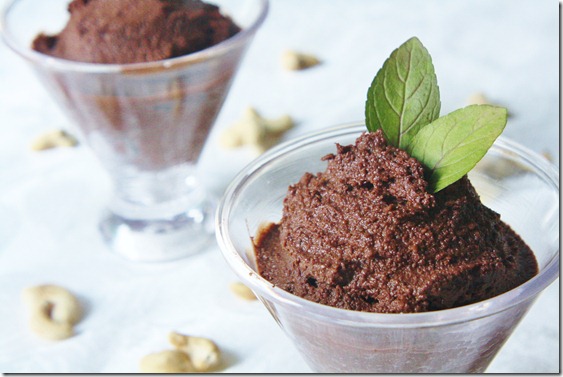 I made this about a week ago and never got around to posting the recipe. But late is definitely better than never.
It all started when I went to London and had the raw chocolate, vanilla, and mint mousse parfait from saf, which was by far the best thing I had the entire trip. I had been thinking about it as soon as I got back. Luckily, it wasn't too hard to recreate because the ingredients were listed on the side of the dessert so all I had to do was copy them.
Let me tell you this tasted exactly like the real thing, which is good because I'm not sure I can afford a plane ticket to London every time I get a craving for this mousse. So, if you're like me and have no plans to be near Kensington Square anytime soon, bookmark this recipe. If you do have plans to be there, send me a postcard. And some mousse.
Raw Chocolate Mint Mousse
Ingredients:
2 cups cashews, soaked for at about 3 hours
6 Tablespoons maple syrup or agave
1.5oz unsweetened baking chocolate, melted
3 Tablespoons cocoa powder
10 mint leaves, finely chopped plus more for garnish
1/4-1/2 cup water
Combine the cashews, sweetener, melted chocolate, cocoa powder, and mint in a food processor and process until it makes a smooth paste.
If serving immediately, slowly add in water to the processor as it's blending until it reaches a light and airy consistency. Scoop into serving dishes and garnish with extra mint leaves.
If serving later, add in a tad more water than you think you should until the dessert is slightly runny. Pour into serving bowls and refrigerate until serving. As the mousse cools, the texture will firm up. If it firms up too much, simply whisk a couple teaspoons of water into the mousse with a fork until it's come back to the right consistency again.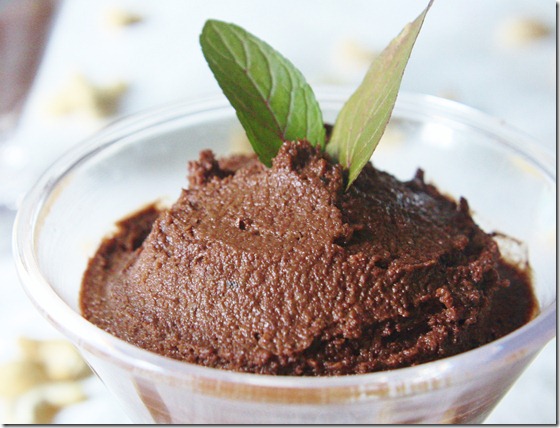 I like this better than raw chocolate mousse made with avocado because it actually has the light and airy texture of an egg and cream mousse. The taste is very rich and very minty.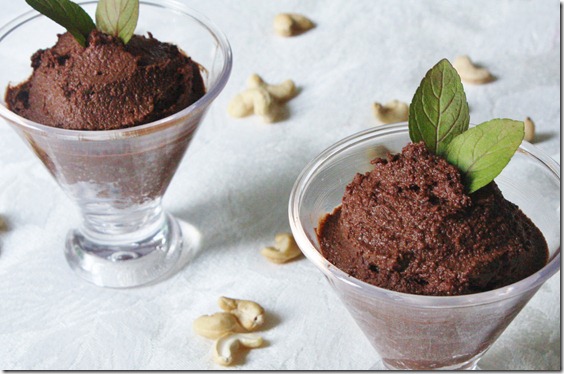 It's a lot of fat, but I'm going to pull out the "healthy fat" card here. We're all going to die of something; if raw chocolate mousse does me in, I'm OK with that.