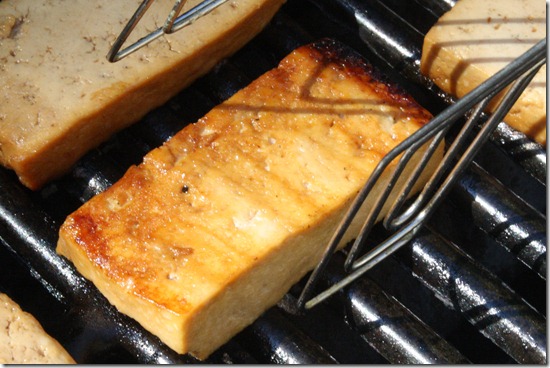 Tofu gets such a bad rap. And you know what? It kind of deserves it. Just eaten plain, tofu is bland and a little disgusting.
But like any girl wearing glasses and overalls in a cliché 90s movie, tofu can get dressed up and steal the show. It takes on any flavor added to it, and when cooked properly has a "meaty" texture.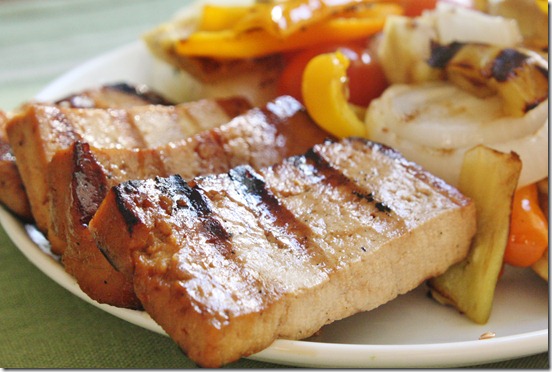 There's no reason for tofu-eaters to be left behind during grilling season. With the right marinade tofu makes a tasty grilled entrée. And this is the best(and simplest!) marinade I've ever tried. All it takes is time and patience for the flavors to be absorbed. It works well baked, too, but in the Summer there's no other way to go than grilled.
The Best Grilled Tofu
Ingredients:
1 block firm tofu, sliced 3/4 inch thick
1/3 cup soy sauce
1/3 cup maple syrup
2 Tablespoons lemon juice
1 Tablespoon toasted sesame oil
Combine all of the liquid ingredients and marinate the sliced tofu in the mixture for at least 3 hours, preferably overnight.
Heat a grill to high and lay the strips of tofu out. Flip after 3-5 minutes once the bottom side has grill marks and cook for another 3-5 minutes. Serve hot or refrigerate and serve cold.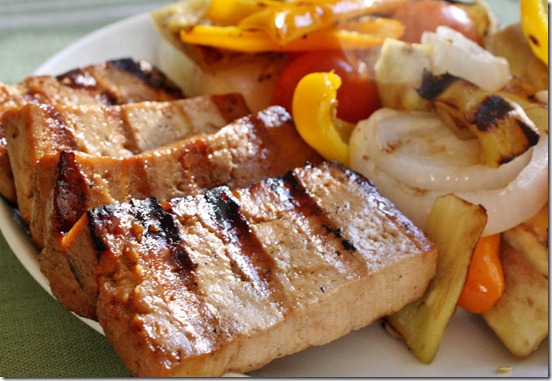 You can reuse the marinating liquid again and again since there's a very low risk of spreading bacteria with tofu. Either add more tofu to the marinade immediately or freeze it until using again.
I can't get enough of this. I could easily eat a block of tofu in one sitting. That's what makes it the best.