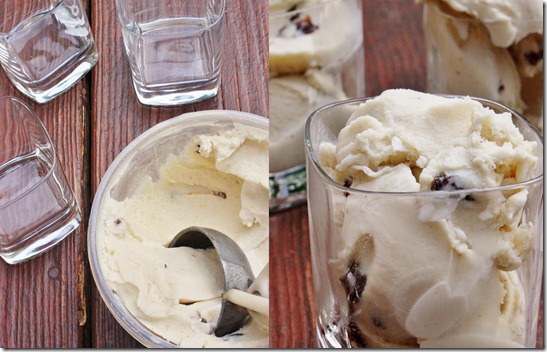 My favorite kitchen tool is my ice cream maker. I could tell you how useful and multi-purposed the food processor is for making healthy dishes, but it just can't hold a candle to an ice cream maker. It doesn't churn out fresh, delicious ice cream. And don't try and tell me "But you can make 1-ingredient banana ice cream in a food processor" because we all know as good as that is it's not the real deal. If I want ice cream, I want fat, sugar, and preferably alcohol.
I hadn't had rum raisin ice cream in years before making this. I'm not even sure what inspired me to go that direction, but I'm glad I did. As soon as I tasted the chilled base, I knew I wouldn't be able to stop at one serving. Cinnamon and maple syrup are the secret ingredients that add warm and deep flavors complimenting the rum, which there is plenty of. For an extra special kick, soak the raisins in a rum and water mixture before adding them to the ice cream.
Dairy-Free Rum Raisin Ice Cream
Ingredients:
2 1/2 cups coconut milk, preferably full fat
1/2 cup cane sugar
2 egg yolks
1/4 cup maple syrup
1/4 cup rum
1/4 teaspoon cinnamon
1/4 cup Thompson raisins
For the base, gently heat the coconut milk and sugar over low heat until lightly bubbling. Remove from the heat and temper the eggs yolk until they can be combined into the base. Let this cool to room temperature and then refrigerate for at least 2 hours.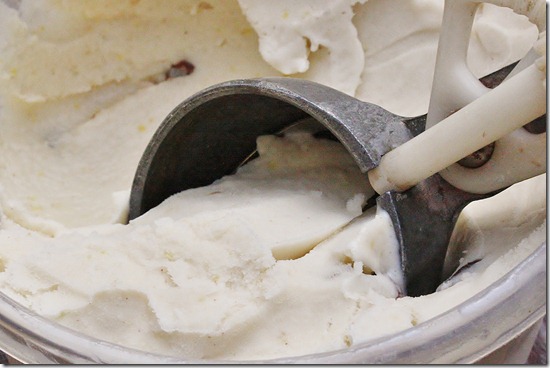 Whisk together the cold base, maple syrup, rum, and cinnamon, pour into an ice cream maker and churn under manufacturer's instructions. In the last 5 minutes, add in the raisins. Freeze for 2 hours before serving.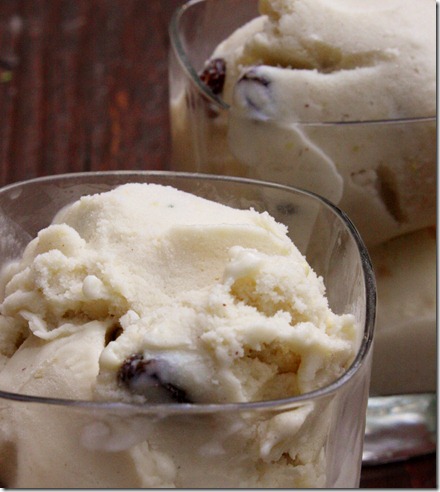 This really tastes like rum. Like, really. You might get a little tipsy after eating too much of this. I did. But you won't regret it, because, really, how could you regret this?