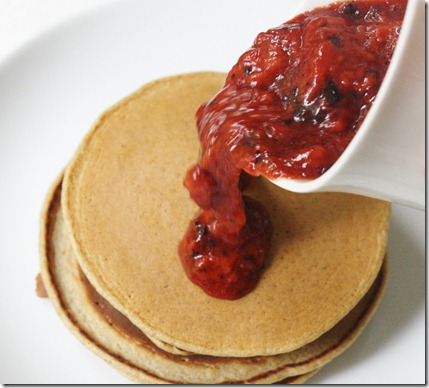 Have you tried these pancakes yet? I eat them probably 3 times a week for breakfast. If that's wrong I don't want to be right.
The thing is, they're healthy, too. On account of the garbanzo bean flour and egg they have 10g of fiber and 18g of protein. Add a little something sweet and that's a breakfast.
This fruit syrup is simple—no fuss—and only has a touch of honey for sweetness making it plenty healthy, too. So go ahead, pour it on, and pass it over.
Simple Fruit Syrup
Ingredients:
8oz fresh or frozen fruit(try strawberries, blueberries, raspberries, even mango!)

1 Tablespoon honey

1/8 teaspoon salt
Cook the fruit in a small pot over a low heat until tender enough that a fork easily glides through.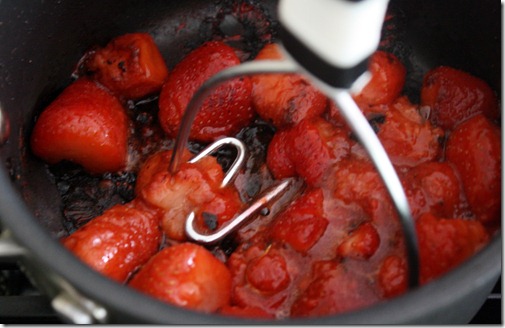 Mash the fruit until smooth and jelly-like. Alternatively, you could puree the fruit in a food processor or blender for an even smoother puree.
Stir in the honey and salt.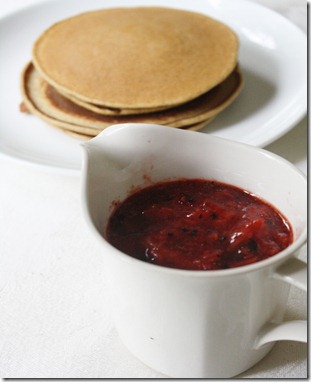 Pour into a serving container and serve. Refrigerate leftover sauce for 2-3 days.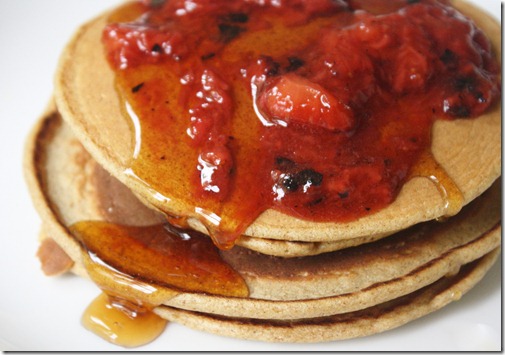 You could eat this on pancakes, ice cream, toast—anything! I like the sauce thicker so you get whole chunks of fruit in every bite. It thickens up as it cools to be more like jelly, so you might want to heat it up depending on how you're using it. It would taste great warm on ice cream, though I think that goes without saying.