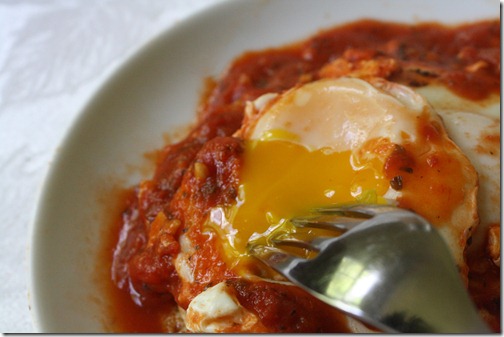 Apparently I get my love of cooking from my great grandmother. I say apparently because I never really knew her when she was active; I only ever heard stories of her cooking from my mother. And my grandmother never cooked; she comes over to my house and asks for freshly baked cookies. Is it just me or is there something wrong there?
From what I hear, my great grandmother was a great cook. She made her pasta, tomato sauce, and everything else by hand. A few nights ago my mom mentioned how she poached eggs in tomato sauce, and as soon as I heard that I knew I had to try it. Turns out it's not so difficult and makes for some of the best tasting eggs I've ever had. I've already made this twice because I didn't bother taking photos the first time. How could I mind having to eat this again?
Eggs Poached In Tomato Sauce
Ingredients:
2/3 cup your favorite marinara sauce

2 eggs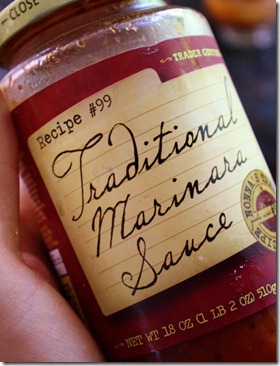 For this recipe, I used Trader Joe's marinara sauce. You can make your own if you're feeling ambitious, but this is a great tasting brand that's cheap, too.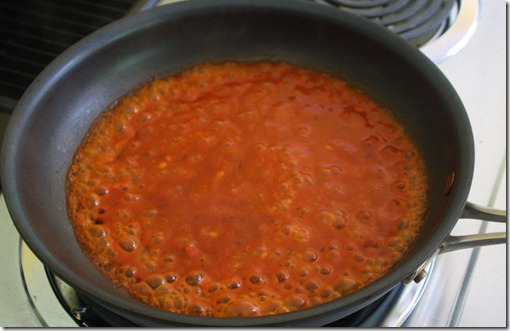 Bring the tomato sauce to a slight boil in a pan. Adjust the heat so that it's boiling but not spattering over the sides.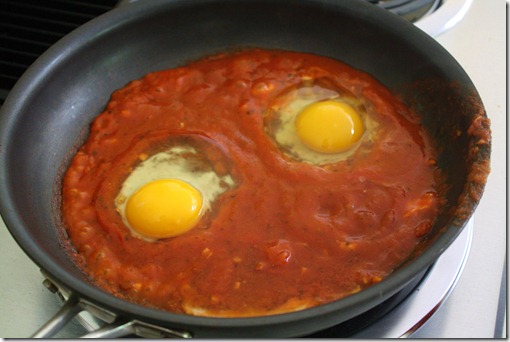 Carefully crack the eggs into the sauce, making sure not to break the yolks.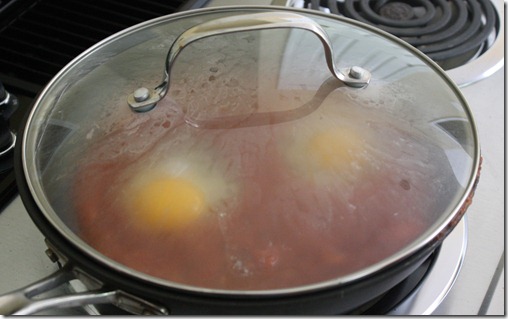 Cover the pan with a fitted lid. Poaching the eggs this way takes slightly longer than normally. Leave them undisturbed keeping an eye on them.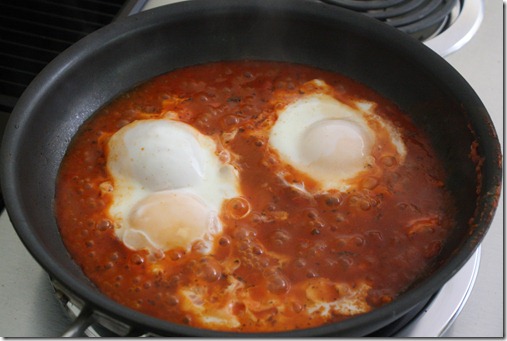 The eggs will be done as soon as the albumen over the yolk turns white. Take the pan off the heat and plate and serve hot.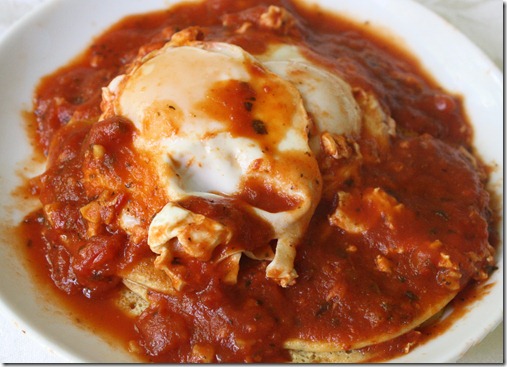 I served mine over a stack of savory Italian socca pancakes which soaked up the sauce and the yolks perfectly. Cooking the eggs this way added all the flavors of the sauce into them; regular poached eggs just can't compare.