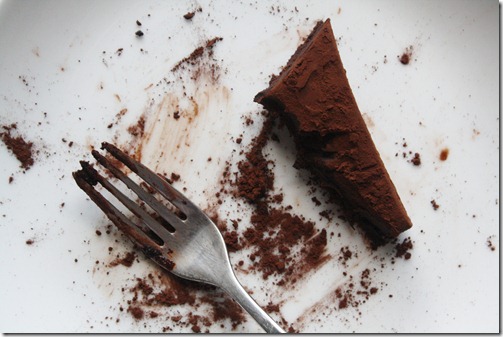 I'm actually really hard to please when it comes to store-bought desserts. I often think "I could make that" or "I've had better" whenever I get a pastry from a bakery—or worse—a prepackaged dessert(Trust me, I know I'm impossible to shop for). But this dessert I would buy and buy again. It's just that good.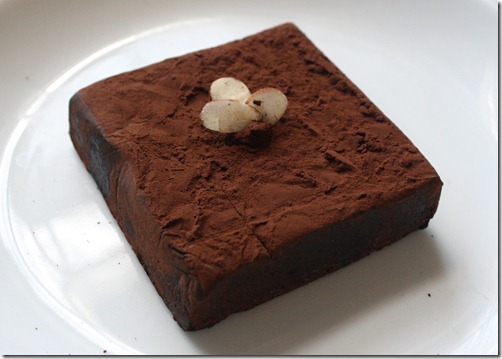 The first time I saw the raw chocolate ganache at Wildflour, I wasn't even that interested in it; the raw cheesecake was what I was actually there for. But after talking to the friendly staff, one woman said this was "heavenly" and another her "vice". I was intrigued so I went for it.
I've never looked back.
Simply put, this is the greatest. It's soft and smooth yet firm at the same time. It just melts in your mouth and has just the right balance of sweetness and bitterness for a chocolate dessert. It's not really a "ganache" but there's no other words to describe this except for amazing.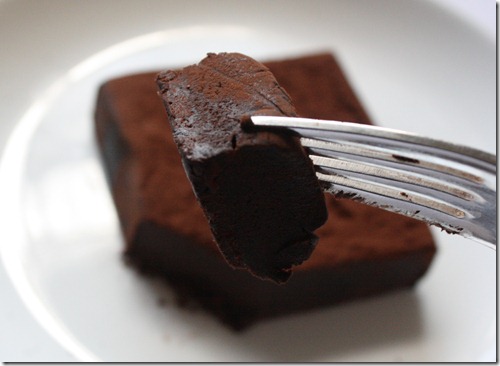 As for the recipe… I have no clue. I assume I would have to kill somebody who works there to get it(and even that's barely stopping me from trying). My guess is that the ingredients and preparation are very similar to my raw vegan truffles except with a slightly different proportion and poured into a torte mold. There's also a slight crunch to the bottom of this which makes me think coconut palm sugar is used as a sweetener. The top is finished off with a dusting of cocoa powder.
If you live near Providence I would recommend coming to try this. Also, if you live near Manhattan or Kennebunkport I would recommend coming to try this. It's the best dessert money can buy and probably will be until I can figure out that damn recipe.
Oh, and don't think that you'll have the willpower to just eat half. You won't.